Basketball fans are buzzing about the historic achievement of Caitlin Clark. In a single season, Clark has scored an astounding 1,000 points. It is a feat accomplished by only a select few players in NCAA Division I women's basketball history. Let's delve into the details about the superstar and her remarkable achievements.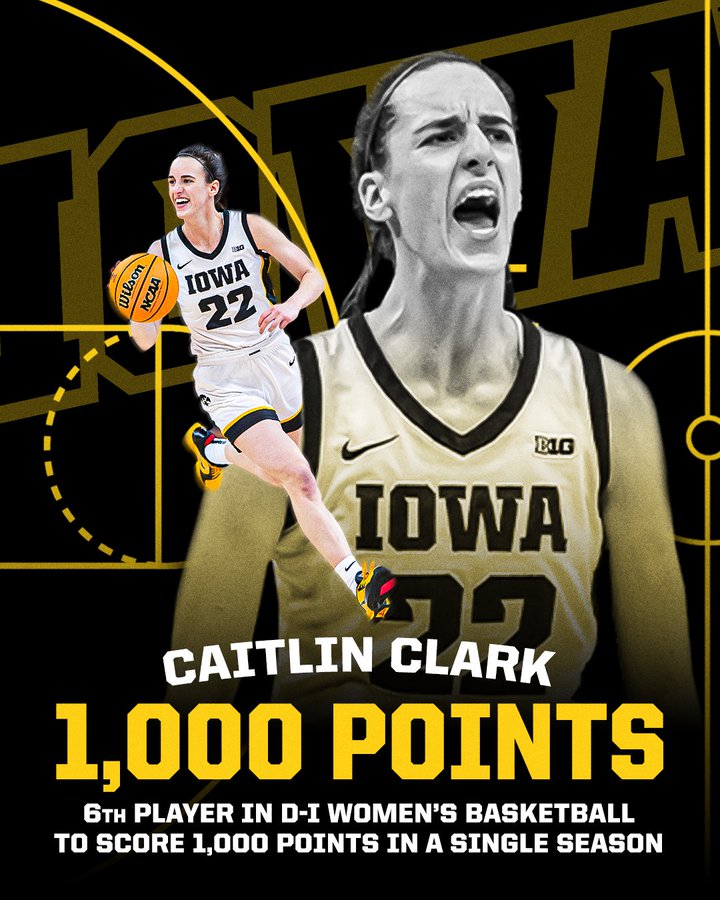 Caitlin Clark is a member of the Iowa Hawkeyes women's basketball team in the Big Ten Conference. She is widely regarded as one of the most exciting players in college basketball.
During the Final Four game against South Carolina, Clark proved her worth by scoring 1,000 points in a single season. This came just days after she became the first player in NCAA history to record more than 900 points and 300 assists in a single season.
Moreover, Caitlin Clark became the sixth player ever to score 1,000 points in a single season. It's worth noting that this season, for the first time in Division I basketball history, two players achieved this feat. Maddy Siegrist of Villanova was the first to reach the 1,000-point mark this season. It is a truly remarkable accomplishment for both players.
The Incredible Talent of Caitlin Clark
Clark's success did not happen overnight, as she was already an accomplished athlete in high school, being named a McDonald's All-American and one of the top recruits in her class. She continued to excel at Iowa. There she led the NCAA Division I in scoring as a freshman. She became the first player to lead in points and assists in a single season as a sophomore.
In her junior year, Clark's achievements reached new heights. She won several national players of the year awards, including the AP Player of the Year, Naismith College Player of the Year, and the Wade Trophy. She has also won several other accolades, including two Dawn Staley Awards and one Nancy Lieberman Award.
Beyond her college career, Clark has represented the United States in international basketball. She earned three gold medals at the youth level and was named the Most Valuable Player at the 2021 FIBA Under-19 Women's Basketball World Cup.
Caitlin Clark's achievements and this new incredible 1,000 points score in a single season are a testament to her incredible skill and dedication to the game of basketball. Whether she is scoring points or playing tenacious defense, Clark is sure to leave her mark on the court and in the hearts of basketball fans everywhere. Let's wait and watch what record she'll break next.