Manchester United clinched its first cup since 2017 with a 2-0 victory against Newcastle United in the Carabao Cup final on Sunday at Wembley Stadium.
Casemiro opened the scoring when he headed in a Luke Shaw freekick in the 33rd minute. Just six minutes later Marcus Rashford scored the second goal through a deflection of Sven Botman that evaded Newcastle goalkeeper Loris Karius's fingers.
The win marks an extraordinary turnaround under Manchester United manager Erik ten Hag, who has changed the team from habitual underperformers to trophy winners in less than ten months.
After being appointed in the summer after a successful tenure at Ajax, Ten Hag improved tactics and training and brought in two of his players from Ajax, Lisandro Martinez, and Antony. He also swooped in Casemiro from Real Madrid who has been a leader in midfield for the team.
He has also managed to revive the form of Marcus Rashford, who can't stop scoring, Diogo Dalot and AAron Wan Bissaka.
"It's an amazing feeling, we've been searching for this moment, us, the fans, the club, finally we get our trophy, we deserve it," midfielder Bruno Fernandes revealed to Sky Sports after the game.
"It's been an amazing period. The first trophy of the season but we want more. It's not enough for this club, we want more and we need more because our standards deserve more."
Manchester United's last trophy came six years ago went they lifted the 2017 Europa League under Jose Mourinho. Since then they came close to winning some, like coming second in the 2019-20 season and losing the Europa League final in 2021 to Villareal on penalties. Other than these close encounters, they have been largely disappointing for a club of their stature.
Rashford who scored the second goal also spoke to Sky Sports, "It's a mixture of all the emotions. It's massive for us to be involved in these types of games. it's something we've missed as a club"
"The fact we've come all this way and won it, it's a massive feeling. Hopefully, it pushes us now to keep going. There's a hunger to add more finals like this. I've been to finals where we've won and lost. It's massive for us as a club and individuals and it's part of our history. We want to keep adding to that."
He added: "We want to be involved in a lot of games and that means we've got to stay in the competitions. If we want to win things, we have to keep pushing."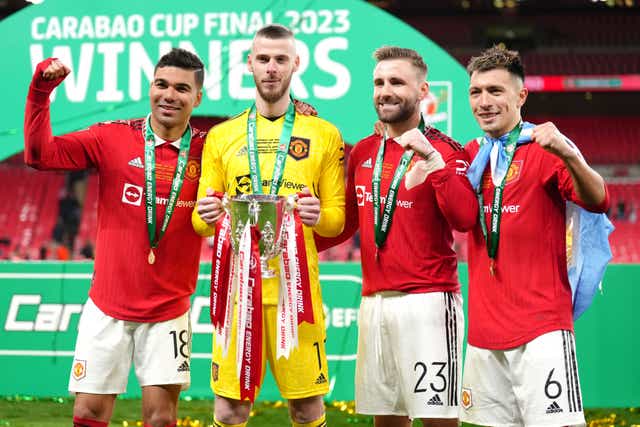 It is clear that Manchester United is rising and will challenge further for more trophies as they are still in contention for three more trophies which are the league, the Europa League, and the FA Cup. Erik Ten Haag has started the process of turning Manchester United back into their glory days.