In the glittering world of athletics, where brilliance shines like stars, a story of a young heart captured by a mysterious man is revealed. Maria Sharapova, who is renowned for her talent and grace, discovered that she was pulled to a legend from the past—a power that had once outclassed even players like Rafael Nadal and Roger Federer.
Beyond the courts and the titles, a tender feeling grew inside of her, reflecting the feelings of innumerable admirers who had been overcome by that talent. A mesmerizing presence from the past caught her eye, taking us on a trip through time where admiration and attraction come together in a dance of feelings.
Maria Sharapova meets Carlos Alcaraz in Canada
Carlos Alcaraz and Maria Sharapova shared a moment together in Toronto during the 2023 Canadian Open. Maria, a former top-ranked player, visited Canada for the Unmatched Gender Equity in Sports Conference. While in Canada, she happened to come across the current men's World No. 1, Carlos Alcaraz. A picture capturing this meeting was posted on Instagram by JC Ferrero-Equelite Tennis Academy, owned by Alcaraz's coach, Juan Carlos Ferrero.
The photo was captioned, "Maria & Carlitos. Two former number 1 who practice at the Academy United in Canada." Currently, Alcaraz is participating in the Canadian Open as the No. 1 seed, competing in Toronto.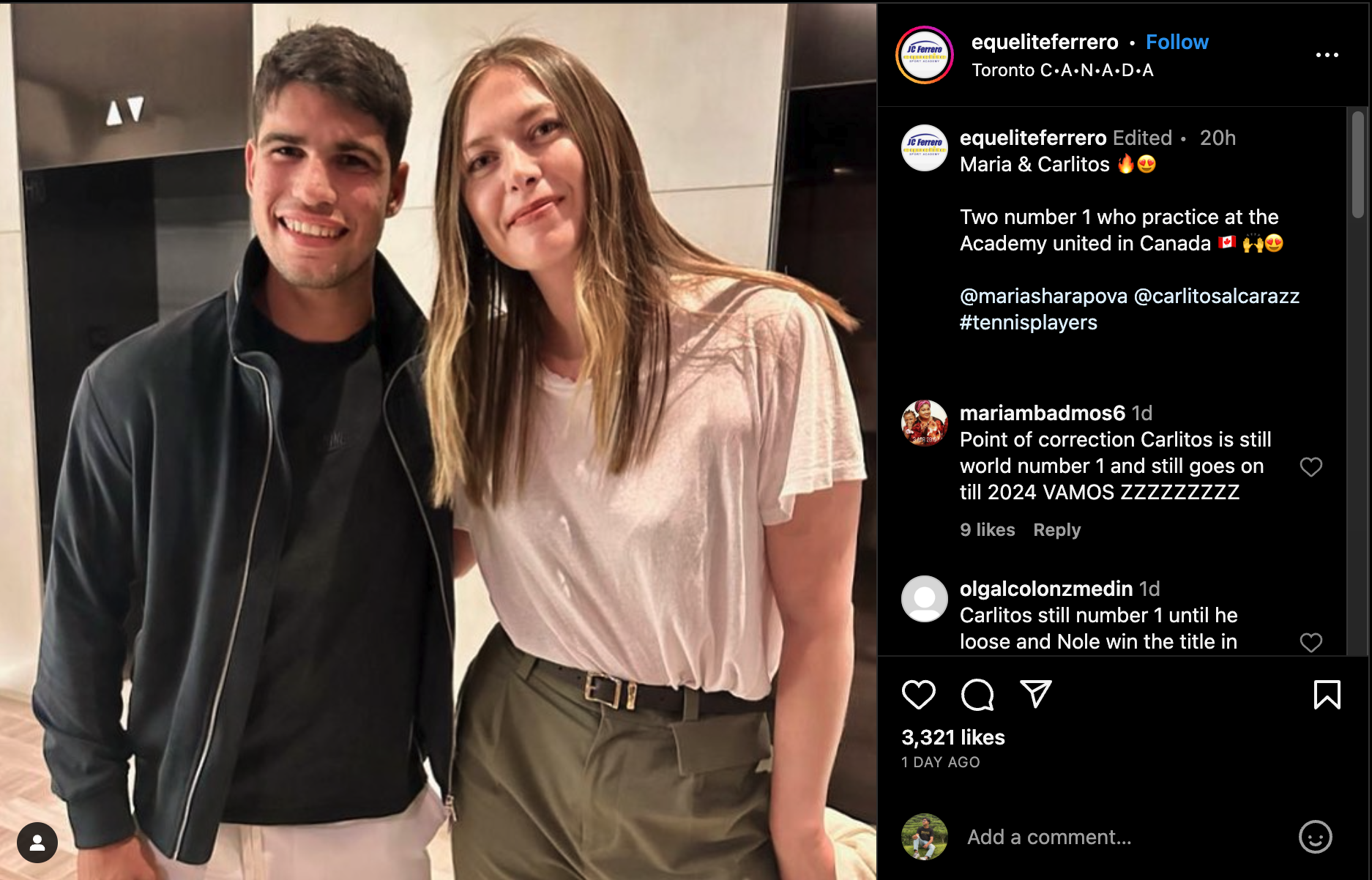 Maria Sharapova recently praised young tennis sensation Carlos Alcaraz, applauding his impressive advancements in the sport. The five-time Grand Slam champion admired Alcaraz's determined attitude and his ability to capture the crowd's attention with his incredible shots and court skills.
Sharapova eagerly looks forward to Alcaraz's future achievements, excited to witness his journey as a talented Spanish player. She was particularly struck by his competitive spirit during each point, and she's curious to see how far he'll go in his career.
Addressing the comparisons between Alcaraz and Rafael Nadal, Sharapova acknowledges the tendency to make such connections. However, she believes Alcaraz is forging his own unique path with a distinct style and personality that will set him apart from Nadal and his peers, making him truly exceptional.
Sharapova revealed her teenage crush on Alcaraz's coach
The captivating talent and beauty of Maria Sharapova have stirred admiration from millions. Yet, as a young Sharapova, she herself experienced a similar fascination. Juan Carlos Ferrero, known for overshadowing emerging stars like Rafael Nadal and Roger Federer, held a special place in 16-year-old Maria Sharapova's heart. Her innocent crush on Ferrero came to light through her book, 'Unstoppable: My Life So Far'.
During her time at the Juan Carlos Ferrero Academy in Villena, Spain, Sharapova, aged 16, found herself drawn to Ferrero, who was 23. Despite knowing he had a girlfriend and the age difference, she couldn't help her feelings. Seeing him with his girlfriend reminded her of the reality of her crush. She appreciated Ferrero's respectful handling of the situation, acknowledging that their connection could never materialize.
Now happily married and a mother, Sharapova cherishes this memory. She also found common ground in their shared tennis journeys. Reflecting on Ferrero's Grand Slam victory in 2003, she realized she had unintentionally adopted his victorious gesture.
After retiring, Ferrero transitioned into coaching, nurturing rising talents like Carlos Alcaraz Garfia, who achieved glory at the 2022 US Open. In an exclusive interview, Ferrero expressed optimism about Garfia's promising future, showcasing his influence as both a player and a coach.
What do you think of the encounter between Maria Sharapova and Carlos Alcaraz? Make sure to let us know in the comments section.