Carlos Alcaraz won his first grand slam victory and takes the #1 spot in the world and while in New York at the Arthur Ashe Stadium, the 19-year-old overcame Casper Ruud of Norway by 6-4 2-6 7-6 (1) 6-4.
This momentous accomplishment placed the Spanish star in a special group with many previous legends for clinching the ultimate glory, which can be referred to as the "youngest men's Grand Slam winners" of all time.
Now, let's explore all the players of this elite group.
Who are the top 10 players in the list of youngest men Grand Slam winners of all time?
10. John McEnroe
John McEnroe, an American icon, defeated Vitas Gerulaitis 7-5, 6-3, 6-3 in the 1979 US Open to win his first of seven Grand Slam titles.
McEnroe won three consecutive championships in New York, and he also won there in 1984. His three additional significant singles titles were won at Wimbledon in 1981, 1983, and 1984.
9. Lleyton Hewitt
Lleyton Hewitt, who finished third in terms of youth after Aaron Krickstein and Michael Chang, was only 16 years old when he captured his first ATP Tour singles championship at the Adelaide Open in 1998.
As he was still in his 20s when he grabbed the 2001 US Open trophy and the following year he earned his second and final major at Wimbledon, he had to endure another three years to achieve his first Grand Slam.
8. Stefan Edberg
The great Edberg began his career as a professional in 1983, won his first singles championship the following year, and while still a teenager, won the Australian Open in 1985.
In addition to winning Wimbledon in 1988 and 1990, as well as the US Open in 1991 and 1992, the former world No. 1 from Sweden also took home the crown at Melbourne Park in 1987.
7. Carlos Alcaraz
Alcaraz had been projected to achieve great things since 2021, but no one had anticipated his ascent to fame so swiftly after winning the US Open on his second attempt. He made his debut in 2021 and advanced all the way this year, defeating Ruud in four sets. He reached the quarterfinals both times.
Even though Alcaraz barely entered the public eye a year ago when he advanced to the quarterfinals at Flushing Meadows, the sport was already aware of his skill, and he shot up the rankings.
The adolescent is also the youngest winner of a Grand Slam since his countryman Rafael Nadal's victory at the 2005 French Open.
6. Pete Sampras
When Pete Sampras beat Andre Agassi 6-4, 6-3, 6-2 in 1990, he became the US Open's youngest-ever male singles winner. Additionally, he defeated Ivan Lendl en route to the US Open final, snapping Lendl's run of eight consecutive men's final appearances.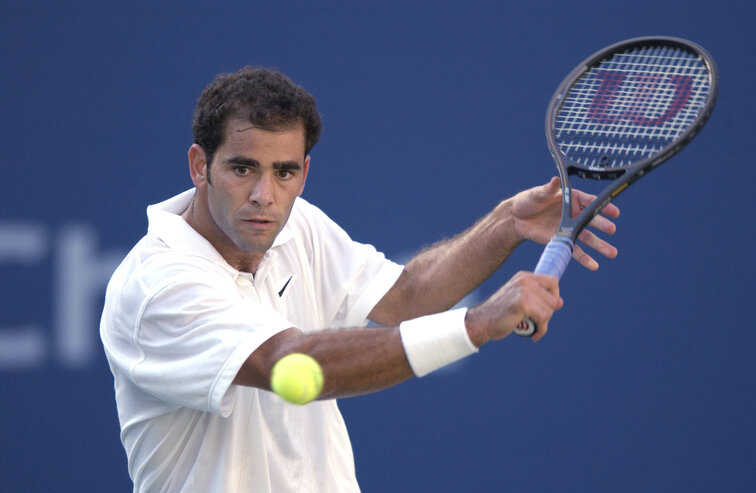 The Grand Slam was the first of his 14 majors future, which was an Open Era milestone when he won his last title at Flushing Meadows in the year 2002.
5. Rafael Nadal
Rafael Nadal is arguably the greatest ever tennis player in the history of professional court-play because of clinching the highest number of Grand Slams ever by a player who is still gracing the tennis court at the age of 36.
Nadal won his first Grand Slam back in 2005, and as of 2022, he is still succeeding in the majors. Nadal won the first of his 14 titles in Paris just a few days after turning 19 by defeating Mariano Puerta 6-7 (6-8), 6-3, 6-1, 7-5 in the final at Roland Garros.
Since Sampras won the US Open in 1990, The King of Clay is the only youngster to win a major singles championship and more incredibly, Nadal won 11 championships in 2005.
With 22 Grand Slam titles under his belt, the latest of which was won at Roland Garros, he is still at the peak of his game after seventeen years.
4. Bjorn Borg
When he was barely 15 years old in 1972, The "Ice Man"—or perhaps he was known as "Ice Boy" in his teens—represented Sweden in the Davis Cup. The following year, he became pro.
Just days after turning 18 in 1974, he had hardly completed a full season on the circuit when he captured the first of his 11 Grand Slams at Roland Garros and Borg won his last of his 11 major championships in the 1981 French Open.
3. Mats Wilander
One of three Swedes and the first player on the list to turn professional, Wilander won his first Grand Slam championship at Roland Garros in 1982 by defeating Guillermo Vilas 1-6, 7-6 (8-6), 6-0, 6-4.
The final major victory for Mats Wilander came in the 1988 US Open. In addition, he triumphed both the Australian and French Opens that year. He also advanced to the quarterfinals at Wimbledon.
2. Boris Becker
When he became the first unseeded winner of Wimbledon in 1985, a young German called Boris Becker made the world sit up and take notice of his skill and Boris, who had just recently turned professional, defeated American Kevin Curren in the championship match with scores of 6-3, 6-7 (4-7), 7-6 (7-3), and 6-4.
The German eventually won six major championships, the latest of which he won at the 1996 Australian Open.
1. Michael Chang
Young Michael Chang shocked the sporting world by defeating Stefan Edberg to win the 1989 French Open 6-1, 3-6, 4-6, 6-4, 6-2.
Chang left school at the age of 15 in 1988 in order to pursue a career in tennis, and less than a year later he held the men's Roland Garros trophy aloft.
Although it was his last Grand Slam victory, he did make it to the finals of two other major tournaments in 1996, placing second in the Australian Open and US Open.
Despite ranked seventh in this list of the youngest men Grand Slam winners, Carlos Alcaraz is different because he is the second person from Spain after Rafael Nadal to secure this rare achievement.