To many footballers, the opportunity to represent their country is an honor that cannot be turned down and they give their all to make their nations proud.
The long distances involved in prosecuting qualification series and international tournaments take a toll on footballers and naturally, the older they get, the longer it takes to recover from the stress and fatigue associated with international football.
In light of this, it is not an uncommon sight for players to announce their international retirement to focus on club football when their careers approach its nadir.
There have also been instances when players retired due to varying factors such as differences with football authorities or other controversial circumstances.
It is a common maxim that no person is bigger than a country but peculiar situations like struggling through qualification series or the need for the player's services have led to appeals for them to rescind their decisions.
There have been circumstances where mass public appeals have been launched to get the player in question to change their mind and the cause has sometimes been led by high-ranking officials such as football association officials and even the president of the country himself.
Other times, personal decisions have been reversed by the players with little to no cajoling, as they sought to sign out with one last hurrah by competing at major international tournaments.
Whatever the reason, history is littered with several players who returned to international football after announcing their retirement and here, we shall be running through 10 famous footballers who came back after retiring from international football.
#10. Roger Milla (Cameroon)
Roger Milla was one of the early stars of Cameroonian football and was named Africa Player of the Year in 1976 for his efforts on the continent.
He decided to retire from football in 1989 but following Cameroon's qualification for the 1990 World Cup, the country's president Paul Biya pleaded with him to change his mind and Milla returned to give one of the all-time individual performances when he inspired the Indomitable Lions to the quarterfinal in Italy.
#9. Asamoah Gyan (Ghana)
Asamoah Gyan is currently Ghana's all-time highest goalscorer with 51 goals from 109 appearances and his club career has seen him represent clubs like Sunderland, Al Ain, and Shanghai SIPG.
He suffered heartbreak when he missed a crucial last-minute penalty at the 2010 World Cup that would have seen Ghana become the first African nation to make it to the semifinal of the World Cup and following another high-profile penalty miss in the semifinal of the 2012 Africa Cup of Nations, he took an 'indefinite break' from international football.
He took several exiles, with one lasting for over a year and an official second international retirement was announced in May 2019 but Gyan reversed his decision just a year later after discussing with Ghanaian President Nana Addo Dankwa Akufo-Addo.
#8. Henrik Larsson (Sweden)
Henrik Larsson is one of the greatest players Sweden has ever produced and it can be argued that he was the first truly global footballer from the Scandinavian nation.
In what was a highly successful career, Larsson represented top clubs including Manchester United, Barcelona, Celtic, and Feyenoord, winning numerous trophies along the way.
His international career was also impressive and he represented 106 times, scoring 37 goals and appeared at six major tournaments including three World Cups and three European Championships.
It would now have, however, been so, as Larsson twice announced his retirement, first doing so after the 2002 World Cup and again after the 2006 World Cup. He, was, however, convinced to rescind his decision and appear at the consequent European Championship on each occasion.
#7. Claude Makelele (France)
Claude Makelele helped reinvent the holding midfield role and was so crucial to Chelsea's early success under Jose Mourinho that the defensive midfield position is referred to this day as the 'Makelele role'.
He had earlier represented Real Madrid to great success but a failure to pay him commensurately to the more attacking players led to his departure and the club's consequent demise.
Makelele was not part of France's success at the 1998 World Cup and 2000 Euro and made his international debut in 2002, retiring two years later after Euro 2004. 
He was, however, recalled to the team alongside Zidane and Thuram to help France qualify for the 2006 World Cup and his contributions with midfield partner Patrick Vieira were invaluable as their nation made it to the final.
#6. Gianluigi Buffon (Italy)
There are not many players throughout history who have achieved legendary status at both club and international level but Gianluigi Buffon is one of the select few to have achieved this feat.
His status as an all-time Juventus great is assured, following his iconic displays since arriving for a world-record fee for a goalkeeper in 2001 and he also translated that form to the national team of Italy.
Despite the presence of multiple world-class goalkeepers, Buffon was the undisputed first-choice in goal for the Azurri for almost two decades and he is currently the most-capped Italian player of all-time with 176 appearances.
Following Italy's failure to qualify for the 2018 World Cup (the first time in 60 years), a tearful and emotional Buffon announced his international retirement in November 2017 but was subsequently called up by caretaker manager Luigi di Baggio for two friendlies against Argentina and England in March 2018.
He stated that he accepted the call-ups to honor his recently departed friend Davide Astori, as well as to inspire the younger generation one last time.
He started in goal against Argentina in a 2-0 defeat for his 176th cap and consequently broke Fabio Cannavaro's record as the player with the most caps as Italy captain but announced after the match that he would not be available for future call-ups.
#5. Kevin-Prince Boateng (Ghana)
Kevin-Prince Boateng has had a very controversial career to this point and while his younger brother Jerome might have become established as a bonafide world-class star, Kevin has been less successful.
His club career has seen him represent no less than 12 clubs including Hertha Berlin, Borussia Dortmund, Tottenham, AC Milan, Barcelona, and Las Palmas, while his international career has been much less storied.
He was eligible to represent both Ghana and Germany but unlike his brother, he elected to represent the West African nation, with his decision coming just right before the 2010 World Cup.
Just a year after the Mundial in South Africa, Boateng decided to retire from international football aged just 24, citing 'fatigue' and this ruled him out of the 2012 Africa Cup of Nations.
However, he surprisingly changed his mind just in time for another World Cup and was called up for Ghana's last qualification fixture against Egypt where he scored the only goal and was subsequently made a part of Ghana's 2014 World Cup squad.
Unsurprisingly, he once again retired from international football after the World Cup and has not been seen in Ghanaian colors since then.
#4. Lionel Messi (Argentina)
Lionel Messi needs no introduction anywhere in the world and the Barcelona talisman is widely regarded as one of the greatest players in history.
He has, however, been unable to translate his tremendous abilities on the international scene with his country and infamously lost three consecutive finals between 2014 and 2016.
After Argentina's loss to Chile in the final of the Copa America in 2016, a tearful Lionel Messi could not handle the heartbreak and announced his decision to never play for Argentina again.
The fact that he was just 29-years-old at the time meant that he still had plenty years ahead of him and a public appeal was launched to get the Rosario native back to the Argentina fold and Messi rescinded his decision in time to help his country qualify for the 2018 World Cup, scoring a memorable hat-trick in the last match of the qualifiers against Bolivia.
#3. Zinedine Zidane (France)
Zinedine Zidane is widely regarded as the best midfielder of his generation and many place him among the greatest of all time.
He starred with Bordeaux, Juventus, and Real Madrid on the club scene, with his wonderful volley to give Real Madrid her 9th Champions League trophy in 2002 is regarded as the greatest goal ever scored in the history of the tournament.
On the international scene, 'Zizou' helped France to the 1998 World Cup and 2000 Euro and after consecutive failures at the 2002 World Cup and 2004 Euro, Zidane announced his retirement from international football.
However, in his absence, Les Bleus struggled to qualify for the 2006 World Cup, leading coach Raymond Domenech to plead with his starman to come back and upon his return, he was reinstated as team captain and helped turn France' fortunes around to seal qualification for the Mundial.
In the tournament held in Germany, Zidane inspired France to the final against Italy, scoring the equalizer in the match but his legacy was tainted when he headbutted Italian defender Marco Materazzi and was consequently sent off in what was his last act on a football field. 
#2. Lilian Thuram (France)
Lilian Thuram had a hugely successful career that saw him represent clubs like Barcelona, Juventus, and Parma, winning numerous trophies along the way.
He was a highly versatile player in his day and could be deployed anywhere across the defense and won plaudits for his physical style of play, tackling and excellent reading of the game.
To date, he is France's most-capped player with 142 caps and was a key member of the squads that won the 1998 World Cup and 2000 Euro and just like Zidane, he was also part of the mass retirement of players after France's quarterfinal ouster at Euro 2004 but was convinced to come back to the fold and played a part in their run to the final of the 2006 World Cup.
#1. Zlatan Ibrahimovic (Sweden)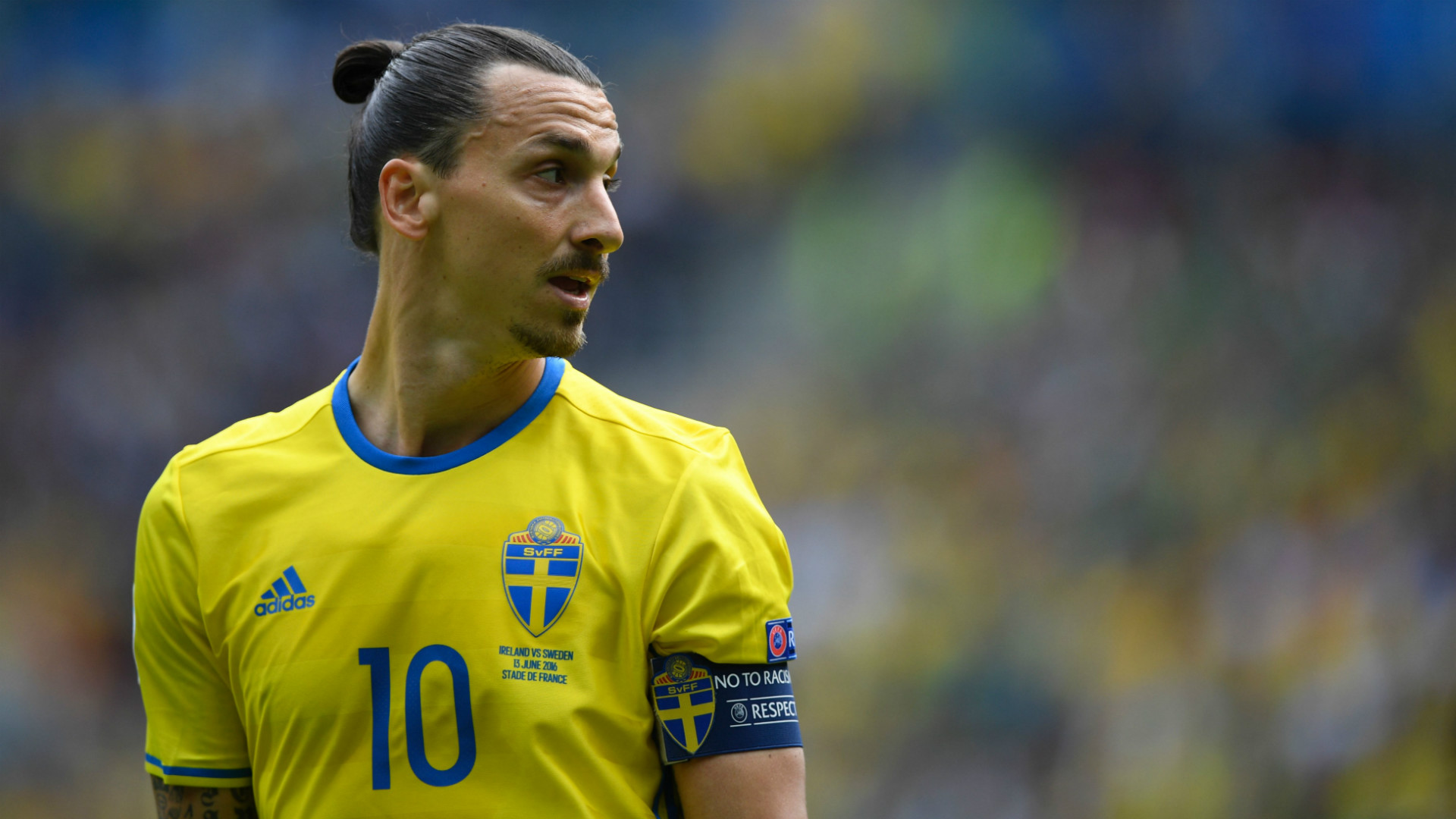 Zlatan is one of the most talented players of all-time and the Big Swede has an enormous ego to go with his unbelievable abilities.
His career has seen him traverse across Europe, representing clubs like AC Milan, Inter Milan, Juventus, Ajax, Manchester United, and PSG.
He is also his country's record goalscorer with 62 goals from 116 appearances and represented his nation at major tournaments including the World Cup and European Championship.
Following Sweden's failure to qualify for the 2010 World Cup in South Africa, Zlatan announced his international retirement but changed his mind less than a year later, stating that he had missed playing for his country and was motivated by watching the Mundial.
A second retirement was announced following Sweden's group stage elimination at Euro 2016 but despite speculation and Zlatan himself stating that he would like to return for the 2018 World Cup, he was not called up and has not represented his country since.