Even though it has become a public knowledge that wrestling is a scripted affair, with every possible outcome being streamlined, it was and continues to be a very serious business. The wrestlers put in a lot of sacrifices to get to the level of creating a modern-day fighter for the joy and awe of their fans.
During a wrestling match, a lot of things happen. For instance, what might appear like just an ordinary bump to the fans could have a heavier impact on the wrestler in the ring. In fact, just a few minutes in a wrestling ring will drive the fear of God into most critics of the superstars.
That being said, all these wrestling stars put a lot of effort in to entertain the fans, including putting their bodies through hell and brimstone to be in shape for the fans. In the ring proper too, they go through a lot to keep the fans entertained, including escaping deaths by the whiskers. But there are times when their bodies refuse to go along with these and just give up on them, in fact during the spur of the moments too – in the ring during a match.
Even though measures such as the introduction of the WWE Wellness Program is trying to curb the occurrence of high death rate caused by cardiovascular issues, studies still show that wrestlers tend to die faster than their other sports counterparts.
This piece will highlight 10 of the wrestling stars who died during action due to some, well, avoidable circumstances, or just the trouble of being a wrestler:
#10. Malcolm Kirk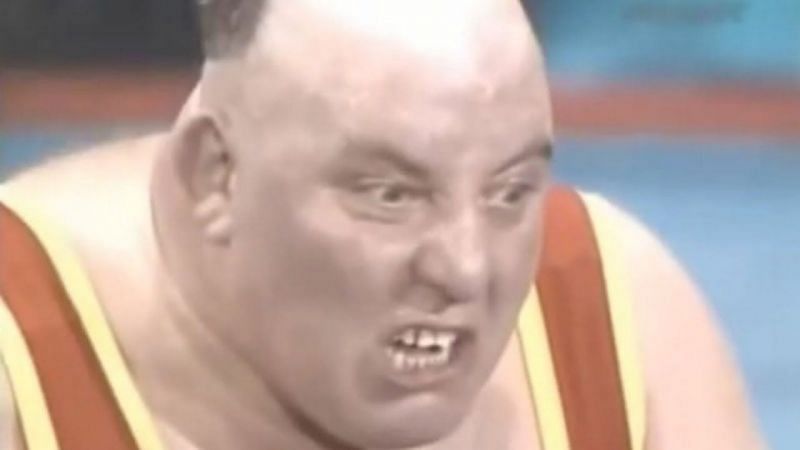 There are many death accounts recorded in the wrestling ring. Obviously, not even all can be accurately counted as a result of the extremity of the sport. Nevertheless, we can point to certain ones that shocked the world and it'd be nice, to begin with, Malcolm Kirk.
Kirk was nicknamed "King Kong Kirk" because of his weight. He weighed about 350 pounds and was a very skillful wrestler during the 70s and 80s. Shortly before his 51st birthday, precisely on August 24, 1987, he was involved in a match in Norfolk against another gigantic wrestler, Big Daddy.
After King Kong fell to Big Daddy's finishing skill, "The Big Splash", he remained on the mat and began turning blue, seemingly from lack of oxygen. He was rushed to a local hospital where he was pronounced dead. It was learned after that King Kong had a pre-existing heart condition, and had suffered six minor heart attacks before his demise.
#9. Oro
Jesus Javier Hernandez Silva was a second-generation Lucha libre star who worked under the name "Oro". He began his career in 1990 only to have it cut short three years later. He was involved in a tag team match on October 26, 1993. He was to take a bump to the head in the match. The bump was designed to make him looked as if he'd broken his neck.
It appears that was what actually happened to him because, after the bump, he collapsed. Before he was loaded into the ambulance, he had already died. Although his family asked that his autopsy should not be performed, there was speculation that he died from an aneurysm.
Oro's death is one that terrified the wrestling universe. He was a talented superstar that many believed would climb the ladder to the of the business but he couldn't live long enough to fulfill his potential.
#8. Plum Mariko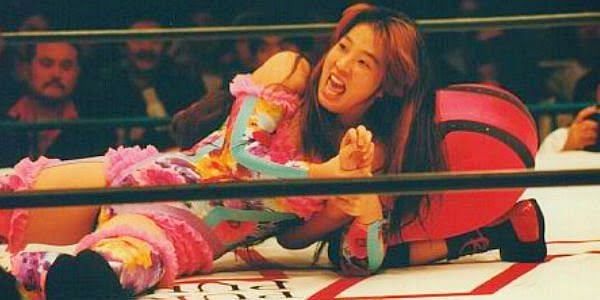 Mariko was a female wrestler who had suffered multiple brain traumas during her career during the time when head injuries were not taken seriously. She was a fan favorite, especially from Japanese audiences. She made her fighting debut in 1986.
On August 15, 1997, she had another head trauma that appeared to be her last. She was involved in a tag team match with Command Bolshoi against Mayumi Ozaki and Reiko Amano. Mariko was legitimately knocked unconscious when Ozaki hit a Liger bomb to pin her for the win.
But, Mariko remained on the mat, snoring (possibly from brain hemorrhage). Several days later, she became the first pro wrestler in Japan to die due to injuries sustained in wrestling. Her father requested that a post-mortem was not performed but it was believed that her pre-existing head injuries and a brain swelling were what led to her death.
#7. Larry Cameron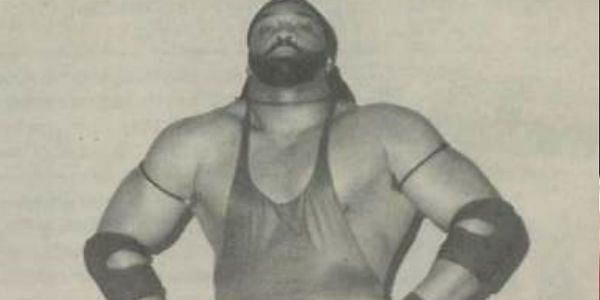 Another wrestler who lost his life in the squared circle, not many will remember Larry Cameron, the man who was a sojourner across many sports before eventually ending his journey in the wrestling ring.
Nicknamed "Lethal Larry" or "Butcher", he had attempted to make a head-start in the Canadian Football League. He eventually left football to train at the well-known "Hart Dungeon", and competed in a series of North American Pro Wrestling organizations before moving abroad.
On December 13, 1993, he was involved in a match against Tony St. Clair in Bremen, Germany when he suffered what would end up being a fatal heart attack. The referee stopped the contest and tried to resuscitate him but it was too late.
#6. Gary Albright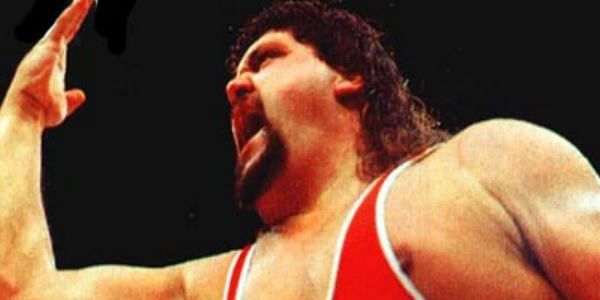 Albright was a colossal man weighing about 350 pounds during his fighting days. He was poised for success because of his build and been trained by wrestling masters, Lou Thesz and Billy Robinson. He had previously fought in Japan and North America, and for his father-in-law, Afa Anoa'i's WXV promotions.
In a match at the WXV show in Allentown, Pennsylvania on January 7, 2000, Lucifer Grimm hit Albright with an Ace Cutter which saw him collapse. Grimm, realizing that something was wrong, quickly rolled Albright on himself for the pinfall to end the match. Medics and wrestlers rushed into the ring to try to revive Albright, but all proved abortive.
It was determined that Albright died due to a heart attack caused by an enlarged heart, coronary artery blockages, and undiagnosed diabetes. He is one of the few wrestlers who gave up their lives in the early 2000s.
#5. Luther Lindsay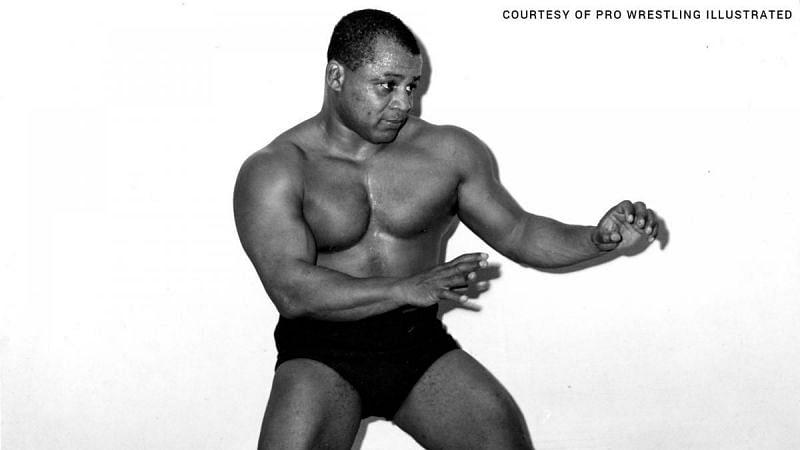 He may appear like a totally unknown person, but he was a trailblazer in the 1950s and 60s, after breaking the racial barriers in wrestling, being the first African-American wrestler to fight against white wrestlers in the south and becoming a fan favorite.
He also accomplished a legendary feat when he defeated Stu Hart in the Hart Dungeon. In February 1972, Lindsay was involved in a match in Charlotte, North Carolina when he pinned his opponent after a diving splash to the mat. But when the referee counted to three, he did not respond.
His limp body was removed from on top of his opponent and rushed to the dressing room, where it was learned that Lindsay was dead. He died from a sudden heart attack and it was one that really drew sympathy from the audience.
#4. Jeanette Wolfe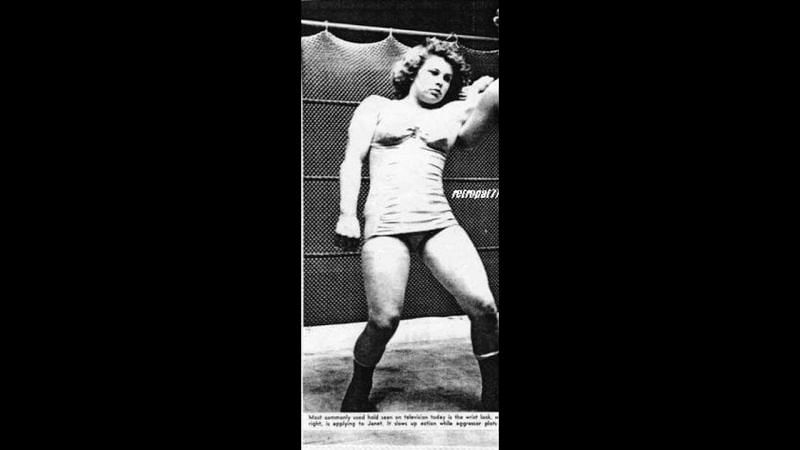 As wrestling started to become a popular sport in the 1950s, women started stamping their feet on the sands of time, or better put, sands of wrestling. Women like Mildred Burke were already household names in the industry at the time. By 1951, she began looking for a replacement. This led her to start grooming 18-year-old Janet Boyer as her successor.
She began working under the name of Jeanette Wolfe, but six months into her career, she was dead. She was involved in a tag team match, which included WWE star, Mae Young in Liverpool, England.
She had previously complained of a headache earlier. After tagging out in the match, she stood on the apron looking dazed and confused and suddenly fell. She never got back up and was soon pronounced dead. The cause of her death was ruled as brain hemorrhage.
#3. Mike Dibiase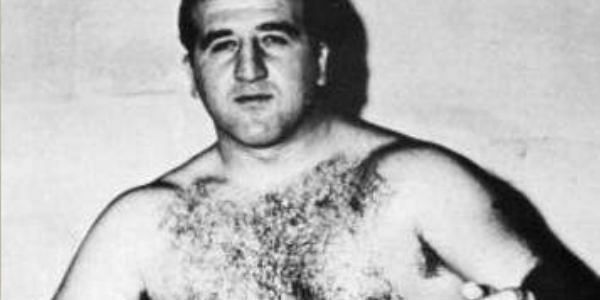 He was the adoptive father of "The Million Dollar Man" Ted DiBiase and was more famously known as "Iron" Mike DiBiase. He was one of the most prolific wrestlers and won a lot of titles during his days.
However, on July 2, 1969, he was involved in a match against Mountain Man Mike in Lubbock, Texas. Halfway through the fight though, DiBiase suffered a heart attack and despite several attempts by WWE and WCW legend, Harley Race, to revive him, he still capitulated to death at the hospital.
It was gathered later that his death does not have anything to do with any move in the fight but due to a build-up of cholesterol. His adopted son, Ted Dibiase would later go on to enjoy a successful stint in the company and upheld his legacy.
#2. Perro Aguayo Jr.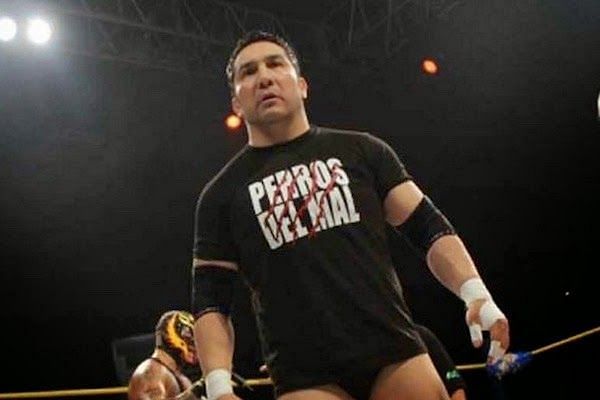 Our list continues with the account of Perro Aguayo Jr's death. This was one of the modern pro wrestling tragedies. Perro made himself a household name fighting as a skilled wrestler in Lucha libre promotions, Triple-A and CMLL.
On March 25, 2015, he was involved in a tag team match with Manik against Rey Mysterio Jr and Extreme Tiger in Tijuana, Mexico. The match appeared like a routine match until the later stages of the duel when Mysterio performed a dropkick on Perro.
This sent him neck-first into the ropes so Mysterio could perform his legendary move, 6-1-9, but things turned sour when Perro's body went limp. Attempts to revive him proved abortive and he was confirmed dead at the hospital. He was said to have suffered a cervical stroke due to multiple vertebrae injuries.
#1. Owen Hart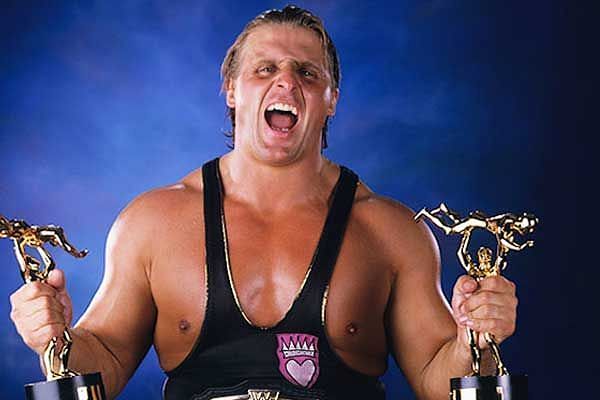 This was one of the most heart-wrenching, tragic events in the history of WWE. Hart was one of the most beloved figures in the industry. He was the brother of WWE legend, Bret Hart and was a graduate of his father's "Hart Dungeon".
He made himself fans' favorite by fighting a host of household names in the industry, including Stone Cold Steve Austin. His rivalry with his brother, Bret was iconic and his work with The Rock was praised by the entire WWE fan base.
Unfortunately, his most recent stunt ended in disaster. He was to be lowered onto the ring by a harness at the 1999 Over the Edge pay-per-view event. He was to be dressed as the Blue Blazer and supposed to turn the dramatic entrance into a comedic one by falling flat on his face.
But tragedy struck when Hart was released too soon due to the cable snapping halfway and he plummeted down from almost 80 feet, whiplashed on the top rope before crashing into the ring.
Although he was not pronounced dead immediately and was rushed to a local health facility, it was widely believed that he had died upon impact. He died from internal bleeding.