WWE is the home of wrestling and the destination for high-quality pro wrestling content.
WWE Superstars are regarded as role models and heroes by many fans, but they too have skeletons in their closet that can forever change the way we perceive them.
While these stars made their name popular on TV due to their larger than life characters and in-ring skills, they also made their names popular on the news, for all the wrong reasons.
In this list, we will take a look at the ten WWE Superstars who were accused of terrible crimes.
#10 Lex Luger
Luger was once one of the biggest names in the industry, however, his fall from grace due to drug abuse left him a shell of who he used to be.
His most infamous criminal involvement was his role in the death of Elizabeth Hulette (Miss Elizabeth), who worked as a valet in WWE in the '80s and '90s.
Both Luger and Hulette were in a relationship that included a lot of drug abuse and a charge of domestic battery was laid against the former.
When the latter was found dead after a drug overdose at their house in 2003, Luger was charged with thirteen counts of illegal drug possession and was fined $1,000 and sentenced to five years probation.
#9 Stone Cold Steve Austin
The Rattlesnake was arrested after he allegedly gave Debra a swollen cheek and eye and bruises on her back and her shoulder.
After he was arrested, Austin pleaded no contest and was given 1 year of probation, $1,000 fine and 80 hours of community service.
In 2003, after the couple divorced, she told Fox News her story, stating that the regular abuse she suffered was covered up by the WWE.
She also stated that the attacks were a result of Austin's use of steroids.
Austin was accused of another assault, this time on his then-girlfriend Tess Broussard in 2004.
#8 Ric Flair
"The Nature Boy" Ric Flair is widely considered to be one of, if not, the greatest professional wrestlers of all time.
Despite being a 2-time WWE Hall of Famer, Flair couldn't keep himself from a number of legal issues over the years.
Aside from his 4 divorces, he was arrested after a road rage incident in 2005.
Flair allegedly left his vehicle and proceeded to choke the motorist before kicking the latter's car door off its hinges.
Naitch was charged with injury to personal property & assault and battery. In 2008, the 16-time World Champion was declared bankrupt.
#7 Booker T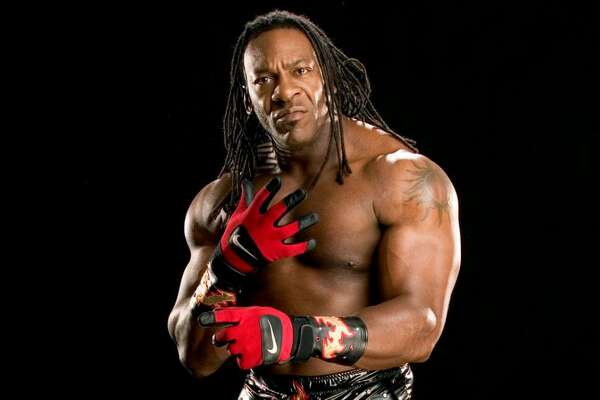 Booker T was involved in a lot of robberies before joining the wrestling business.
He was arrested after taking part in armed robberies at several restaurants in Houston, TX. The robberies were performed by a group of four men, including Booker.
He was arrested and pleaded guilty in 1987 to two counts of aggravated robbery and was sentenced to 5 years imprisonment.
Fortunately for him, he was released only 19 months into his sentence and was placed on parole until 1992.
#6 Jerry Lawler
Jerry "The King" Lawler is one of the most beloved figures in all of pro wrestling.
He's a fixture at the commentary table on Raw each and every week alongside former 205 Live commentator Vic Joseph.
When Lawler suffered a heart attack at the commentary table in 2012, everyone in the industry was in full support for him.
Things haven't always been so sunny for him though. In 1993, The King was pulled from events after he allegedly raped and sodomized a 15-year-old girl.
As he faced potential jail time, Lawler was pulled from his match at the 1993 Survivor Series event.
The accuser eventually admitted that she made up the story for unclear reasons. The charges were all dropped, and Lawler returned to WWE.
#5 Jeff Hardy
He is a multiple-time world champion and he is mostly known for his time in WWE and TNA Wrestling where he teamed up and feuded with his brother Matt Hardy.
The Charismatic Enigma is known for his dangerous and high-risk maneuvers. Besides that, he is also known for his legal issues.
On 11 September 2009, he was arrested on charges of trafficking in controlled prescription pills and possession of anabolic steroids, after a search of his house yielded 262 Vicodin prescription pills, 180 Soma prescription pills, 555 milliliters of anabolic steroids, a residual amount of powder cocaine, and drug paraphernalia.
Over a year later, the district attorney announced that Jeff would plead guilty to the charges.
In September 2011, Hardy was sentenced to 10 days in jail, thirty months of probation and a fine of $100,000.
He served his 10 days jail sentence from October 3 to 13, 2011.
On July 13, 2019, Hardy was arrested once again in Myrtle Beach, South Carolina for public intoxication while he was on a hiatus from WWE due to injury.
Three months later, he was arrested and charged with driving while impaired in Moore County, North Carolina.
#4 Jimmy Snuka
He made the high-flying style popular in the company, leading to him being given the name "Superfly".
In 1996, he was inducted into the WWE Hall of Fame.  On 10 May 1983, a few hours after his wrestling match, Snuka called an ambulance for Nancy Argentino, his then-girlfriend, who had been injured.
She later passed away due to craniocerebral injuries. Although there weren't any charges pressed against him at that time, a default judgment in 1985 ruled that Snuka was responsible for Argentino's death.
In 2015, Snuka was arrested and charged with third-degree murder and involuntary manslaughter.
He wasn't imprisoned though and walked away a free man until his death in 2017.
#3 Matt Hardy And Reby Sky
In 2014, Matt Hardy was arrested along with his wife, Reby Sky, after a violent dispute between the two at a motel in Virginia.
Very few details have been released about what happened.
According to an emergency call, the operator was informed that a female guest was being "beaten up."
Despite the incident, the married couple were released on bail and have seemingly repaired their relationship.
#2 Scott Hall
WWE Hall of Famer Scott Hall (Razor Ramon) is one of the darkest figures in the wrestling industry.
In 1983, he got into a fight with a man outside a nightclub. After the guy pulled out a gun, Hall wrestled him until he got hold of the gun and he proceeded to shoot the man dead.
The New World Order member wasn't charged with murder due to lack of evidence but he admitted that he indeed took that man's life in an interview with ESPN.
#1 Chris Benoit
In one of the most shocking and infamous moments in the history of the industry, former WWE star Chris Benoit murdered his wife Nancy and his son Daniel before hanging himself in 2007.
WWE no longer mentions Benoit on their current programming and they no longer show him on any feature videos.