Judgment Day is on a magical run right now, and there is no stopping them. The Rater-R superstar Edge was the actual founder of the faction from which he was kicked out, with Finn Balor taking his place as the leader. It looks like two of the members of the iconic faction are getting closer than expected.
"Mami" Rhea Ripley is rarely seen without her "Latino Heat" Dominik Mysterio on WWE programming. With both of them showcasing their heel characters on TV, it looks like the chemistry between the two is getting deeper every day. So now, the actual question is: what has been brewing between the two lately?
Dominik Mysterio kisses Rhea Ripley on WWE SmackDown
Dominik Mysterio is seriously the hardest-working wrestler in the wrestling world today. Dirty Dom cannot catch a break as he is busy main-eventing RAW, NXT, and Smackdown all in one week! He never leaves Mami alone, as she always has his back, as she helped him win the NXT North American Championship. This week, when the duo appeared on Smackdown, Dirty Dom was challenged by Butch for his title.
#DominikMysterio Kissed #RheaRipley During #WWE #SmackDown pic.twitter.com/bOnxEd0Icc

— Ringside News (@ringsidenews_) July 23, 2023
On his entrance, Dom did something no fan would have expected, and that was a kiss! A kiss from Dirty Dom to his Mami on her cheek Sure, the duo is successful on the screen and can generate heat very easily. The kiss delivered to Rhea may raise the eyebrows of many fans, but following a confession by Rhea about Dom, will fans actually even think that there is nothing between the two?
Rhea Ripley makes steamy confession on Dominik Mysterio
Rhea Ripley recently sat down for a quick WWE quiz with the fans to answer some of their questions. It is very important for WWE superstars to stay in character, especially while appearing on a WWE program. Ripley answered every question, but her one answer left the wrestling world shocked.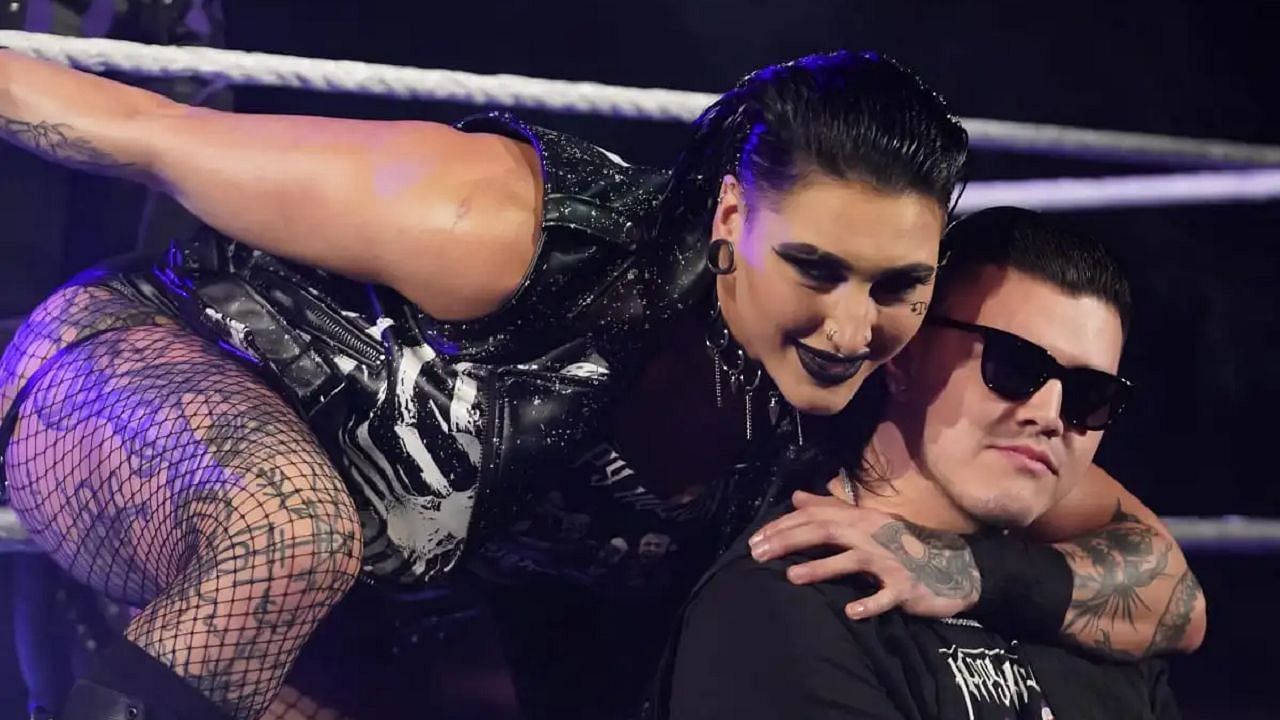 A fan asked Ripley what she loves doing the most with Dominik, and she replied, "F**k". Of course, the duo plays as a couple, and both are happily involved with different partners in real life. Ripley is in a relationship with AEW wrestler Buddy Mathews, fka Buddy Murphy, and Dominik is engaged to his childhood girlfriend.
TOMORROW @RheaRipley_WWE answers the internet…#WWENXT #UpNXT pic.twitter.com/VovapVn5G6

— WWE NXT (@WWENXT) July 20, 2023
Obviously, everything is kayfabe in WWE, but this time it looks like WWE went off the limits and went too far. Although she didn't say it on TV, it just didn't sound right. Still, it is WWE, and Judgment Day does what they want. It will be interesting to see what new angle WWE injects into this onscreen love story between Dom and Mami.