On WWE Raw, Rhea Ripley, and the contentious Dominik Mysterio took a moment to relish in the hard-fought glory of her recently won Women's World Championship belt. The unveiling of the belt signals a turning point in Rhea's career as the audience cheered with immense glee.
But as soon as Dominik stepped into the ring to join his beau, the joyful cheers quickly turned into jeers and boos of disapproval. An intriguing paradox stems from the audience's mixed feelings towards the character played by Ripley, "Mami," who has turned out to be a fan favorite despite being the assigned adversary.
Rhea Ripley crowned with new Women's World Championship belt
Dominik Mysterio's unexpected betrayal of his father and fan favorite, Rey Mysterio, could be to blame for the crowd's contempt towards him. Dominik attacked Edge during Clash at the Castle in 2022 before turning on his very own father. WWE fans have down-right rejected Dominik because of the treachery credible to the audience.
The Judgement Day's journey with Rhea Ripley has been nothing short of amazing with a capital A, catapulting her to new career heights. Her storyline featuring Dominic Mysterio has captivated the interest of WWE fans all over the world, as she embraces the role of a popular heel.
BREAKING: @ScrapDaddyAP just unveiled the BRAND NEW Women's World Championship and presented it to @RheaRipley_WWE! What do you think? 🔥#WWERaw pic.twitter.com/M7T5R7g8gC

— WWE (@WWE) June 13, 2023
She triumphed against Charlotte Flair and won the SmackDown Women's Title at WrestleMania 39 after taking first place in the 2023 Royal Rumble. It has been a decade since the WWE began replacing championship belts. Rey Mysterio, Dominik's legendary father, is also constantly compared to him, contributing to the animosity towards him. Several people do think that Dominik's ring skills are inferior to those of his father.
His reliance on Rhea Ripley as a shield also makes him appear weaker as opposed to "Mami" herself. Besides Rhea, Reigns joyfully displayed the freshly won Undisputed Title during his 1000-day celebration, Seth Rollins successfully defended the new World Heavyweight Championship at Night of Champions. Asuka recently claimed a redesigned WWE Women's Championship belt on SmackDown.
Are Rhea Ripley and Dominik Mysterio actually dating?
WWE fans wonder whether Rhea Ripley and Dominik Mysterio are romantically linked. No, is the response. Rhea Ripley and Dominik Mysterio are not at all romantically involved in real life. This fact is made quite clear when we take into account Buddy Matthews, Rhea Ripley's actual boyfriend, who recently warned Dominik. Dominik said that Ripley's hugs would shatter his spine to show off her strength.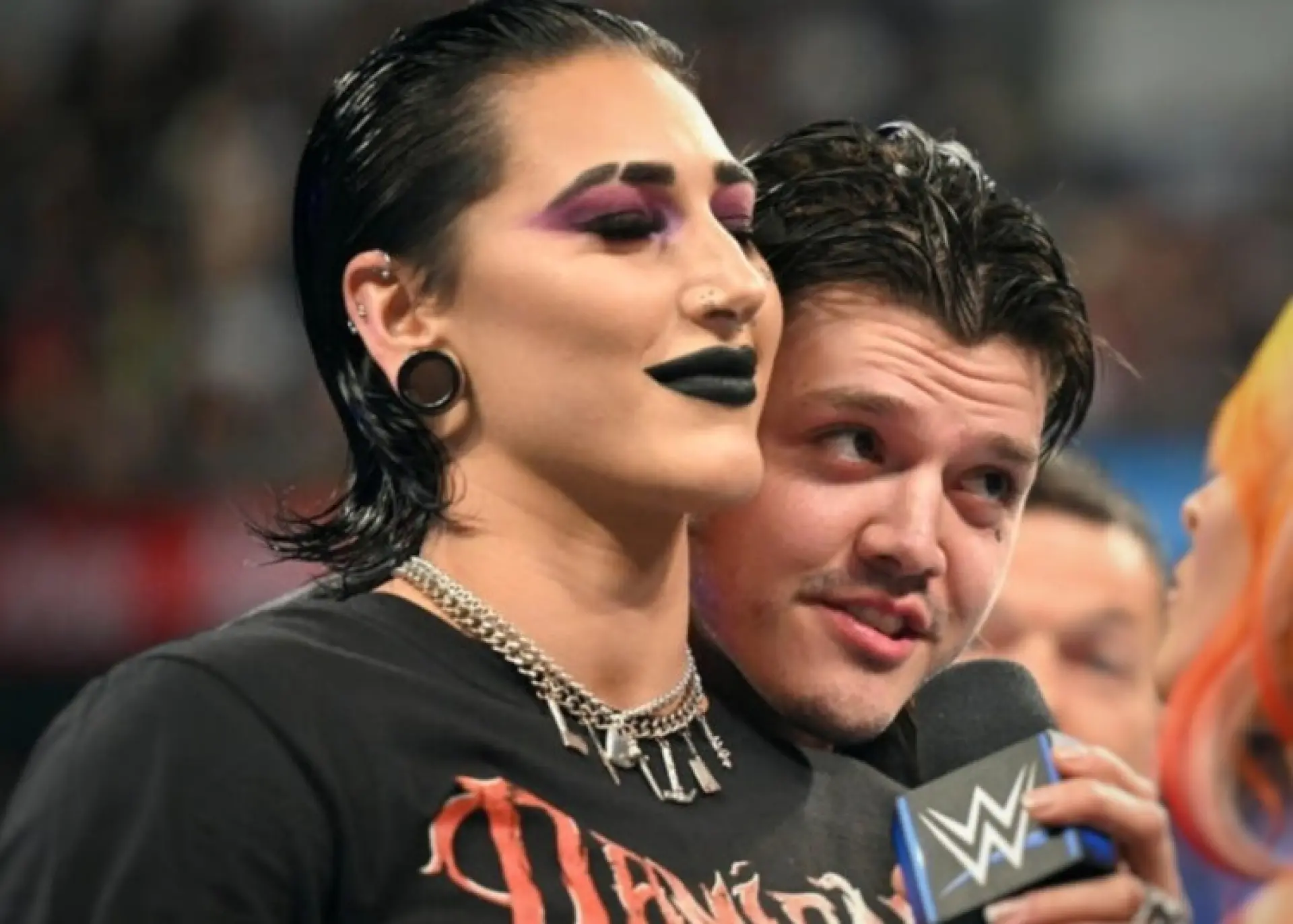 Dominik also emphasized his close relationship with Ripley, dubbing her "The Eradicator." However, Buddy Matthews quickly took to Twitter to warn Dominik not to speak out so recklessly. Finally, WWE fans have experienced a fascinating range of emotions as a result of Rhea Ripley's celebration with the Women's World Championship belt alongside Dominic Mysterio.
Dominik's betrayal of his father has heightened the audience's contempt, while despite being the antagonist Ripley's "Mami" character has won her unanticipated admiration. Fans are eagerly expecting Rhea Ripley's next move inside the squared circle as her star continues to rise and the WWE landscape changes with the addition of new title belts.