Carlitos quickly reclaimed his world number 1 spot from Novak Djokovic this Monday. The world of tennis has been shaken up multiple times by this 20-year-old. Once again, Carlos Alcaraz has shown his prowess on the grass court that put him over the top.
The boy has been training since he was 4 years old, dreaming to make it to the big leagues. Within just over a decade, Charly made them all come true. The love and passion this young blood shows toward tennis are revealed in pretty much everything he does.
Carlos Alcaraz stands victor in Queen's Club
The Australian pro, Alex De Minaur went up against Carlos Alcaraz in both of their first-ever finals match at the Cinch Championship. The crowd was astounded especially by the Aussie's volley.
Before Charly could return the drop shot, the ball beautifully bounced over the net and back into his opponent's side. Carlos immediately moves forward to the net and gives his competitor a high five as he was simply impressed by this fine net point.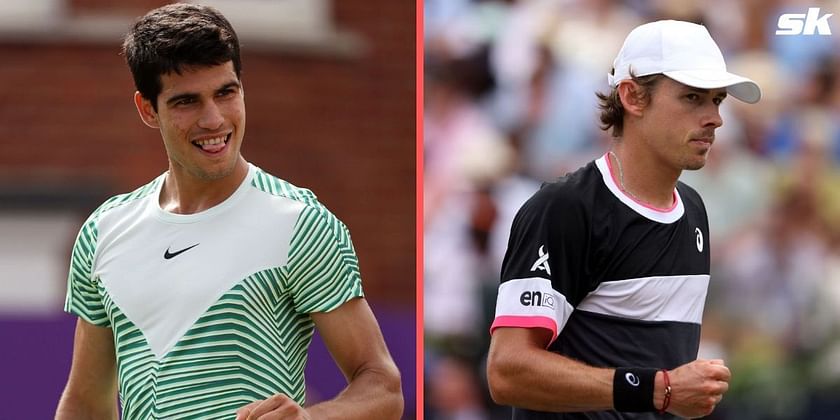 Even though De Minaur made the match very interesting with his quick and sharp movement on the grass court, Carlos broke his serves and won the Championship in straight sets. This is the first championship win on the classic green grass surface for the young Spaniard.
One of the biggest trophies there is in tennis…😅#cinchChampionships @carlosalcaraz pic.twitter.com/wr5rwHXdKS

— Tennis TV (@TennisTV) June 25, 2023
Just earlier this week Carlos spoke about how the Queen's Club Championship was all about gaining experience and he did not even prioritize winning the title. Now, he stands with the tournament cup 'bigger than him'!
The charming youngster is in the spotlight and has shown his fiery passion and immaculate tennis brilliance. With this many Tennis fans are wondering if he might surpass the Big 3 someday.
Djokovic loses top seed weeks after claiming it from Alcaraz
Novak Djokovic beat Carlos Alcaraz just a couple of weeks back in the semifinals of Roland Garros, 2023. The Serbian went on to win the finals against Casper Ruud and won his 23rd Grand Slam in straight sets. This was a record-breaking win for Nole that put him back in the world number 1 rank.
However, Carlitos winning the Queen's Club Championship not only made Djokovic's world rank to number 2 but also sent him to the second seed. Alcaraz's win on the grass surface has made him more confident for the prestigious Wimbledon Grand Slam,
"I just played 11 matches in my career on grass, so I have to get more experience, more hours. But obviously after beating amazing guys, and with the level that I played, I consider myself one of the favorites to win Wimbledon."
Nole has 7 Wimbledon titles to date and Charly has often spoken about his respect for Novak Djokovic. This time, he expresses how amazing it is to be in the top seed and have an amicable fight for the world number one with Novak,
"I will try to play at this level, to have chances to beat him. I will have chances, that's for sure. But I see Novak as the main favorite. This is not going to change that."
So, there might be a Wimbledon match that tennis fans will have to look out for.
Both of these players have been making incredible records in the world of tennis this year. With Carlos as confident as ever and Novak driven for more Grand Slams, who do you think could win Wimbledon this year?