Baker Mayfield or Lamar Jackson: Who Will be Under Pressure in Coming Week?
Cleaveland Browns and Baltimore Ravens are holding a competitive position in the AFC North as both teams are holding the 4-1 record after finishing week 5. So, keep holding the winning streak is important for both teams. As a result, quarterbacks from both teams will feel the pressure in the coming week. Both teams have a star quarterback, who is Baker Mayfield for the Browns and Lamar Jackson for the Ravens.
But the question is, between these two, who will be under more pressure. However, it is really tough to get you the answer as both of them serving the outstanding performance. We will get into a deep analysis of them to find out the answer. Before that, let's take a glance at their profile.
Baker Mayfield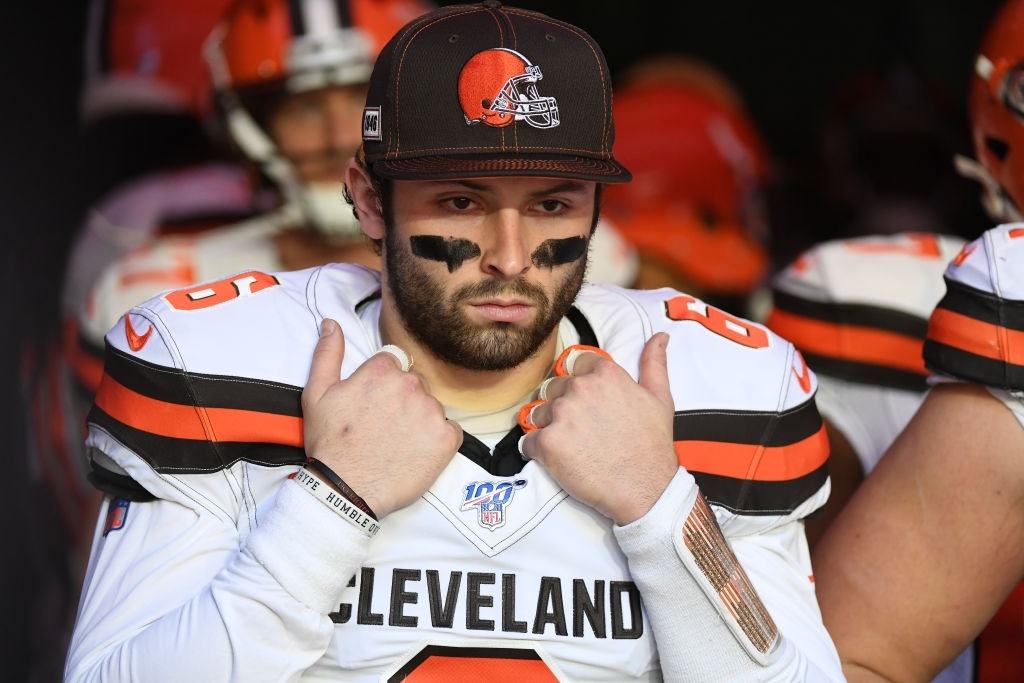 Mayfield has started his NFL career in 2018 with Cleaveland Browns and still playing for them. He brought their first win in 19 games in his first appearance with browns, which ended a 635-day losing streak. In the same season, Baker threw 27 touchdowns and broke the rookie-season passing-TD record.
Baker had a great year as a senior in 2017, which helped him win several awards such as Walter Camp Award, Heisman Trophy, Maxwell Award, and unanimous All-America recognition.
Profile:
Team: Cleaveland Browns
Position: Quarterback
NFL Draft: 2018 / Round: 1 / Pick: 1
Height: 6 ft 1 in (1.85 m)
Weight: 215 lb (98 kg)
Career history: Cleveland Browns (2018–present)
Roster status: Active
Lamar Jackson
Jackson has been playing for Ravens since his NFL draft in 2018. He had an outstanding performance at the college level, which keep continues in national leagues too. As a result, Lamar became the most valuable player in 2019 with a unanimous selection.
Although Jackson started his rookie season as a backup but got in the team following an injury of Joe Flacco, Lamar carried the Ravens to grab the AFC North division title, which made him the youngest quarterback to play in the playoffs. Next, in the 2019 season, Jackson crowned a record for most rushing yard by a quarterback in a season along with 36 touchdown passes.
Profile:
Team: Baltimore Ravens
Position: Quarterback
NFL Draft: 2018 / Round: 1 / Pick: 32
Height: 6 ft 2 in (1.88 m)
Weight: 212 lb (96 kg)
Career history: Baltimore Ravens (2018–present)
Roster status: Active
Mayfield's Performance in 2020 NFL Season
Baker Mayfield has not had the expected start at the beginning. In the first week, he finishes 21-of-39 passing for 189 yards along with a touchdown and an interception. Besides, Baker sacked two times and had two passes batted by Calais Campbell, the Ravens defensive lineman. In the halftime, Mayfield was 11-of-19 for 116 yards while 10-of-20 in the second half.
In the second week, Baker had a great start as he threw two touchdowns, which brings a 35-30 win against the Bengals. He finished 16-of-23 passing for 219 yards alongside two beautiful touchdowns. Mayfield had a 110.6 passer rating in the second game with one interception. Fortunately, he was not sacked while he ran 215 yards. Furthermore, eight different receivers got the passes. So, it was a great performance by Mayfield that added value to the team.
The following week Mayfield kept going his tremendous performance with 16-of-23 passing for 156 yards and two touchdowns. However, with Baker's performance, the team got a 34-20 victory against Washington. Although, he was sacked two times and acquired a 117.3 passer rating.
With the Cowboys, Mayfield had a passer rating of more than 100. However, he finished only 19 of 30 passing. Like the third week, in this week Mayfield finished without an interception, but he passed 165 yards only. Additionally, he had two touchdowns.
If we look at week 5 keenly, Baker had an excellent start in the first half, at the same time, could bear the torch in the second half. However, at the end of the game, he had 21 of 37 passing for 247 yards. By the way, Mayfield had two touchdowns, including a 116.4 passer rating.
Jackson's Performance in 2020 NFL Season
On the very first match, Lamar Jackson had three touchdowns with 275 yards of running. Besides, he put his best effort to drive the ball down the field. In that game, Lamar finished his best performance of his career by 9-of-10 for 180 yards, which get him up to the MVP.
Jacksons or Mayfield: Which Quarterback will be Under Pressure?
As we have mentioned earlier, both Browns and Ravens are in the same situation in the table. The next match is crucial for both teams as both will have to win to keep their positions. However, all the pressure will go upon Lamar Jackson and Mayfield as they are bringing all the wins for their teams.
But, the question is, who will be under more pressure?
Ravens has the next game against the Eagles. The 2018 super bowl winner Philadelphia Eagles having a pretty rough season so far as they won only one game out of four. So, the Eagles will be less confident than that of Ravens. So, Lamar Jackson will be more relaxed as he has four wins with great performance.
On the other hand, Browns is going to face Pittsburg Steelers in the next game. Although Steelers played one game less than the Browns, they have all four wins. So, it can be said that Browns will be under more pressure as Pittsburg is more confident with straight winning streaks. Moreover, it is a home game for the Steelers, which may make the browns struggle to bring out a win.
Bottom Line
The Steelers winning streak could be responsible for making Cleveland Browns stress sweat. However, a good strategy may bring confidence to the Browns. Moreover, A good performance from Baker Mayfield can bring the expected win for the Browns.
So, undoubtedly, Mayfield will be under more pressure than Lamar Jackson. Although we are a few more days away from week 6 games, we have to wait until then to get to know the actual underlying pressure on them.