Jack Sanborn, who was born and raised in the Chicago area, always imagined playing for the Bears and making the kind of plays he did on Saturday at Soldier Field. The Wisconsin rookie linebacker, an undrafted player who attended Lake Zurich High School and was raised in the neighborhood of Deer Park, excelled on defense and on special teams in a 19-14 preseason victory over the Chiefs.
The 22-year-old recorded an interception and a fumble recovery on two third-quarter plays while playing for a Bears squad that head coach Matt Eberflus has promised will be "fanatical" about producing takeaways. The offense turned the two turnovers into a touchdown and a field goal, allowing the Bears to rally from a 14-0 halftime disadvantage.
.@ChicagoBears stepping up with its second turnover of the day.

📺: #KCvsCHI on @NFLNetwork
📱: Stream on NFL+ https://t.co/3mvoWh7UD3 pic.twitter.com/4dXOxpvcxM

— NFL (@NFL) August 13, 2022
The rookie also recorded two tackles on special teams, five tackles on defense, one tackle for a loss, and five tackles overall. On a punt return that was invalidated by a Bears penalty, he made a third stop. Overall, Sanborn had a fantastic first game with his home team.
"It's something that we harp on all the time in practice," Sanborn said. "Takeaways are the name of the game here in the NFL. We got a takeaway and then we got another one right after that and kind of built some momentum." The third play of the second half saw Sanborn intercept a pass across the middle intended for tight-end Jordan Franks by Shane Buechele.
"We were in cover 2 and the receiver tried to stop in front of me," Sanborn said. "I made a decent break. The quarterback tried to thread it in and I kind of boxed him out a little bit and was fortunate enough to hold onto it."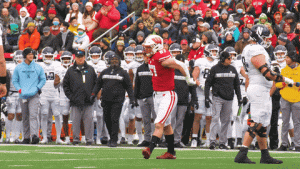 On the other hand, because of Roquan Smith's ongoing contract troubles the Bears' linebacker position remains uncertain. By demonstrating to the team that he can help cover the vacuum, Sanborn is making the most of his preseason.
"It was awesome," he said. "It was I think something a lot of kids want to do, especially from the area. So definitely a dream come true almost in a way. But 'let's go out there and play,' that was my mindset, and 'do whatever you're asked at your best and things will happen.'"