Golf towels are a prerequisite item before entering the golf course as towels or clothes are indispensable for multiple purposes such as cleaning balls & golf clubs, drying your hands, face, and body, and more. Moreover, playing golf under the scorching sun can be exhausting, and towels can serve as a shield on the boiling temperature. Hence, you may need multiple towels for different purposes.
While searching for the towels, you may easily find hundreds of different options to go for, which are good enough to confuse you. With this context, we have listed the 10 best golf towels every pro golfer uses, and any aspiring golfer can use them too.
The Top 10 Picks
Sunday Golf Miami Vice Golf Towel

Titleist StaDry Performance Towel

Greens Towel Microfiber Golf Towel

Callaway Golf Cotton Tour Towel

Clothlete Greenside Microfiber Golf Towel

Nike Golf Jacquard Towel

Club Glove Caddy and Pocket Golf Towel Set

Chill Pal PVA Cooling Towel

Callaway Golf Uptown Towel

TaylorMade Tour Towel

Team Effort Collegiate Microfiber Towel
1. Sunday Golf Miami Vice Golf Towel
Sunday Golf has several golf towels which are perfect to use for any purposes at the golf course. However, among all the towels Miami Vice is the one that is liked by many golfers. With this towel, you can feel the beach party at the golf course. Perfectly designed with the vice city color styled Miami Vice towel sized at 14″ x 40."
It is made with 80% Polyester and 20% Polyamide waffle microfiber that can clean any scrap and dirt from balls or clubs.
Pros
Made with super absorbent material that can soak up sweat or water quickly.
The built-in center slit can help you to hang the towel over your bags or clubs.
It is lightweight and you will not feel anything while hanging.
Cons
With 40″ length, some golfer may feel it lengthy.
2. Titleist StaDry Performance Towel
Titleist StaDry towels are designed in a way that can withstand the elements. Besides, the performance towel provides protection in all conditions. It comes with a microfiber interior along with the club groove cleaner, which can get you an effortless cleaning experience. The waterproof membrane helps to keep the internal microfiber dry.
Sized at 17″ x 17″ makes it perfect for hanging anywhere you want with the small clip and strap that comes with the towel. Furthermore, the built-in scrubber can nicely get your job done.
Pros
Bleed free

Size is not too small or too big

Easily washable in the washing machine
Cons
Some golfers may find it a bit expensive
3. Greens Towel Microfiber Golf Towel
It is the latest addition to the Green Towel's product line, which can be a perfect choice for any golfer. The towel's size is 16 "x 16", which is not extremely big. This piece of Green Towel comes with a carabiner clip that can help you to clip to your belt loop, golf bag, or even to your pushcart. Besides, the plenty of color variations will not disappoint anyone.
It is manufactured with a convenient microfiber that is lightweight like a feather and super absorbent. Furthermore, the fabric is so durable that it can clean the caked dirt quickly and completely.
Pros
The carabiner clip can give you ease of use

Quick absorbent

Made with lightweight microfiber and you will not feel anything while clipping on your belt
Cons
The stitching could have been better
4. Callaway Cotton Golf Tour Towel
This super-soft Callaway towel features cotton construction along with the woven loop attachment. It is highly absorbent and offers 100% cotton fabric. Sized at 30″ x 20″ is considerably big and makes the Callaway tour towel a perfect complement for any bag. Besides, it perfectly does the drying job and keeps the clubs clean on a wet, foggy morning.
Pros
Large enough to dry a spot

Woven loop cotton construction

Extremely soft
Cons
Despite different colors the other side of the towel is always white 
5. Clothlete Greenside Microfiber Towel
It is manufactured with a highly absorbent microfiber waffle and weaves supplies that cell fast and easily. This towel can be carried anywhere and even snap easily with your cart, bag, or pushcart. The good things about Greenside microfiber golf towels are that they come in three different colors in a single package, and you can keep them separate according to your use.
You may use one color for your clubs, one for your personal use, and one for the balls. Besides, it comes with two variants with magnets and without magnets. 
Pros
Snapping two towels can be used as a large caddy towel

Two variants for multipurpose

Super absorbent

It can be cleaned easily
Cons
Sized at 16″ x 24″, some user may find it lengthy compare to the width 
6. Nike Prior Generation Jacquard Towel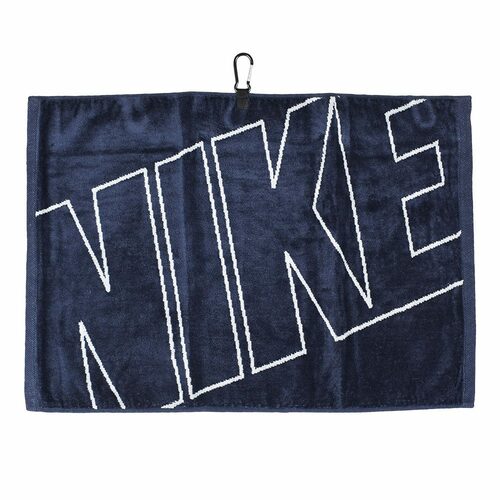 Nike has already stopped making bags, clubs, and balls, but they are still a top choice for golfers when it comes to towels. Specifically, the Nike Jacquard towel is vastly functional with cool looking. Besides, the clips that come with it can help you to attach them with the golf bag. It is 16″ x 24″ in size and becomes perfect for anyone who loves to use rectangular-shaped towels. Jacquard Towel is made with absorbent and soft material that features 100% cotton velour. 
Pros
Can help cleaning without nay scratch on clubs

Carabiner to attach anywhere

Super soft and relatively larger in size
Cons
Few threads might get loose if you don't use them carefully 
7. Club Glove Caddy and Pocket Golf Towel Set
The Club Glove Caddy set consists of a 17″ x 14″ tour-sized towel, which is perfect for cleaning hands, face, or even the clubs. The set also comes with a pocket-sized towel that measures 8″ x 12″ that can be used for many purposes in the field. Further, this is a premium quality towel that can serve your purpose. Besides, it is gentle and soft enough to clean any surfaces such as plastic, glass, chrome without putting any scratch mark.
Moreover, the package also offers a free matching greenside picket towel that comes in six different colors. 
Pros
Virtually lint-free and non-abrasive

Waffle-textured makes it super absorbent

Under the water, it can hold up to 300 percent of its weight
Cons
Colors may fade away after few washes
8. Chill Pal PVA Cooling Towel
It is a tube package designed towel sized at 12″ x 32″. However, this PVA towel is thicker than any other PVA towel. It is made with evaporative technology with extra thick and high-grade material. Besides, it can hold more water comfortably for a long time, ensuring that it can stay cool for a long time. Therefore, when you feel warmer, you can just rinse it and drape it around your neck and stay cool.
Pros
Evaporative technology

High grade material

Durable and budget-friendly
Cons
It may smell bad if you don't wash it properly after using it.
9. Callaway Golf Uptown Towel
Another Callaway in our list. This is a tri-fold towel that features a slim 21″ x 16″ size. Further, it offers a carabiner attachment so that you can easily access it on your need. The microfiber material provides an easy cleaning feature of your clubs, gears, and balls. Uptown golf towels are available in five different colors black, white, navy, grey, and pink. 
Pros
It is slim and easy to hold

The attached carabiner can get you the easy access

Thick and high absorbent
Cons
It is a little more expensive than other available golf towels in this category.
10. TaylorMade Tour Towel
This can be a perfect friend for any professional golfer who needs to go on a frequent tour. Sized at 24″ x 42″, it is huge which is made with soft Terry cotton threads. However, it does not have any clips or loops to store in your clubs. Therefore, you will need to carry it around your neck or hands or just put it insides the bag. 
Overall, it is great looking with the TaylorMade logo on it, but you cannot attach it to your golf bag. 
Pros
Nylon webbing

Absorbent and soft

Extremely large
Cons
No loops or clips to carry around 
11. Team Effort Collegiate Microfiber Towel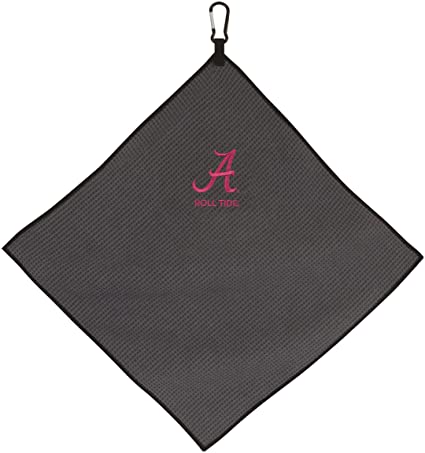 15″ x 15″ square-shaped towel from Team Effort can be used to clean your club without leaving any scratch mark on it. Besides, the carabiner attachment allows you to carry it with the bag, cart, or even hand it on your belt loop. Furthermore, neat stitching features embroidery collegiate trademarks, which signifies the quality of this towel and proves its durability.
Pros
Soft yet durable

The package comes with a header card

Waffle weave microfiber ensures the ease of cleaning
Cons
Comes in only one color. Multiple colors could satisfy many golfers.
Final Words
While a golf towel may seem like a usual item to pack along with your bag, it can create a world of difference in your play whether you are a professional golfer or trying to pick it up as a hobby. In fact, the towels are so important in the course that United States Golf Association permits the golfers to carry them in between the clubs during the game. Nevertheless, they can help you to avoid slippery, sweaty hands or even grip the clubs.
When it comes to choosing a towel, think about its most important use while you play. Once you select the towel that best suits you, you will be amazed to see your improvements on the course.