High-flyers in WWE or professional wrestling have always arrested the gaze of the audience around the world. Their breathtaking maneuvers are not only used to win the matches or championships, but also to amaze the crowd and to define a wrestler's nature.
High flyers in WWE are mostly cruiser-weight or light-weight competitors who are renowned fora lot of aerial moves such as dives and flips. These moves have been an essential part of the business for a long time and they'll surely be used for years to come.
Over the years, we have witnessed a lot of talented high-flying wrestlers. The high-flyers in WWE have amassed so much popularity that pay-per-views like Money In The Bank and TLC(Tables, Ladders and Chairs ) have also been introduced. Here, we'll delve into discussing some of them, but first, here are some honorable mentions:
Neville
Rob Van Dam
AJ Styles
Shane McMahon
Randy Savage
With that being said, let's have a look at the top 10 high flyers in WWE history.
---
#10. Jimmy Snuka
Jimmy "Superfly" Snuka is perhaps best known for his time in the WWF (now WWE) in the 80s. He is also acknowledged for bringing the high-flying wrestling styles to the company. His signature Snuka Splash move has been used by a lot of wrestlers in WWE after him.
Snuka was inducted into the WWE Hall of Fame in 1996. His two children, Sim and Tamina Snuka, both competed in WWE. Snuka's feud with Bob Backlund, Ray Stevens and "The Million Dollar Man" Ted Dibiase rests as the highlight of his career.
Aged 73, Jimmy Snuka passed away in 2017,leaving behind a legacy of high-flyers in WWE. He was arrested in 2015 for allegedly killing his wife, but he never actually spent time locked up behind bars.
#9. Evan Bourne
Former WWE Superstar Matt Sydal (Evan Bourne) is best known for his high flying but hybrid Lucha Libre and Puroresu styles of wrestling. He used the Shooting Star Press as his finisher, which he called the 'Airbourne."
In WWE,he made his debut in ECW where he faced the likes of Shelton Benjamin and Chavo Guerrero. In RAW, he fought against heavyweight names like Randy Orton and Edge. He held the Tag Team Championships with his the then partner and former WWE Champion Kofi Kingston.the duo was known as "Air Boom". However, his WWE career was plagued by injuries that brought his downfall showing him the exit.
After leaving WWE, Sydal wrestled for several other wrestling companies including TNA/Impact and New Japan Pro Wrestling .
#8. John Morrison
Current WWE Superstar John Morrison is known for his parkour style maneuvers and high-flying skills in WWE. He competed in other known wrestling promotions such as Lucha Underground, AAA Mega and Impact Wrestling.
He held a World Championship in all of these promotions. In WWE, Morrison held the Intercontinental Championship, WWE Tag Team Championships and he is also a former SmackDown Tag Team Champion. He returned to WWE in 2019 and immediately reunited with his old tag team partner The Miz. Morrison defended the SmackDown Tag Titles at WrestleMania 36 in a triple that tag team ladder match, where he was victorious.
People around the globe remember him for dashing entrance and his famous finisher " Star Ship Pain".
#7. Chris Jericho
Chris Jericho is one of the most popular and most successful wrestlers in WWE history. He has competed in a lot of promotions all over the world and after nearly 30 years, he is still an active in-ring competitor. Y2J is also known for his in-ring moves including the Lion Sault, which he performs by doing a backflip and landing onto his opponents after leaping off of the second rope, asserting himself as one of the high-flyers in WWE.
In WWE, Jericho held the WWE Championship, World Heavyweight Championship, United States Championship, Intercontinental Championship and the Tag Team Championships.
He currently performs in All Elite Wrestling where he was the inaugural AEW World Champion.
#6. Shawn Michaels
The Heartbreak Kid Shawn Michaels is regarded by many as one of the best professional wrestlers of all time. He performed and popularized a lot of athletic moves during a time when it wasn't popular.
Michaels is a former World Champion and a WWE Hall of Famer. He has revolutionized WWE in such a way that he is even referred to as – Mr. Wrestlemania.  He retired in 2010 fighting in an unforgettable match against THE Undertaker, but he made his in-ring return in 2018. As one of the high- flyers in WWE,his most popular moves were – Sweet Chin Music as the finishing move and the Moonsault, among others.
An Attitude Era legend, Michaels have wrestled against many greats and have hold almost all titles. His tag team with HHH named as "D Generation X" stands as a crowd favourite till now.
#5. Eddie Guererro
The late Eddie Guerrero is a popular wrestler also known for his in-ring abilities. He used the frog splash as his finishing move, a move that won him the WWE Championship in 2004.
Guerrero was loved by many people and his gimmick and character were widely over with the fans.  He was inducted into the WWE Hall of Fame in 2006.
Many fans, critics and wrestlers regard him as one of the greatest wrestlers of all time. He has also held the WWE United States Championship, European Championship, Intercontinental Championship and the Tag Team Championships.
#4. CM Punk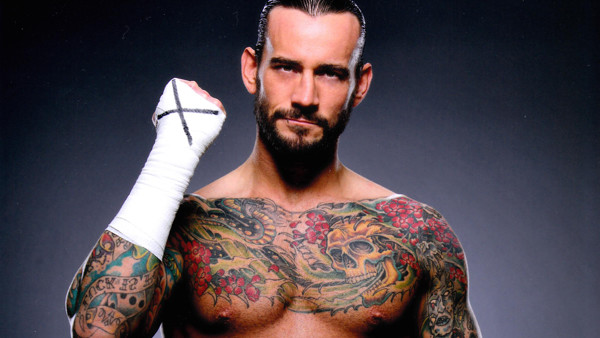 CM Punk is another former WWE Superstar who has enjoyed a lot of success in the company. He has held several titles in WWE including the WWE and World Heavyweight Championships, Money In The Bank and even the Tag team Championships.
The self proclaimed " Best in the World" Punk, has performed several high-risk moves such as the suicide dive. Punk is still crowd favourite and is considered a modern day great for holding the WWE championship fora straight 434 days.
Nobody knows when or if he will return to WWE, but if he does, It'll be interesting to see him back.
#3. Jeff Hardy
The Charismatic Enigma Jeff Hardy is known for his extreme are-devil moments. He has put his body on the line countless times to get the big win. Hardy does a lot of high aerial moves and he uses the Swanton Bomb as his finisher.
In WWE, he has held the WWE Championship and the World title. He also competed in TNA/Impact where he held the TNA World Heavyweight Championship. Jeff has had a lot of interesting feuds with the likes of CM Punk, Matt Hardy and others. Along with his brother Matt, Jeff is a part of one of the most famous tag teams of all time- The Hardy Brothers.
He is also known for his leaps off ladders. stages and other high platforms. He is no doubt a future WWE Hall of Famer.
#2. Kofi Kingston
Kofi Kingston has been one of the top high-flyers in WWE since he made his debut for the company in 2009. He has captured a lot of titles in the company including the WWE Championship, Intercontinental Championship, United States and the Tag Team Championships.
He performs a lot of high-flying moves such as dives, the boom drop and other signature moves. His best moment in the company came in 2019 he won the WWE Title from Daniel Bryan at WrestleMania 36.
After being with the company for over a decade, he is still one of the most beloved wrestlers and as part of The New Day, he has made history several times.
#1. Rey Mysterio
Rey Mysterio is regarded by many people as the greatest cruiserweight in the history of professional wrestling and it's easy to see why Mysterio is a former World Champion despite being a cruiserweight.
He has performed in a lot of companies and he's found success in a lot of them, mostly WWE. He is also known for his high flying moves and dives that he currently performs in the ring.
Mysterio currently performs on Raw and is one of the most renowned high-flyers in WWE, as he returned to WWE in 2018. He has held almost all the Championships in the WWE. His finisher "619" is one of the most popular finishes.