NBA has brought fame for so many players in its history that we can hardly count the numbers. But obviously, no player would like to appear on the headlines for their wrong approaches. Being enrolled in the most technical fouls in NBA list of players is surely one of them which can be harmful both for their image & career.
However, it has been the case of plenty of players over the years who committed a significant amount of technical fouls during their NBA career. Since technical foul is simply the outcome of the player's frustration, that can often take place. After all, they are also human beings, and they make errors too.
But have you ever thought what technical foul is, how it happens or who leads the NBA in technical fouls? For your knowledge, we will try to figure it out in this article.
NBA technical foul rules
A technical foul in NBA means the penalty for any type of unsportsmanlike behavior that looks illegal to the officials. Some of them include different misbehaviors such as intimidating an official, disobeying the fans, brawling with other players.
On another note, any deliberate action which involves harming the ethics of the game also leads to a technical foul. Faking a foul to take advantage, entering the court without "check-in," having more or less than five players on the court, or hanging on the hoop with purpose might result in a technical foul for the player too.
How many technical fouls are allowed in NBA?
In a regular season, a player gets a warning after assessing 10 technical fouls. After committing 16 technical fouls, the player receives one game suspension. Besides, the 17th technical foul also costs $5000 for him.
Meanwhile, the rule is slightly different in the playoffs. A player receives a warning after 5th technical foul & gets suspension after performing 7th technical foul in NBA playoffs. But in both cases, two back to back technical fouls ejects the guilty player who must leave the court.
In the long run, we have seen so many players facing the punishment of technical fouls on a regular basis. Here is the list of the players committing most technical fouls in NBA:
#10. Dirk Nowitzki
Career fouls – 141
Ejections – 4
The first person in our list is Dirk Nowitzki, the former German NBA star playing in the Dallas Mavericks for 21 long seasons. With the recognition of the finest European player ever played in the NBA, Nowitzki himself is a legend. But what about his behavior alongside his enriched NBA career? I'm afraid.
No matter what happens on the court, Nowitzki would whine for anything to go in his favor. Sometimes he would pretend like nothing occurred whenever he got called for attempting a foul. It was never in his instinct to be friendly with the referee if any call didn't go his way.
Towering with a considerable 7 feet height, he always showed his physical strength to beat the opponents obnoxiously. That's why, during his entire career, he performed 141 technical fouls in total.
#9. Jermaine O'Neal
Career fouls – 146
Ejections – 8
With lots of ups & downs in the career, Jermaine O'Neal comes 9th in our list. Since his debut in 1996 under the den of Portland Trail Blazers, Jermaine produced lots of incidents which made him a part of this basketball fouls list.
He just didn't have the image of the cleanest player appearing in NBA history for his short-tempered behavior. Sometimes he made a mess of the game arguing with the referee, on the other side you would find him exchanging words with the rival players as well. During his eight seasons of Indiana Pacers career, he accumulated 104 technical fouls.
For such audacious behavior, he just couldn't settle himself in any NBA team which made him bound to switch his clubs off & on totaling 146 technical fouls.
#8. Shaquille O'Neal
Career fouls – 150
Ejections – 10
You might have heard a lot of admiration about Shaquille O'Neal, an undisputed NBA legend. After being picked by Orlando in 1993, he played for 18 years in the NBA. Using his 7 feet 1 inch massive body ideally, Shaq became an elite member of the top ten shot blockers in NBA during his career.
But how about his image as a true sportsman? No wonder, he used to lose his temper frequently. In any way, he always tried his best to show his physical strength against the opposition to beat them. Once and again, he just turned into way too formidable to defeat, igniting the inferior ones. For this reason, they were desperate to make him angry, resulting in technical fouls.
On the other side, his fame & recognition weren't acceptable to many players too. He had a cold war going on with many off & on the court which often led him to stop them. That's why you can see him performing 150 technical fouls in total.
#7. Kobe Bryant
Career fouls – 166
Ejections – 6
No doubt, this inclusion might surprise many of you but don't let Kobe's innocence puzzle you. Even though he was reputed as one of the most influential NBA players, Kobe was also a calm-headed fouler. Are you still doubtful? Let me make it clear for you.
If you glimpse at the career stat of Kobe, you can see he had a crazy run going on during the last decade with the second most technical fouls. In fact, he was a problematic teammate to deal with who had a bad habit of arguing with the opponents. Sometimes, you might see him feuding with the officials for their calls too.
Anyway, some of them might be harsh calls, but Kobe was just casual to express whatever came in his mind. When that happened, there was nobody who could stop him, not even his coaches too. In that case, finding him with 7th most technical fouls in NBA (166), don't be astonished.
#6. Kevin Garnett
Career Fouls: 172
Ejections – 7
Undoubtedly, the biggest trash talker in the NBA history, Kevin Garnett is the synonym of innumerable controversies. Called as KG by most, Garnett was always the talk of the town for his whimsical behavior. Many times he ended up going back to the sideline for racking up two back to back technical fouls but who cares?
It just didn't matter whether he was on the court or outside of the court; he would make use of his big mouth every time. Once you might see him pulling back someone to go forward, next minute, he would abuse another player verbally. Apparently, he just had no control over his words whenever he lost his temper.
So keeping this in mind, attaining 172 technical fouls in his NBA career doesn't look like a big deal at all. Whenever you show so much intense on the court, it is evitable you would come out with some technical fouls in the end.
#5. Dennis Rodman
Career fouls: 212
Ejections – 5
Known as "The Worm," Dennis Rodman was renowned for his bad boy image. It's true that Rodman was the perfect guy to block shots whom anyone would love to have in his team. His combination with the famous NBA duo Jordan-Pippen established one of the greatest trios in NBA. But if there was a list of "All-time NBA villain," who knows Rodman might get featured in that list too?
Because of his fearless attitude, he never hesitated to show aggression on the court. He would shove with the elbow, push or pull back anyone to clinch the ball at any cost. In that case, the referees had to whistle which made him very frustrated.
In the 1995-96 season, Rodman produced an infamous head-butt into NBA referee Ted Bernhardt which handed him suspension of 6 games & $21000 fine in total. Moreover, in '97, he almost kicked a cameraman when he tried to throw his leg at the camera. That accident also earned him 11 game suspension & $2,00,000 settlement fine.
Likewise, Rodman made a lot of mess off the court too which affected his legacy regularly. In that way, he amassed a total of 212 technical fouls in his entire career. There is no way you can forget his presence in the NBA arena for such a rough and tumble approach.
#4. Gary Payton
Career fouls: 250
Ejections – 11
Here comes the only point guard to win the NBA defensive player of the year award, but you might probably identify him also for his toxic reputation. Getting under the opposite players' skin was his daily routine which also made him do trash talks regularly.
For being a top class point guard in NBA, Payton had to make rough challenges to stop the opposition from going forward. Sometimes they turned out to be successful, and sometimes they weren't. But if the officials had to make harsh calls against his favor, he would react furiously at them.
After all, you can see the outcome of his rough behavior in the technical foul category where he committed the 4th most fouls (250) in NBA history technically.
#3. Rasheed Wallace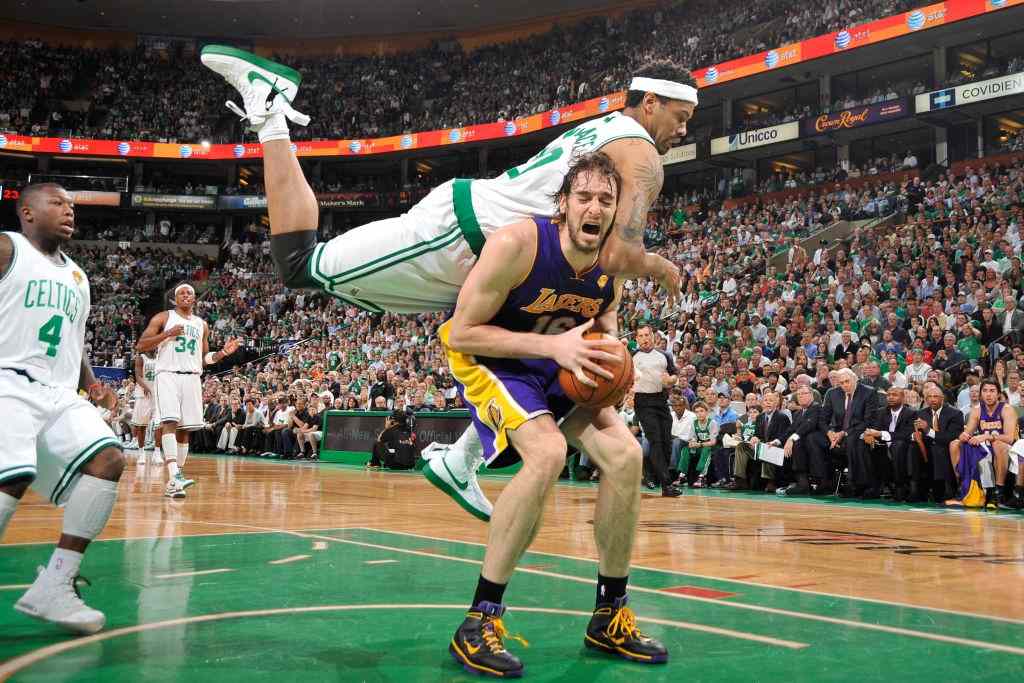 Career fouls: 317
Ejections – 26
Among plenty of NBA awards, there is an award that none would like to see to his name. Guess what? That is the record of most technical fouls in a season. It's such a great pity that Rasheed Wallace is the owner of this record with 41 fouls in the 2000-01 season. But how did that even happen?
To be frank, NBA referees can be cruel to you sometimes if you don't respect their words. According to that, if you are someone like Rasheed Wallace, then you are in great trouble.
Eventually, that happened when Wallace was continuously violating the rules in a match under Ron Garretson, a pretty rough official indeed. "Whack! Get Out!!" that's what came out from Garretson's mouth since Wallace didn't be cautious even after multiple warnings.
For his inherent nature not allowing anyone to intimidate him, Wallace stands 3rd in the NBA technical foul leaders of all time with 317 career fouls.
#2. Charles Barkley
Career fouls: 329
Ejections – 6
If you know Charles Barkley properly, you wouldn't be surprised after seeing him here. Ranked 2nd in the list, Barkley had made a lot of chaos in the NBA for his impolite nature.
Being one of the NBA leaders in technical fouls isn't something praiseworthy but Barkley was indifferent to accept such a record. Yelling at the officials, poking the noses of them, blowing up with hands were literally his daily tasks to follow.
On a regular day, Barkley brawled with Bill Laimbeer during a match between 76ers & Pistons in 1990. Later, he received a $20,000 fine with one game suspension. In another case. In another case, he even cut the nose of referee Jack Nies while pointing at him after arguing for a call.
So it's pretty apparent for a player like Barkley to end his career with 2nd highest NBA technical fouls (329).
#1. Karl Malone
Career fouls: 332
Ejections – 5
Who has the most technical fouls in NBA history? Finally, your wait is over. Surprisingly, Karl Malone, the second highest point scorer in NBA history tops this list of technical foulers.
When you try to reminisce about the glorious career of Karl Malone, his legendary performance might only appear in your imagination. Despite being one of the dominant NBA players, he is one of those greatest NBA players without a ring. But if you look at the other side of the coin, you might be dizzy seeing his adverse incidents.
Alongside his supremacy, his elbows also raised a lot of controversies. In any means, he wanted to steal the ball from the opposition that made him bound to throw his elbows at them. In the 1991-92 season, he elbowed Isiah Thomas pathetically that he had to take 40 stitches. That attack handed Malone $10,000 fine, including one game suspension.
Similarly, Malone used his elbows plenty of times by amassing a total of 332 fouls. Throughout his 20 years career, such an excessive way to use the body gave him the recognition of the NBA player with most technical fouls.
So that's all about our list of the players with most technical fouls in NBA history. We would like to hear from you too what you think about their clumsy instances of technical fouls. You can share your opinion in the comment box. Also, we are coming soon with another NBA article. Stay safe till then.