The starting quarterback of the Carolina Panthers, Bryce Young, who draws inspiration from Tom Brady, is facing challenges and has statistically performed poorly as a rookie quarterback this season. When the team picked the QB and promoted him to the starting quarterback position, many NFL fans doubted him and made fun of his small physique. 
The criticism is continued as the quarterback couldn't score any better this season with the team currently 1-8, placing them last in the NFC South. Amidst the heightened scrutiny, a steadfast supporter of the quarterback has stepped forward to defend him.  
Micha Parsons defends Bryce Young
Micah Parsons, a star player for the Dallas Cowboys, recently talked about Bryce Young and defended him. Despite the Panthers' struggles and Young's statistical performance, Parsons believes it's too early to label the rookie QB negatively. He emphasized that the team is not regretting signing CJ Stroud who is playing incredibly as a rookie QB.
"And I seen a lot of conversation with people bashing Bryce Young because he's 1-8." Parsons said on "The Edge" Podcast. "Do they regret not taking CJ Stroud? Absolutely not. Let Bryce Young develop. I think CJ Stroud may have gone into a little bit better situation."
Parsons suggested that the situation in Carolina, including the offensive line, running game, and receivers, might not be optimal for a rookie quarterback to thrive.
"There's not a lot in Carolina right now. Their offensive line hasn't been the best. Their running game hasn't been the best. The receivers haven't really been the best."
He compared Bryce Young's situation to that of Trevor Lawrence, emphasizing the importance of time and team support for a rookie quarterback's development.
"So I don't think we should just throw away Bryce just yet. I think we should let him get a couple years, give him that same grace as we did everybody else. Even guys like Trevor Lawrence who struggled their first year, look how well he's doing. He grew, he grew. You got to build a team that supports him and around him."
The LB advised everyone to give the quarterback some time and he will eventually become better. "Give him time, let him break out. I think Bryce Young will have his breakout year, it's just not this year."
Micah Parsons' perspective about this situation is valid. Bryce Young is still a rookie QB and you can't expect a rookie player to suddenly play at an expert's level.
Bryce Young performance this NFL year
Bryce Young has been promoted to the starting quarterback position for the Panthers this year. The team acquired the No. 1 pick through a trade with the Chicago Bears, with many people believing Young will get killed in the league.
Through nine games, the QB has thrown for 1,560 yards, eight touchdowns, and seven interceptions. Carolina's offense ranks poorly in yards per game (30th) and points per game (29th).
The team's overall record is 1-8. In the most recent game against the Chicago Bears, Young struggled, going 21 of 38 for 185 yards with no touchdowns.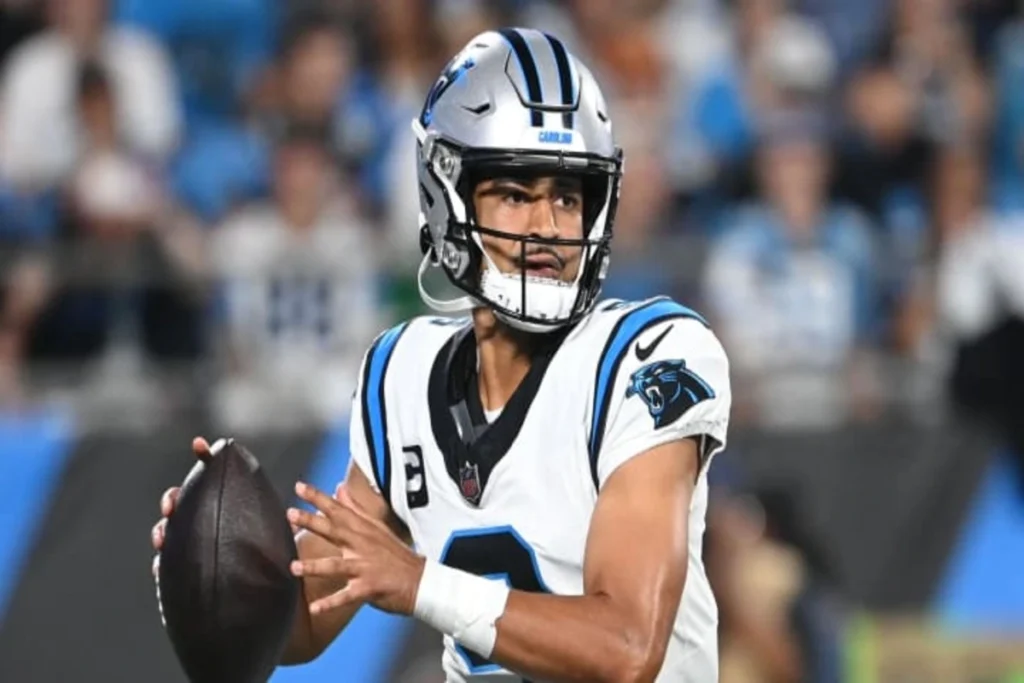 The only touchdown for Carolina in that game was scored on a punt return in the first quarter. After this particular game, the backlash against the QB was increased and Micah Parsons had to come forward and remind everyone that Bryce Young is still a rookie quarterback who needs time to learn and develop. 
What's your take on this matter? Do you think that the Panthers made the wrong QB choice this season? Let us know in the comments.