Portuguese legend and five-time Ballon d'Or winner, Cristiano Ronaldo left Europe and joined forces with Saudi Pro League club Al Nassr in January 2023. He signed a contract worth around $200 million for a 2-year deal. It seems like the Portuguese international has settled in well at his new club. A video was posted on Al Nassr's official Twitter account where Cristiano Ronaldo was spotted celebrating the Saudi National Day in traditional attire.
In other news, the UCL top scorer met a superfan on Tuesday. The encounter was heartwarming and everybody appreciated Ronaldo taking out time from his busy schedule to fulfil the fan's biggest wish.
Cristiano Ronaldo appears in traditional Saudi attire
The 23rd September of every year is the Saudi National Day. Since the Middle East club, Al Nassr signed one of the biggest players of the world, Cristiano Ronaldo earlier this year it is only understandable that he too is in on the celebrations this time. A video posted by Al Nassr's official Twitter account features Cristiano along with many other players enjoying the festivities.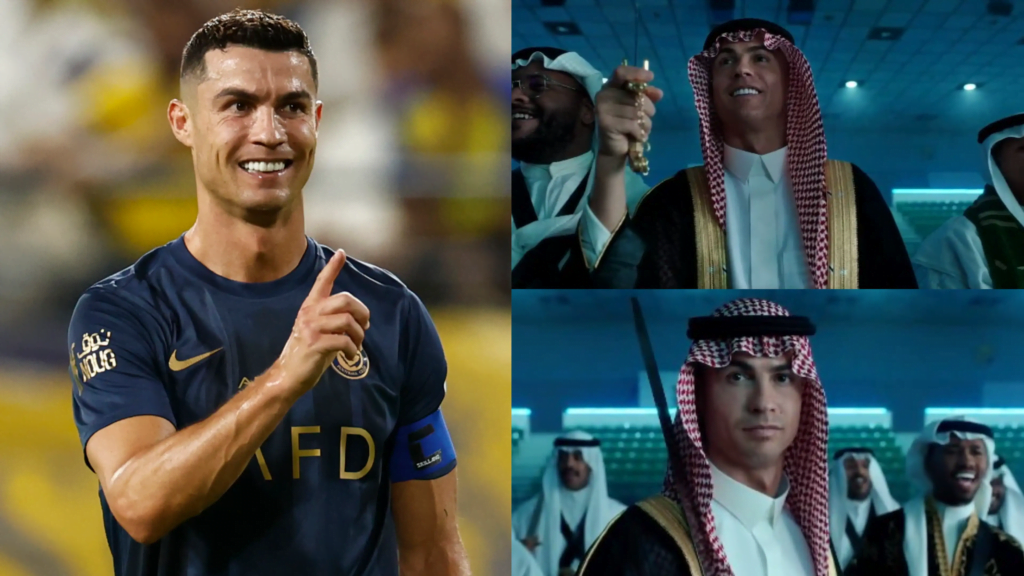 The video starts with 3 kids sneaking into Al Nassr's headquarters where they see many players such as former Liverpool winger Sadio Mane, Marcelo Brozovic, Otavio, and Alex Telles getting ready for the day. In the end, the G.O.A.T. himself makes an appearance wearing a black bisht on a white thobe. He is also seen carrying a sword and the video gives a wholesome vibe.
The post currently has over 32 million views and it will surely keep growing with time. Fans are amazed to see Cristiano in this never seen before attire and surely he himself would have enjoyed his new look.
CR7 meets superfan
Cristiano Ronaldo is the face of football and a payer like him is sure to have billions of fans from all around the world. The Real Madrid legend has just met one of his biggest and sweetest fans on Tuesday making her day and fulfilling one of her biggest wishes.
The 38-year-old flew to Iran on 19 September 2023 to face Persepolis. Before his match, he met Fatimah Hamami, an Iranian artist who is 85% paralysed. She gave the Al Nassr ace two of his portraits that she painted using her feet and in return, he gave her a signed number 7 Al Nassr T-shirt. The artist posted a video of this meeting on her Instagram account, in the caption she wrote "My meeting with Cristiano Ronaldo ✌️😊 God, thank you for this dream wish 🙏🏼❤️ Tuesday 28 September".
It is good to see Ronaldo enjoying his time at his new club and also being kind to his fans.