Cristiano Ronaldo, a name known all over the world, a legacy untouched. The Portuguese international flew to the Middle East in January 2023 after conquering Europe. Many thought that his career was over and the forward would soon retire from the game. He has now proven them wrong after delivering a remarkable performance in his last match against Al Ahli.
The Portuguese international also talked about his retirement and gave a defiant response to those who were saying that the end was near for him.
Cristiano Ronaldo's remarks after scoring a brace
Al Nassr faced Al Ahli on 22 September. Cristiano Ronaldo played a crucial role for his team as his goals helped them achieve victory and get one step closer to winning the league title. The centre-forward scored a brace for his team showing the world that he still has a lot of fight left in him. He also addressed rumours about his retirement after the game.
The G.O.A.T. told the press that he will continue to play until his legs fall apart: "I will continue to play until my legs say 'Cristiano, I'm done'. I still have a lot. I still love football and scoring goals. I still love winning"
Al-Nassr vs Al-Ahli match review
The game was a close one. Both teams were equally matched, and it could have gone either way, but in the end, Al Nassr came out victorious. Cristiano Ronaldo provided his team with an early lead in the 4th minute when he received the ball in front of the goal. It didn't take long for the 38-year-old striker to put it in the bottom-right corner, giving the keeper no chance to save it. Brazilian winger Anderson Talisca made it 2-0 after he headed the ball into the back of the net in the 17th minute.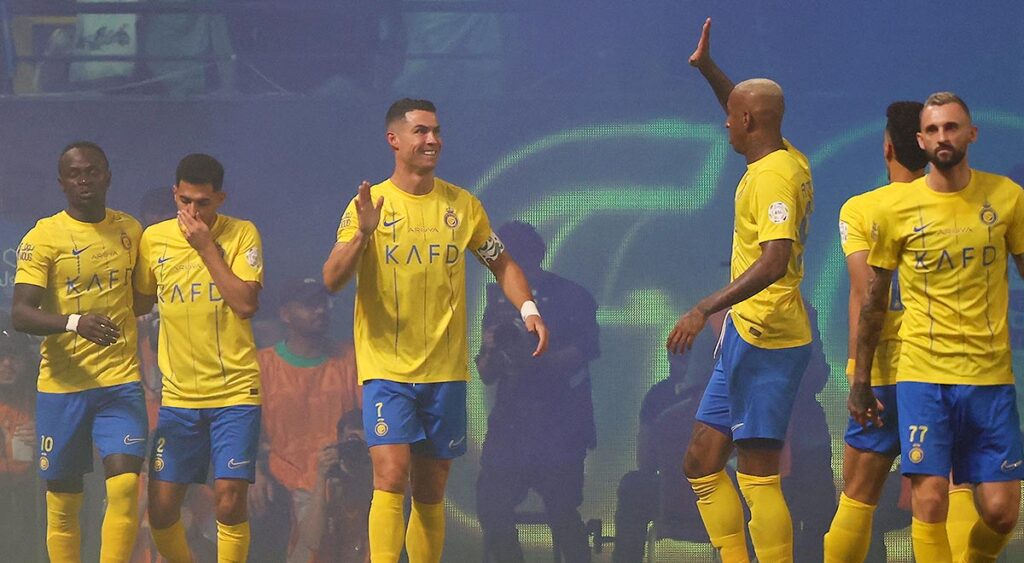 Al-Ahli managed to pull one back in the 30th minute, but Anderson once again crushed their hopes by curling the ball into the top corner at the end of the first half. Ex-Manchester City player Riyad Mahrez also made it to the scoresheet, scoring a penalty in the 50th minute, but the Portuguese legend struck once again only 2 minutes later. Cristiano Ronaldo scored a goal from outside the penalty box. He then ran to the sidelines to celebrate in his signature style, with the whole stadium screaming "Siuuuuu!!" behind him.
Overall, the game was an absolute nail-biter. Goals were coming one after another and it was hard to predict the winner. Cristiano's efforts saved his team once again and despite Al-Ahli's efforts, the club had to face defeat. Al Nassr now sits at number 5 on the Saudi Pro League table and they are set to face Al Taee next on 29 September.