After much speculation, we finally learned the status of Buffalo Bills defender Damar Hamilton's health from his uncle.
The Bills' defensive back collapsed on the ground during the first quarter against the Cincinnati Bengals due to a cardiac arrest. Later, he was taken to the University of Cincinnati Medical Center for further treatment. The 24-year-old is still in the intensive care unit. His family members are there, hoping for a good sign.
What did Damar Hamlin's uncle say?
Damar Hamlin's uncle, Dorrian Glenn, delivered some positive news to the reporters waiting outside. According to CNN, Uncle Glenn said, "His heart had went out so they had to resuscitate him twice. They resuscitated him on the field before they brought him to the hospital and then they resuscitated him a second time when they got him to the hospital."
"They sedated him just to give a better chance for him to just continue to heal better. We are just taking it day by day. It seems like he's trending upwards in a positive way," Glenn went on. "Flipped over on his stomach to help with blood in his lungs. The next step is to get Hamlin breathing on his own."
"A lot of people don't get to see how loved they are while they're alive, so for him to have a situation where he could have been taken away and he has a chance to come back and see all that love that he got."

Our @nflnetwork interview with Damar Hamlin's uncle, Dorrian Glenn: pic.twitter.com/h3YN3LizPC

— Cameron Wolfe (@CameronWolfe) January 4, 2023
Another piece of good news about Damar was revealed by Josh Reed of News 4 Buffalo. "Just spoke with Damar Hamlin's uncle. Damar was originally on 100 percent oxygen and is now down to 50 percent. Says the family is hanging in there. He thanked Bills fans, and Bengals fans and asked for continued prayers." Josh wrote.
What was Damar Hamlin's uncle's reaction after the incident?
"I'm not a crier, but I've never cried so hard in my life. Just to know, like, my nephew basically died on the field and they brought him back to life," Uncle Dorrian shared his feeling. "It's just heartbreaking. It was a gut punch."
"I'm just glad he's alive and able to fight and trying to get better and recover," He also expressed his wish.
'DAY BY DAY': Damar Hamlin's uncle shares update on his nephew's condition. https://t.co/rqf0CidJOk pic.twitter.com/25S0X5ekKS

— Fox News (@FoxNews) January 4, 2023
Dorrian Glenn, Damar Hamlin's uncle, tells CNN that his nephew had to be resuscitated twice last night. (NFL/NBC Photo) pic.twitter.com/kiiyh6GtRp

— Chuck Miketinac (@MaxSportsSA) January 4, 2023
The game between the Cincinnati Bengals and Buffalo Bills was postponed after a temporary suspension. The NFL confirms that the game will be played at a later date.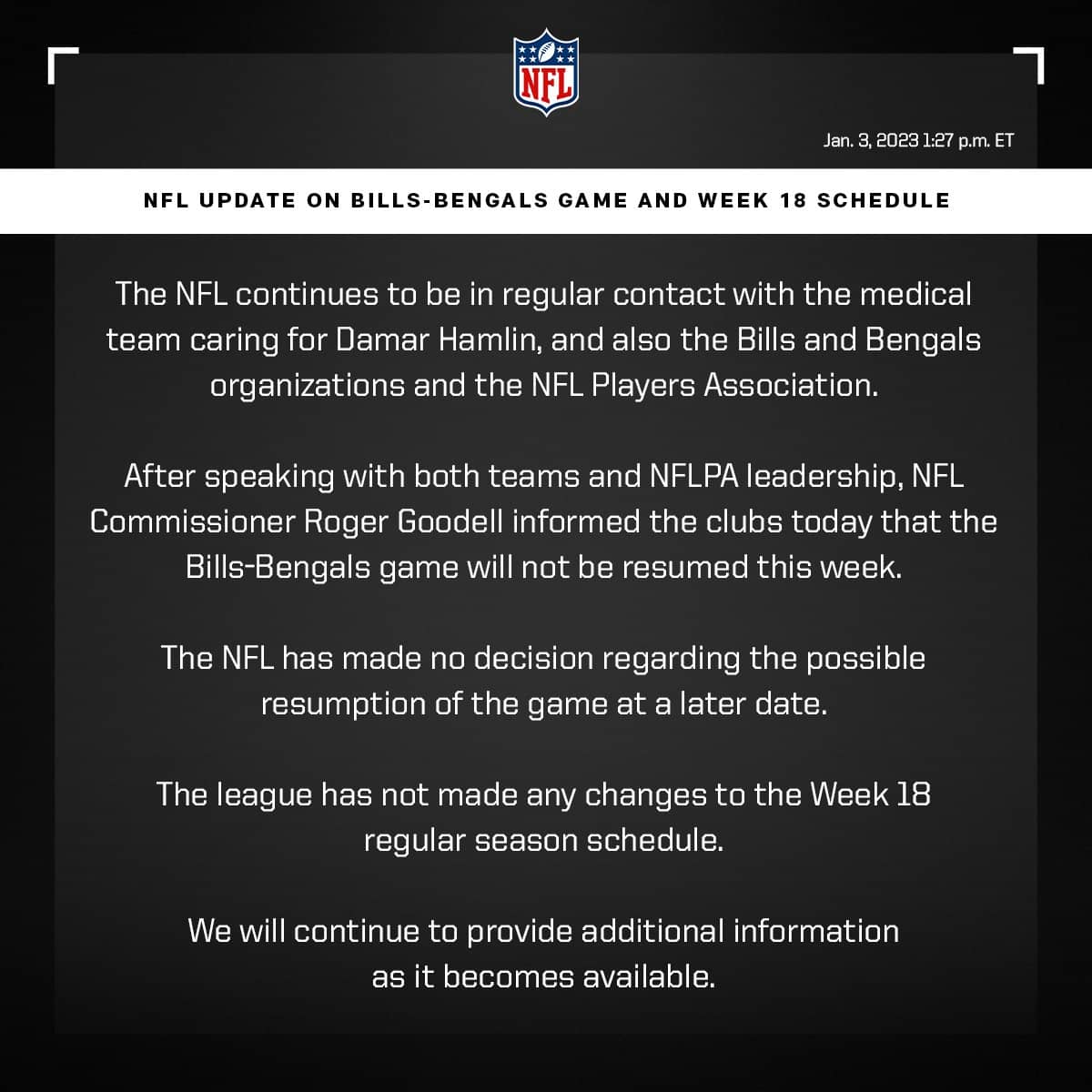 Stay tuned with SportsZion for more updates.