Novak Djokovic, at 36 years of age, is showing no signs of fatigue as he embarks on a quest to see Serbia through to Davis Cup glory. The country-vs-country tournament is taking place just a few weeks after the US Open concluded, and the champion of New York is back in business against Spain in the Pabellón Fuente de San Luis indoor arena in Valencia, Spain.
All eyes will be on the 24-time grand slam champion as he partners Laslo Djere and Dusan Lagovic as the top-ranked Serbian players in the landlocked European nation's contingent. With their talisman back, Serbia is fielding a full-strength side that leads 2-1 over Spain in the 2023 Davis Cup Finals. Djokovic will know he has good company with memories of Djere's marathon 5-setter match with him in the US Open third round giving him confirmation of his compatriot's capabilities.
Novak Djokovic hones his Spanish
In a wily remark, Novak Djokovic addressed Carlos Alcaraz's absence from the Davis Cup tournament in his press conference.
Djokovic asked the Spanish journalists, in Spanish, what the word for 'missing' was and then noted down the translation into his notebook. 'You learn something new everyday', Davis Cup captioned the post. Novak Djokovic is known to be multilingual as he can fluently speak French, Italian, German, English and Serbian. Spanish seems to be his new addition to the list.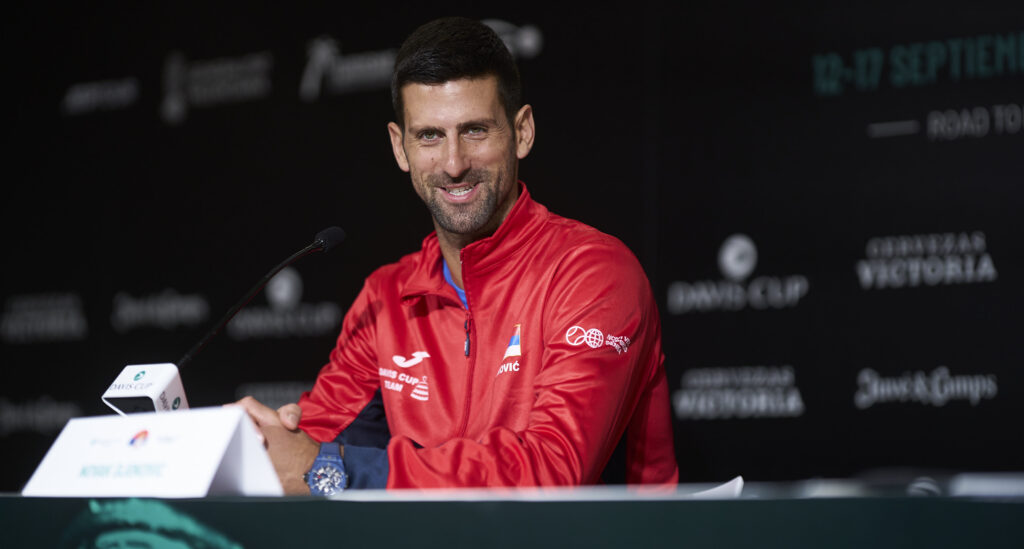 "I'm excited to be here. My priorities this year are Grand Slams and playing for the national team. So, I really hope that tomorrow we can win against Spain and that we can qualify also for Malaga.", Djokovic said before his contest.
After Carlos Alcaraz's exit from the US Open, many were disappointed at the lost chance of a reunion between the Spaniard and Djokovic. The two have developed a ruthless rivalry that spanned across major tournaments in 2023. After the class and quality of the 'Big 3"s matches, the Novak-Carlos contest has gained a profound reputation among fans.
The two players could meet again this year, with both athletes having qualified for the year-end Nitto ATP Finals tournament. The Davis Cup, meanwhile, offers an extension of the nascent competition between the two.
Alcaraz skipped Davis Cup while Djokovic represents Serbia
In a downer for viewers, Carlos Alcaraz opted out of participating from the Davis Cup. Alcaraz talked about his need for recovery from the intensity of the past few weeks and Spanish Davis Cup captain David Ferrer made it clear that he did not want to add to the pressure on the youngster. Alcaraz was replaced by Albert Ramos for the remainder of the tournament.
Novak Djokovic defended Alcaraz in the face of criticism from Spanish media.
"Maybe you guys are upset he's not playing for Spain, because he's 20 years old and I'm 36, and how he's tired and I'm not." he said.
"It's important to understand he's got a lot of time ahead of him. He already played for Spain last year, you can't forget that. He won the US Open last year and after a few days he was here playing for his heart and his passion for his country." Djokovic added.
The world no.1 compared Alcaraz's situation with his own experience of facing resentful journalists when he had skipped the tournament.
"I have skipped the Davis Cup several times, I know the backlash and reaction from my country was not so great and there's a lot of negativity when you skip playing for your country," he said.
Novak Djokovic is set to take part in his country's upcoming match versus Spain and a loss for Spain would boot them out from the tournament and a win for Serbia would book theirs and Czech Republic's flight to the next round.
On the back of an incredible season, where he won 3 grand slams and was a finalist in the other, Novak Djokovic is showcasing his patriotic side by taking part in the tournament in such short notice. What are your opinions on the Serbian stalwart's unquenchable thirst for tennis glory? Let us know in the comments section below.