Novak Djokovic, fresh from a record-breaking Cincinnati Open title, marched into the third round of the US Open with systematic demolitions of his opponents. He looked in ominous form, and along with Carlos Alcaraz is touted as the top contenders in the US Open, leaving behind several worthy opponents in the lurch.
Facing a battle of wits against fellow Serbian and world no.38 Laslo Djere in the third round, Djokovic was primed to progress to the round-of-16 in a contest that looked as an expected win on paper. However, it was far from easy for Djokovic, who was taken to the brink in an enthralling contest.
Novak Djokovic gave himself a 'pep talk' to roar back from 2-set hole
Right from the beginning, Laslo Djere focused on playing swift, high-impact shots that threw Djokovic off balance. His fearless approach to the match meant his 23-time grand slam winning opponent was shaken and eventually forfeited the first two sets in quick time. Now, facing the possibility of an early elimination from the championship, Novak Djokovic had to regroup and reassess his game to stage an epic comeback.
Djokovic took a bathroom break at this point, where he proceeded to give himself a 'pep talk' in the mirror.
"I did a little pep talk in the mirror. I kind of laughed at myself because I was so pissed off and annoyed with the result," Djokovic said.
"I had to force myself to lift myself up, lift the spirits up a little bit. I've done it a few times before in my career, it worked. A few times it didn't work, but tonight it did and I'm grateful."
Novak Djokovic had a talk with himself in the mirror when he was down 2 sets to 0 against Djere:

"Actually I did. And I'm not lying. 😂 I did a pep talk in the mirror & kind of laughed at myself bc I was so agitated.. I had to force myself to lift myself up" pic.twitter.com/9MPEBMNNp1

— The Tennis Letter (@TheTennisLetter) September 2, 2023
What happened next was the stuff of legends.
Breaking early in the third set, the Serbian managed to turn the tables in his favour. Djere fought hard, often producing long rallies but Novak Djokovic stood firm and dictated terms from the baseline. His impenetrable and improved defence meant that Djere's hard-hitting shots was no longer producing the expected results.
After three hours and 45 minutes, Novak Djokovic managed to thwart all attempts of winning the match from Djere by securing a 4-6, 4-6, 6-1, 6-1, 6-3 victory.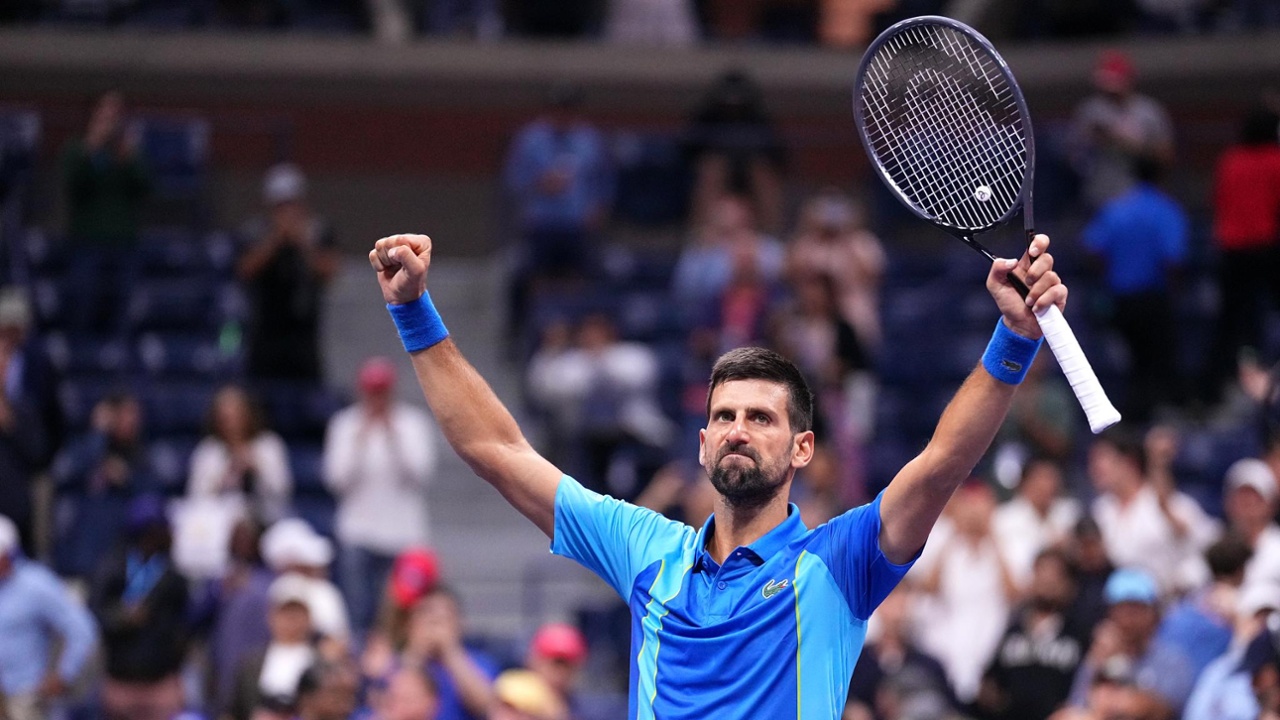 With a remarkable 41-5 match record this season, Djokovic improved to 2-0 in his head-to-head record with Djere, whom he also beat last year at the ATP 250 event in Belgrade despite being two points from defeat.
Novak Djokovic to face Borna Gojo in the last 16 of the US Open
"Unbelievable. I hope [the fans] enjoyed the show, it was definitely not so enjoyable for me, especially in the first two sets. It was one of the toughest matches I've played here in many years. Huge, huge credit to Laslo for playing some of the best tennis that I've ever seen him play.", Novak Djokovic said after the match.
It is his 8th time coming back from a two-set deficit in grand slams.
What a comeback!

23-times Grand Slam champion Novak Djokovic comes back from two sets down for the 8th time in his career, beats (a great) Serbian #2 Laslo Djere 4-6, 4-6, 6-1, 6-1, 6-3 to reach the last 16 at the #USOpen once again. 1.32am.

Faces Borna Gojo on Sunday. pic.twitter.com/uM7EP0UKss

— José Morgado (@josemorgado) September 2, 2023
Djokovic is set to face Croatian qualifier Borna Gojo, who is unbroken in US Open 2023. The 25-year-old and world no.105 Gojo defeated Czech Jiri Vesely 6-4, 6-3, 6-2 on Friday to reach his maiden major fourth round. Up 29 spots to No. 76 in the ATP Rankings, Gojo is guaranteed to crack the top 100 for the first time.
On paper, the clash looks like a mismatch yet again. However, Novak Djokovic may have gained some insights about not underestimating opponents from his marathon third round match and would look to be professional, clinical and ruthless against Gojo. Gojo could benefit massively from analysing Djere's game in the first two sets against Djokovic and attempt to replicate those tactics in order to pose a significant challenge to the resurgent Novak.
Novak Djokovic was brought down to earth in his match against Djere but the Serbian has shown why he is a multiple grand slam champion and an elite athlete by producing an epic comeback. What are your opinions on this entertaining match? Will Djokovic return back to form against Borna Gojo and produce a clinical game? Let us know in the comments section below.