Daniil Medvedev shares a commonality with Rafael Nadal, Novak Djokovic among others. In fact, many tennis players drop to the floor in celebration after they have won an important match. Medvedev, in particular, has perfected his own unique style of commemorating a victory. His 'dead fish' celebration, inspired by a playstation game, has garnered a distinctive reputation among the Russian's fans.
However, in the US Open final, the rangy Russian dropped to the floor in a different manner. Whilst in a mid-point battle, Medvedev took a hard fall to the ground. He lay motionless on the floor for a minute before picking himself up and continuing to play.
Medvedev details hard fall and painful experience
During the third set of his US Open final encounter with Novak Djokovic, Daniil Medvedev stumbled and collapsed to the ground. The point was abandoned and Djokovic cast a concerned face at his opponent's tumble. Medvedev fell directly on his elbow and stayed down on the floor for a while. While on the ground, he kept checking his elbow. Djokovic offered a helping hand but Medvedev rebuffed his approach, only to lay still and investigate his injury.
"Yeah, I felt nothing. Actually, when the moment I fell, I was, like, Man, this could have been not dangerous but I could have hurt myself.", Medvedev said.
"So for maybe 30 seconds, one minute, I was, like, does it hurt, does it not hurt. There was other problem I had. In the third set it was growing, growing, growing, and at the same time, again, that's how tennis is. Maybe I win the second set and I don't think about the other problem I had.", he added.
When quizzed if the pain incurred during the fall had any sort of effect on the eventual result, Medvedev was candid in not blaming the affliction for his loss. He also revealed another injury that kept bothering him throughout the match.
"The pain goes less. When you lose it, the pain goes up. Again, I definitely didn't lose because I had a small pain on my left shoulder," Medvedev said.
Novak Djokovic downs Daniil Medvedev in masterclass
In a thrilling contest, Novak Djokovic displayed a highlight-reel-worthy performance to defeat Daniil Medvedev in straight sets. Under the sparkling lights of the Arthur Ashe Stadium, Djokovic took charge of the match early on and pummelled Medvedev into submission with baseline bravado, astute services, and an overall complete performance.
Medvedev strived hard to replicate his match-winning performance against Carlos Alcaraz in the semifinals but found a resurgent Djokovic too hot to handle in a humid evening. In the final set, his fall and subsequent halt of the game stood not only as an injury scare for the world no.3 but also as a breather amid a ferocious assault from his opponent.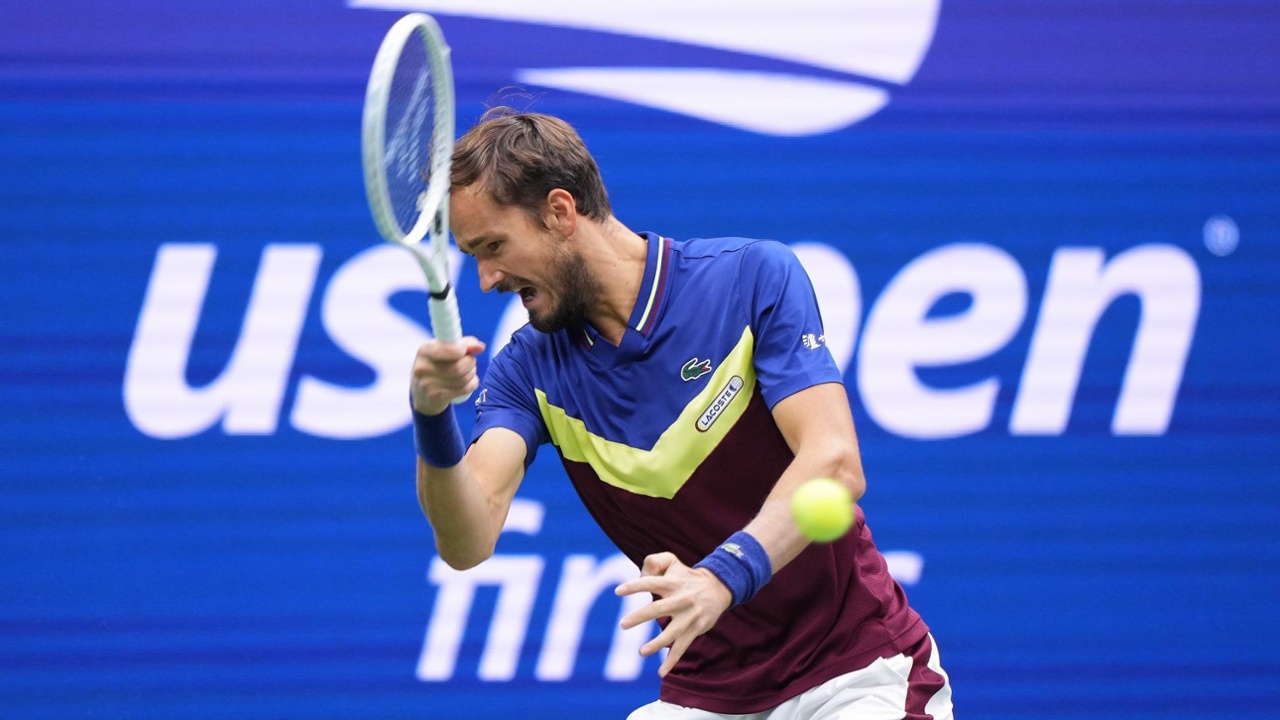 In the end, Novak Djokovic won 6-3 7-6 (5) 6-3 and slumped to the ground. Only this time, it was not in pain but was instead a fitting reaction to the conclusion of a fortnight filled with marathon battles and emotional struggles.
Medvedev reflected on his loss in a poignant fashion.
"Oh, regrets, for sure. Should have won it. Should have won it, but sometimes tennis is not that easy." Medvedev said.
"Passing for sure down the line, not cross, but I have two choices and I chose the wrong one. In general, yeah, second set was the best set I played and I didn't win it. So that's why I kind of, I would say, it's normal that the match went that way, because first and third he was kind of better and not much to say. Second if I would win it maybe could have been a different game," he added.
Daniil Medvedev was unable to repeat his 2021 heroics in New York but can reflect on his US Open journey with pride. What are your thoughts on his scary fall to the ground? And, can the Russian continue his hard-court form and bounce back next season? Let us know in the comments section below.