While defending champion Carlos Alcaraz is sweeping through the US Open with ease, he has also been keeping tab on the happenings in football.
After grabbing headlines with his condemnation of RFEF president Luis Rubiales and the Spanish federation chief's scandal involving Jenni Hermoso, the 20-year-old Wimbledon champion gave his seal of endorsement to Real Madrid's new acquisition Jude Bellingham. This comes a few days after Alcaraz's encounter with Miami Heat star Jimmy Butler. The two titans of tennis and basketball took to the court as part of the US Open's "Stars of the Open" charity event. Butler served against Alcaraz and even won a point against the maverick Spaniard.
Carlos Alcaraz drops bold Jude Bellingham prediction
After triumphing over a battling Llyod Harris in their second-round clash, Carlos Alcaraz talked to the press about the British midfielder, who is a few months younger to him.
"I'm really happy to watch him play in Real Madrid," he told. "He's such a great, talented player, one of the best in the world. I'm sure that he's going to be the best player in the world in that position."
"I'm just really, really happy to have him in the team… I talked a little bit with him. He's such a great person, as well. It's a complete guy."
High praise from @carlosalcaraz for Real Madrid's newest Galactico 🤝 pic.twitter.com/DiTcUzkQow

— Tennis TV (@TennisTV) September 1, 2023
An affectionate member of Real Madrid's white army fan brigade, Alcaraz is a regular presence at the Santiago Bernabeu Stadium. In an Instagram post dated 30th May, he was seen being presented a Real Madrid number 1 jersey by Álvaro Arbeloa.
His prediction of Bellingham's prowess and future success is well-founded, as the promising playmaker has been setting records since his transfer from Borussia Dortmund over the summer. He became the first British player to earn LaLiga's Player of the Month award.
Carlos Alcaraz and Jude Bellingham may be athletes in different sports but they share the same youthful vigour, professional maturity and versatility that has enriched them with international success. The similarity could further be espoused through examining Alcaraz's timeless rivalry with Novak Djokovic and Bellingham's midfield duel against Barcelona's Frenkie de Jong.
Alcaraz on course to defend the US Open title
Carlos Alcaraz's preparation for the US Open was dealt a blow when he lost in a marathon Cincinnati Open final to Novak Djokovic. However, that hasn't perturbed the spry Spaniard as he is on course to defend his title after achieving comfortable victories in the first two rounds.
He began his US Open journey with the knowledge that he had surrendered his world no.1 ranking to Novak Djokovic, after the Serbian's victory over Alexandre Muller. His first-round match was a short one as his German opponent Dominik Koepfer fizzled out with an injury, conceding the match to Alcaraz with the scoreline at 6-2, 3-2.
However, his second-round clash with South African Llyod Harris was played in its entirety. Carlos had no qualms in dominating his opponent from the beginning and raced to a two-set lead. The third set was more evenly contested as Harris regularly posed a tough challenge to Alcaraz. The set culminated in a tiebreaker which the Spaniard won to seal the match 6-3, 6-1, 7-6(4).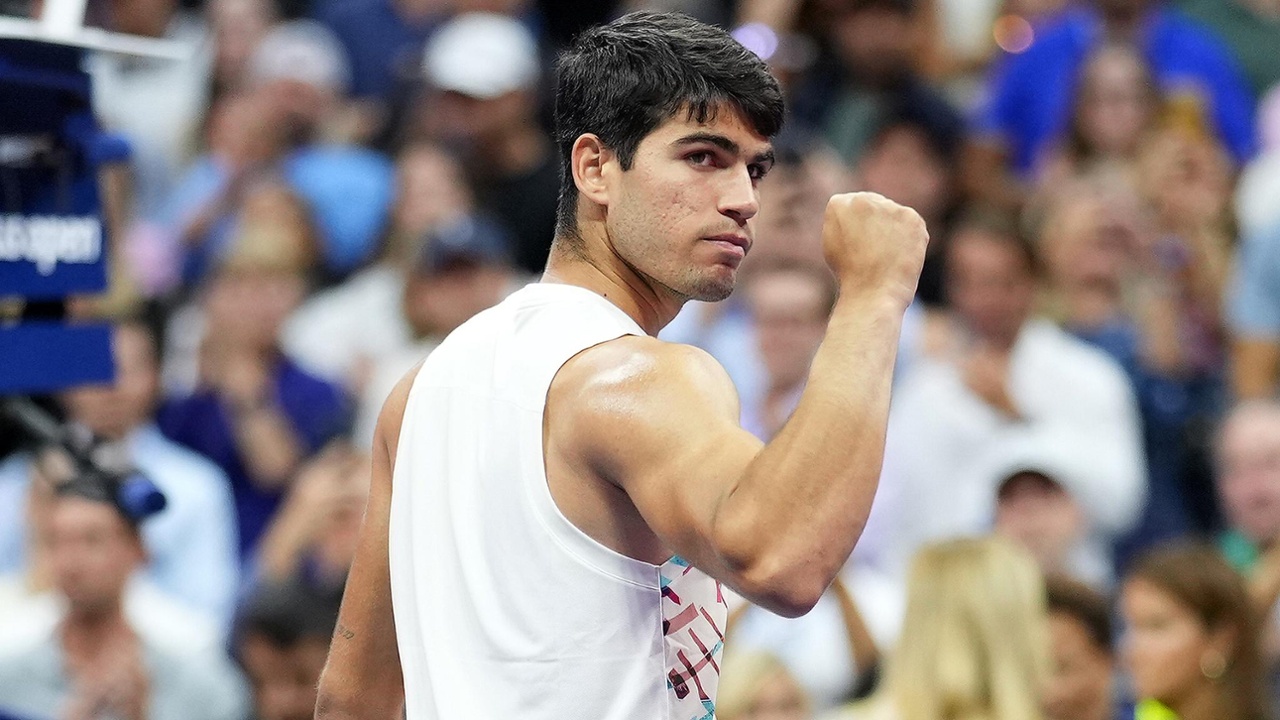 "I think I played a great match from the beginning until the last ball," Alcaraz said. "If I have to keep something from the match I'm going to keep the level from the second set."
The 20-year-old from Spain's southern coast is aiming to be the first person since Roger Federer to defend his crown at Flushing Meadows. Federer had won five back-to-back titles from 2004 to 2008. A grand slam win would also inject the required momentum into him to close out the rest of the 2023 season in a high and thus reclaim his world no.1 ranking from Novak Djokovic.
Carlos Alcaraz is a true 'Madridista' and his support of Jude Bellingham showcases his love for the club, sports and his understanding of what it takes to succeed as an elite athlete. What do you think of his seal of approval for Bellingham? Will the Spaniard defend his US Open crown this year? Let us know in the comments section below.