Nick Kyrgios, 27, is a World No. 40 in Men's Tennis Ranking and representing Australia alongside fifteen other native counterparts in The Championship, Wimbledon this year with achieving first round victory against Paul Jubb.
The ongoing Grand Slam is providing lots of surprising and unexpected incidents from the beginning with the elimination of superstar Serena Williams and Nick Kyrgios spitting incident.
What caused the fan-spitting incident?
Kyrgios played the Wimbledon opener against British player Paul Jubb who entered the tournament as a 'Wild Card' holder, and there was a fierce on-court battle between these two that resulted on a victory for the Australian with 3-6, 6-1, 7-5, 6-7, 7-5 sets in a monumental three hour match.
Upon finishing the court-play Nick Kyrgios stormed onto a particular fan at the stand and spitted towards him which was broadcasted live across the globe.
That sudden incident spread like a storm in the social media where critics were furious over Nick's actions.
How the umpire and line judge are related to this controversy?
Along with the spitting incident, the raging Australian also yelled at the chair umpire over a lineswoman who he called a "snitch" for alerting officials about him as he was mumbling to himself at the beginning of the preliminary set.
Nick Kyrgios defended himself by saying, "That specific thing: I hit a ball in, the old man called it out. It was in. Arguably, if the guy was 40, he may not have called that out. In that case, he got the call wrong."
In addition, he disputed with one of the lines judges over her critical vision and also charged Paul Jubb with shouting during a point game.
How does he defend his actions?
Kyrgios was never capable of fully controlling the rollercoaster match, despite flashes of his greater talent during their three hours and five minutes on court as the theatrical spectacle eclipsed the actual game.
Nick was asked if he had spat in the direction of a spectator, and he replied, "Of one of the people disrespecting me, yes."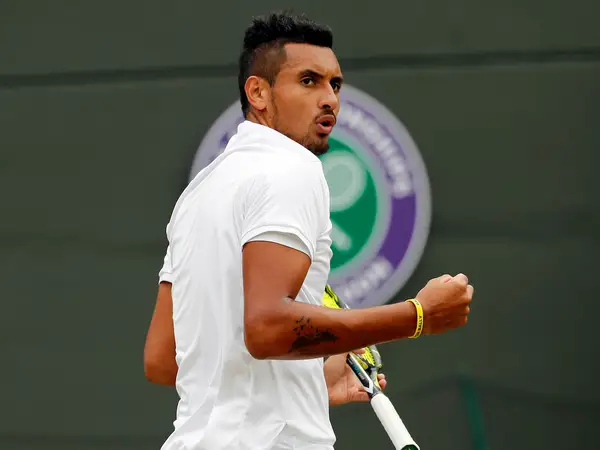 He further told the interviewer, "I've been dealing with hate and negativity for a long time, so I don't feel like I owed that person anything."