Summer 2021 has been a massive season for the boxing fans. While most of the high voltage fights were canceled or postponed, the crossover with the celebrity MMA, boxing has found a new life. And the trend continues on Saturday night, September 11 with the fight between Evander Holyfield vs Vitor Belfort.
Holyfield will step into the ring after 10 years at the age of 58! On the other hand, this fight will be former UFC champion, 44-year-old Vitor Belfort's first boxing fight. So, the old fans as well as the boxing world have been waiting for this fight.
Hence, you can assume that there will be a huge amount of money on the table.
Evander Holyfield vs Vitor Belfort Fight Purse
Although the purse and payout is not published, we have taken a closer look at the fighters' previous payout to determine the salary for this fight. Evander Holyfield played his last fight in 2011 against Brian Nielsen, in which he earned $500,000.
Hence, Holyfield will earn $500,000 against Vitor Belfort. However, the PPV share as well as sponsor bonus will be added after the fight. Holyfield may earn more than $1 million after adding up the PPV sales. Evander's earning from this fight is tiny compared to his highest payout of $35 million against Mike Tyson.
Vitor Belfort, on the other hand, earned guaranteed $300,000 to $500,000 in his UFC fights. In his last fight against Lyoto Machida, Belfort earned $315,000. It is reported that Vitor Belfort's estimated guaranteed payout will be $400,000 and it will rise after including the PPV shares.
Anderson Silva vs Tito Ortiz Fight Purse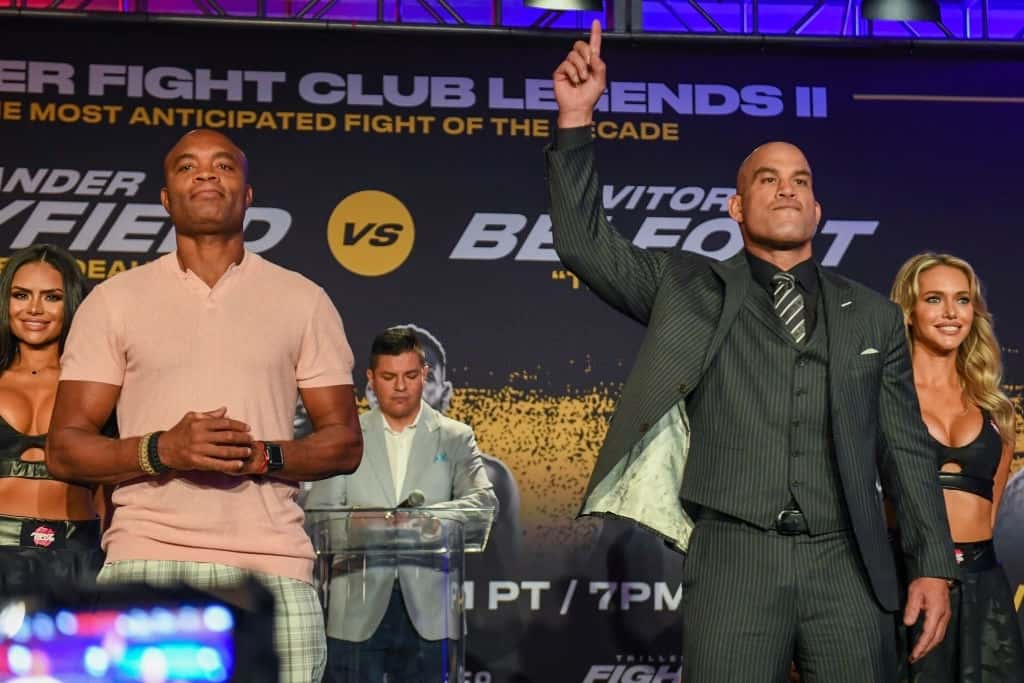 Former UFC Middleweight Champion Anderson Silva will fight former UFC light heavyweight champion Tito Ortiz as Holyfield vs Vitor Belfort co main event. However, they will not fight in the UFC event. Instead, they will take each other on a boxing fight.
In his last few UFC fights Silva's average payout was around $600,000. However, his boxing purse was not the same as the UFC. In the Anderson Silva vs Julio Cesar Chavez Jr. fight, Silva took $500,000. So, tomorrow night's purse will be similar. Silva is expected to take $500,000 home after adding the PPV shares.
Tito Ortiz's average earning per fight in UFC was $200,000. He will face Silva in his boxing debut. So, he is expected to earn around $300,000 after adding up the PPV shares.
Disclaimer: The purse and payout mentioned here are not official. Our research and analysis team estimated the amount based on previous salaries and expected PPV sales.
Fight Card
Evander Holyfield vs. Vitor Belfort
Anderson Silva vs. Tito Ortiz
David Haye vs. Joe Fournier
Andy Vences vs. Jono Carroll
Prelims
Anthony Chavez vs. Diuhl Olguin
Eliezer Silva vs. Terry Roscoe