The transfer market of 2023 saw several big transfers. Where some clubs like Real Madrid had to let go of their veteran players, other clubs like Barcelona made new signings to make themselves stronger than last year. The Catalan club made three major signings in the summer of 2023. They brought in midfielder Ikay Gundogan and right-back Joao Cancelo from Manchester City, and signed Joao Felix from their rival club, Atletico Madrid.
While Ikay Gundogan came to the club as a free transfer, the Blaugranes had to pay a price for Cancelo and Felix. The Portuguese duo is currently on loan, but Barcelona is reportedly looking for ways to sign them permanently.
Barcelona faces €105million hurdle to secure Felix and Cancelo
There is no doubt that Joao Cancelo and Joao Felix are both great players. The two have played an important role for both their countries and clubs. Since Barcelona is facing severe financial issues, it is hard for them to sign the duo on a long-term contract. The current La Liga champions will have to pay a fee of over €100 million for them.
According to Apex Football, the 2022-23 Champions League winners Manchester City will agree to sell Joao Cancelo for €25 million, and Atletico Madrid will let go of their star striker for €80 million. Barcelona should sign the players in 2024, considering that the two are turning out to be great assets to the club.
Joao Cancelo's late winner led Barcelona to comeback win
FC Barcelona faced Celta Vigo on September 23 in a La Liga home game. The match seemed to be slipping away from Barca, as they conceded a goal in the 19th minute. Midfielder Frenkie De Jong sprained his ankle in the 36th minute, forcing him to leave the pitch. Things were looking bad, and Celta Vigo made them worse after scoring a second goal in the 76th minute with the Blaugranas unable to find the back of the net.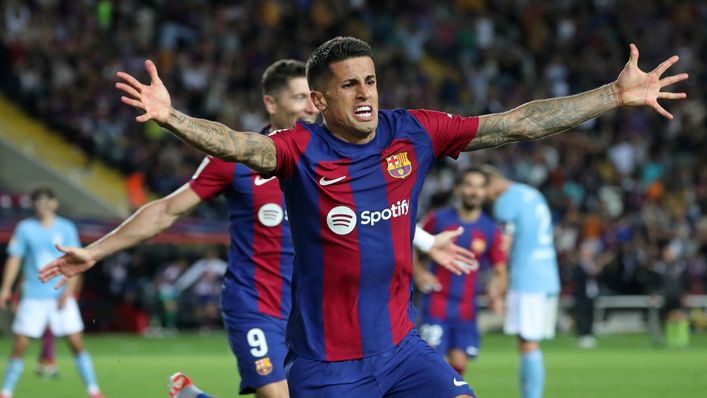 The last 10 minutes of the game changed everything, as Barcelona made an epic comeback at home. Barcelona managed to pull one back in the 81st minute after Robert Lewandowski received a lofted pass from Joao Felix, and the Polish striker sent it into the net with a little help from the crossbar. The second goal came four minutes later, after Lewandowski was assisted by Joao Cancelo to score another one.
The Portuguese right-back put the final nail in the coffin by scoring a wonderful tap-in in the 89th minute to complete the comeback and leave the away fans with their heads in their hands. "It was a great fightback," said Barcelona coach Xavi Hernández after the game.
Barcelona currently sits at the top of the La Liga table, but things may change after Real Madrid's match against Atletico Madrid tonight.