Israel Adesanya finally managed to defeat his long-time rival Alex Pereira in the main event of UFC 287. Considering Alex still has more total victories against his Nigerian nemesis, another fight was expected by many. But 'The Last Stylebender' refused an immediate rematch so a lot of fans expected the animosity to continue.
However, the recent airport encounter between the two combatants showcased unexpected respect and humility, leaving fans astounded.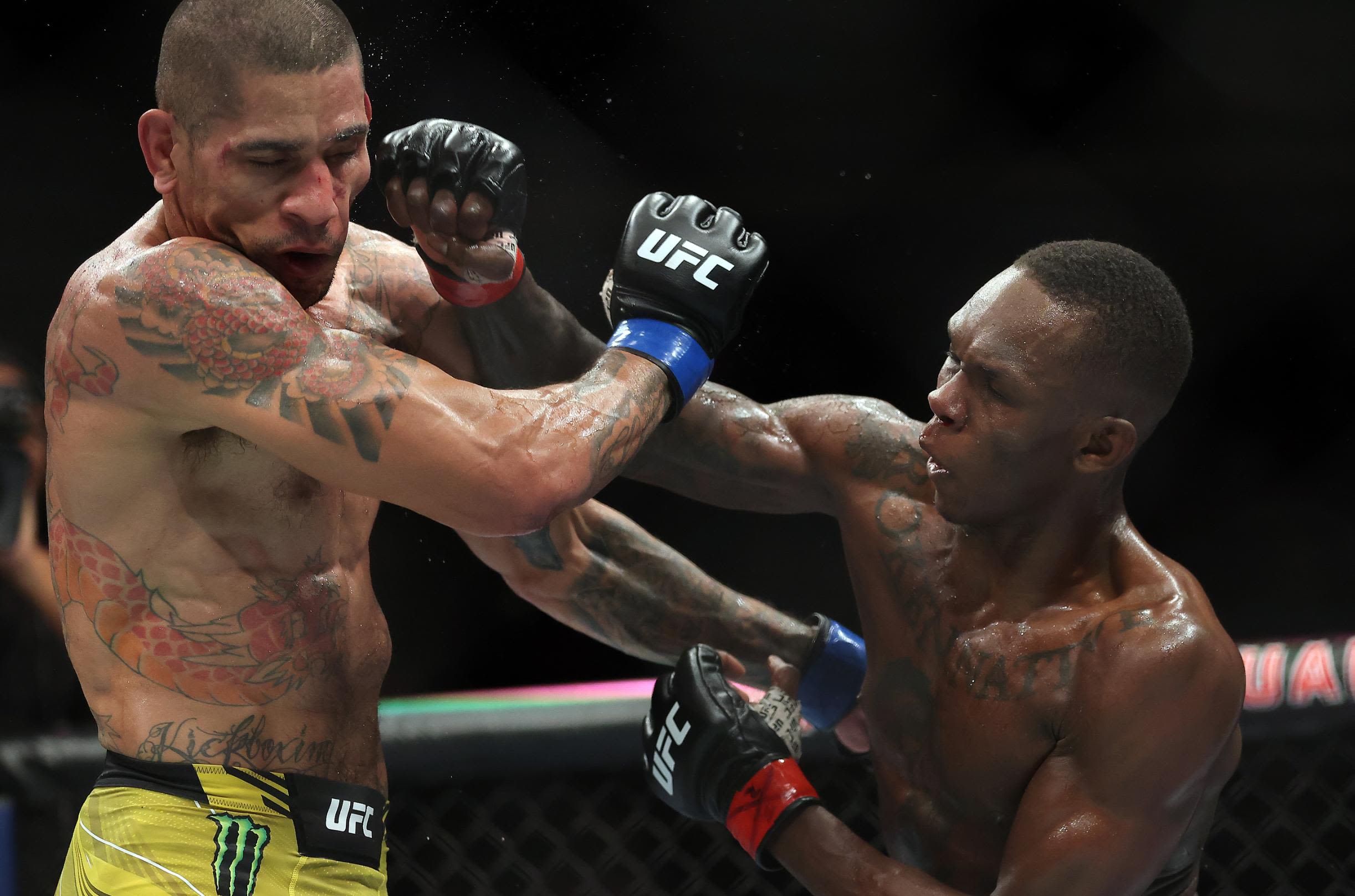 Israel Adesanya's tips to Alex Pereira
Poatan was struggling to make weight for a good while now. After the defeat to his long-time opponent, he finally decided to pull the trigger and move up in weight class. With Pereira's move to the light heavyweight division, it appears that a temporary truce has been reached, putting their rivalry on hold.
Israel Adesanya, known for his candid nature, recently revealed details of his conversation with Alex Pereira during their chance encounter. Adesanya also shared his perspective on the fight, drawing from his own experience of facing Blachowicz. He initially expected Blachowicz to display a more aggressive approach but was surprised by the Polish fighter's patience and strategic takedowns.
Israel Adesanya ran into Alex Pereira at the airport…

"I had a clean shot…" 👀✈️ pic.twitter.com/yPypx9443u

— IMPAULSIVE (@impaulsive) June 7, 2023
Reflecting on his own encounter with Blachowicz, Adesanya conveyed his insights to Pereira, urging him to adopt a similar patient approach.
He remarked, "I had to let him know to be patient, just like I did with Jan." Following the revelation of his conversation with 'Poatan,' the UFC middleweight champion shared his thoughts on the impending showdown.
Adesanya expressed belief in Pereira's ability to knock out Jan Blachowicz and emerge victorious. Additionally, he reminisced about the damage he inflicted on the Polish fighter during their own encounter.
What is Jan Blachowicz UFC record?
Jan Blachowicz's UFC record is nothing short of remarkable. With 9 victories and 6 losses, the Polish fighter has left a lasting impact on the promotion's light heavyweight division. Blachowicz's journey within the UFC has been filled with memorable moments and thrilling matchups, solidifying his status as a formidable force in the octagon.
During his run, the Polish fighter has defeated the likes of Aleksandar Rakic, Israel Adesanya, Dominick Reyes, Luke Rockhold, Jared Cannonier, etc.
Transitioning to the world of MMA, 'Poatan' faced his arch-nemesis once again at UFC 281, sealing yet another triumph. Speaking on Logan Paul's 'ImPaulsive' podcast, Adesanya shed light on their exchange.
Israel Adesanya and Alex Pereira's bitter rivalry has its origins in their time competing in kickboxing. Their first encounter in 2016 resulted in Pereira emerging as the victor, followed by a rematch in 2017 that mirrored the previous outcome.
Who do you think will get their hand raised in the Jan vs Alex showdown? Share your thoughts with us in the comments section.