Is Lamar Jackson the most dangerous player in NFL?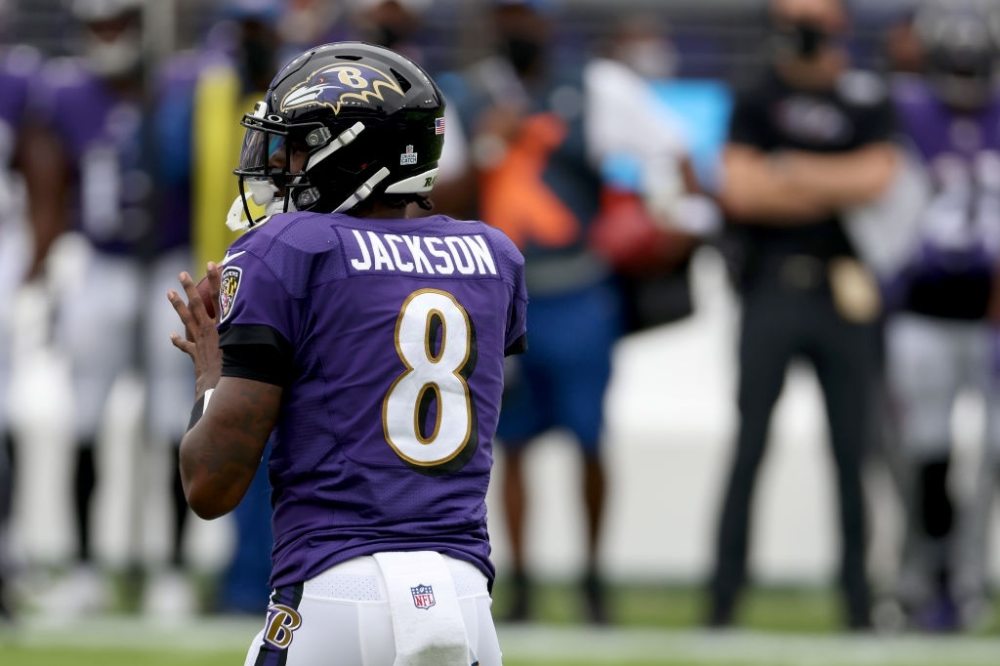 After becoming the NFL MVP player in 2019, Ravens quarterback Lamar Jackson continues to push himself to the best and earns well-deserved respect from all. Although in the 2020 season Jackson didn't show consistency in five games, he is contributing at least something to the team. 
As a result, Eagles are giving a second thought to stop him in their upcoming game on Sunday. Eagles Defensive Coordinator Jim Schwartz calls Lamar Jackson as the NFL's 'most dangerous player', earlier in the press. 
Additionally, Schwartz feels Jackson as a serious threat. It was clearly visible when he said that, 'sometimes your tiptop defense cannot catch him or he can even throw a ball sidearm underneath the free rusher and complete a rush!'
However, no one can deny what Schwartz has said, as he comprehends almost 25 years of coaching experience in the NFL. So, you can take him at his word about Lamar.
With Schwartz's word in mind, let's see the facts, how Lamar Jackson becomes today's, Lamar Jackson.
How Lamar Jackson became the Top Contender?
Early life
Lamar Jackson was born in 1997 and grew up in a small, financially distraught area in Florida. He attended different public schools during the elementary levels and played American football in all. However, at a young age, he could throw 20 yards consistently. He continued to show his style of passing and intelligence in high school. 
Lamar Jackson College Career and Achievements
He attended Louisville College, where he established himself as a crucial part of the team. In the first year, Lamar won the Music City Bowl MVP for 2015 after having a record on touchdowns, passing yards and interceptions. Besides, he won Maxwell Award, Walter Camp Award, Heisman Trophy Award and Player of the year. He was recognized as the college football best all-around player during his first and second year.
Lamar Jackson Professional Career
In 2018, Lamar headed for the NFL draft. However, analysts wanted to change his playing role, from the quarterback, but Lamar stuck to his role. He was pretty confident that his college performance would provide a place in the NFL.
Baltimore Ravens picked him as the 32nd pick in the first round for a $9,470,000 deal with a $4.97 million signing bonus.
Lamar started his rookie season as a backup. However, he got into the team after Joe Flacco's injury in the second half in week 6. In his first match, Lamar had 39 rushing yards and 24 passing yards. The next week, he was able to do his first touchdown on a 1-yard run. After that, Lamar never forgot to contribute to the team. By the meantime, Jackson threw the first touchdown at a 26-yard completion.
In the 2018 postseason, Jackson was included in the playoffs and Ravens decided to use Lamar's passing skills and intelligence. 
In the 2019 NFL season, Lamar acquired a balanced passer rating of 324, which is so far his highest passing yards. Additionally, he recorded 5 touchdowns in a match which brought a victory for Ravens with a 49 point difference against Miami Dolphins. In the following game, he also recorded 2 touchdowns that set a franchise record for Baltimore Ravens.
Lamar Jackson also became the 2nd NFL player in history to score above 250 passing yards along with 120 rushing yards in a game. Furthermore, he was also the 1st quarterback who scored more than four touchdowns in a regular NFL season more than once.
During that time Lamar was hungry to get in the top. In the 11th week, he had a 86 rushing yard against Texans which got him a record by having more than 60 rushing yards without any interruption in 7 games. 
During the 2019 regular season, Lamar Jackson won AFC Offensive Player of the Week awards for 5 times and AFC Offensive Player of the Month award once. With their performance Ravens made it to the 2020 Pro Bowl where Jackson joined as the youngest quarterback started. After their 2019 season, he was named as the MVP (Most Valuable Player) unanimously.
How is Lamar doing in the 2020 NFL Season?
After looking at his last 2 years performance, any team can count him as a threat. Let's come to the present days. Why Eagles Defensive Coordinator Jim Schwartz calls him dangerous!
Lamar Jackson had a great start in the beginning. He had 3 passing touchdowns with 152 passing rates. Although he was not consistent, he picked up again in the last two matches against Washington and Bengals. This season, Lamar so far has more than 70 passing rates in two games and more than 100 in other games, which makes him dangerous in Schwartz's eyes. 
However, the oppositions might have to have a resilient attitude while playing against Lamar as he is a kind of playmaker who will make some plays. Besides, the oppositions have to create strategies to limit his big plays. And, most of the time, they failed to stop him, as he always got away with his intelligence and speed.
On the other hand, Eagles will not have the full support from their fans in the stadium as City of Philadelphia limits to the 7,500 attendance. You have seen from the 2018 Superbowl that fans are the great source for energy for eagles. So, playing without fans is also a threat for the Eagles.
Besides, the Eagles are also having a rough season with their poor performances. Altogether these make Lamar Jackson dangerous to Schwartz.
Eagles may try out one-on-one linebackers to stop Lamar, or they might place Jalen Hurts out to the corner. Let's wait until Sunday for the clash.