There might be new feathers being added to the romance budding on SmackDown between Mandy Rose and Otis. The winner of the Men's MITB this year and The Golden Goddess finally came close at The Show of Shows, this year.

Rose finally chose Otis after he spent weeks hoping to get her to go out with him. Their romance is proceeding on the right track as was revealed by the screenshot Rose shared on her Twitter.
The tweet is from her beau Otis, which Mandy posted on her official Twitter account, where she was pleased to receive cute texts from him.
Love getting these texts from my @otiswwe 🥰❤️ Can't wait!!! pic.twitter.com/MsYFDqbbjk

— Mandy (@mandysacs) July 31, 2020
She was visibly very happy that Otis cares about her and the mood of the text declared how excited Otis is for their date, later that night.
Both Otis and Mandy Rose wanted their date on SmackDown to go perfectly, however, someone lurking at the background had other plans.
Sonya Deville attacks Mandy Rose out of nowhere
The former best friend of Rose, Sonya Deville destroyed the couple's plans to have a nice evening when she attacked Rose.
After having asked Otis to prepare for their date, Mandy was preparing herself when she was completely blindsided by Deville. Mandy was thrashed by Deville violently and relentlessly until she was incapacitated.

The screen faltered a few times as if something eerie and disturbing was visible.
The former best friend of Rose was on a mission to humiliate her, as Deville cut her hair, bent on disgracing her. She was not one there, as she went right back to the onslaught with clippers she uncovered from somewhere.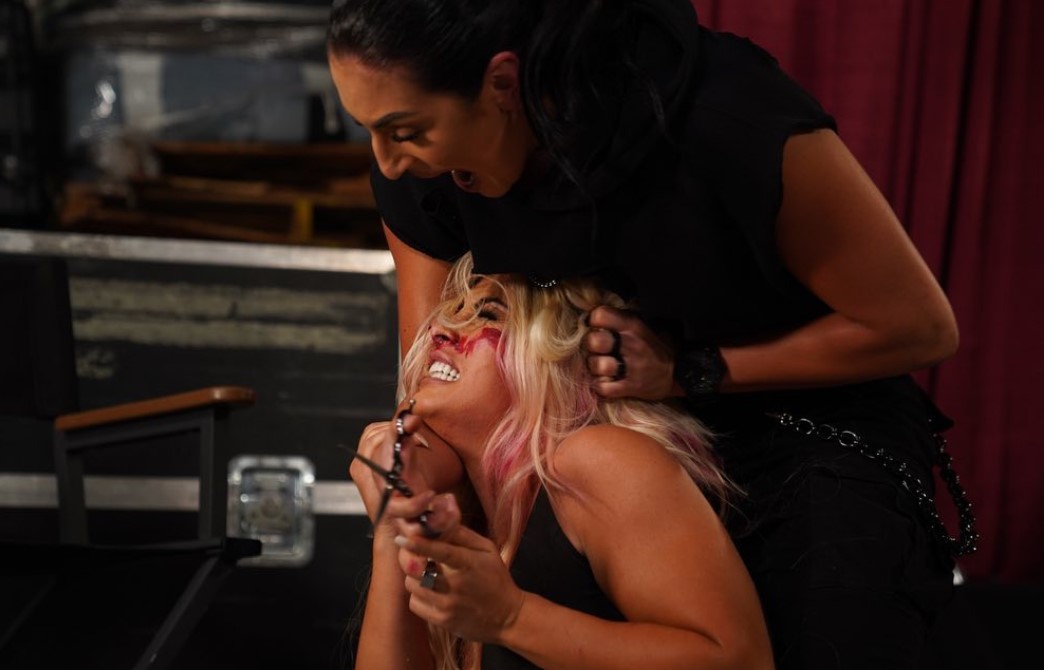 The sight reminded us of the Chairman of the company being treated similarly, years back. Vince had his head shaved at the  hands of Donald Trump and Bobby Lashley, in a grotesque way.
https://www.youtube.com/watch?v=Q6e1MJnarIE
Deville might have shaved Rose bald on SmackDown was she not restricted by officials who lunged to stop her.
Sonya Deville then took off with a handful of hair and fled the scene claiming she had something of Rose. Mandy Rose, on the other hand, was left humiliated and disrespected as she bawled, lying on the floor.
The attack on Rose was a pre-planned one as Deville had decided to not let Rose enjoy her date with Otis.
Mandy Rose had aided Otis to defeat Dolph Ziggler in WrestleMania 36 and had beaten up Deville as well. Dolph and Deville had conspired in the past to not allow Rose to be with Otis.
So Rose getting her hands on Deville on WrestleMania might have been a bit of retribution for The Golden Goddess.
However, their rivalry was not finished yet and after SmackDown, only an enormous collision can be the way out.
Mandy Rose was looked after by her beau Otis and also, Tucker after she was tormented.
We hope Rose and Otis can have a proper date again sometime, without Deville ruining it this time.