Jannik Sinner and Carlos Alcaraz have built an enthralling rivalry over the past two years. The Italian, who is fervently supported by his carrot-clad super fans, has frequently produced tough problems for the Spaniard to tackle during their matches and both players share a knack for playing quality tennis.
The pair have met six times in total and shared the spoils in terms of victories. Their grand slam meetings occurred last year, when Alcaraz beat Sinner in his journey to become US Open champion and world no. 1, and Sinner has often returned the favour in this year's ATP events.
Alcaraz identifies Jannik Sinner as his future greatest rival
Carlos Alcaraz identified Sinner as his 'greatest rival' in an interview and appreciated the Italian's performances.
He talked about the value of possessing a great rivalry, such as when the 'Big 3' battled each other.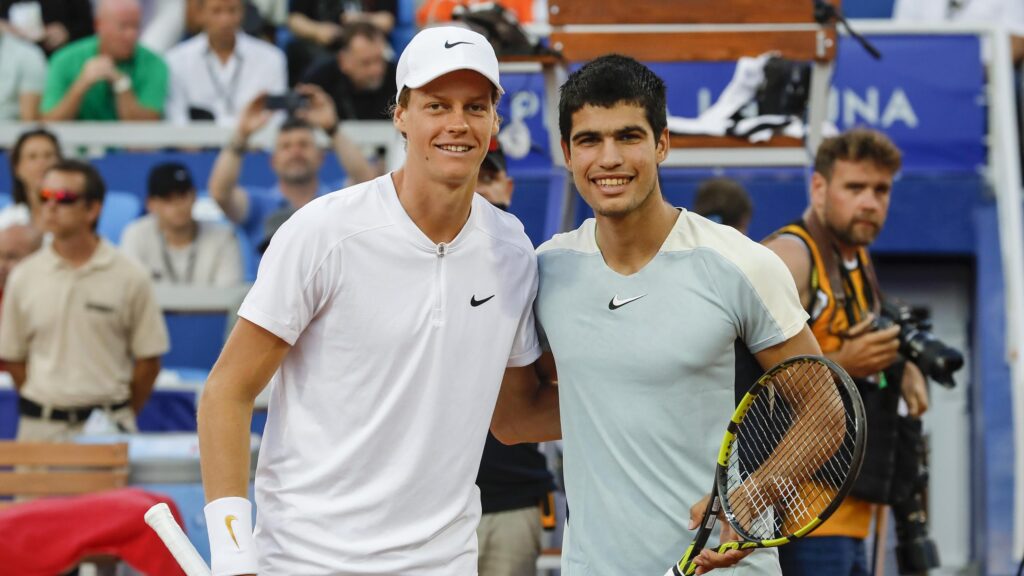 "Super important. Having someone there, with whom you fight, with whom you have that battle, that beautiful rivalry, is important to maintain motivation for so long," said the Spaniard.
"Right now, I think I have it and I'm not afraid to say it: for me it's Sinner at the moment. That beautiful rivalry that we have, those big games that we have played, on big stages. As the years go by there will be better ones and we will fight for the big titles.", he added.
Sinner beat Alcaraz in Wimbledon last year while the Spaniard gained revenge in the US Open. This year, the pair have met twice with Alcaraz winning their Indian-Wells Masters semifinals clash and Sinner emerging victorious in Miami.
Jannik Sinner sees Djokovic as Alcaraz's chief rival
Jannik Sinner was more humble in his view on the rivalry. Alcaraz was a phenomenon in his eyes, a two-time world no.1 player whose greatest rival, at the moment, was Novak Djokovic, Sinner opined.
While he respected the competitiveness of their matchups, Sinner was more focused on getting better physically and improving his game to reach higher levels in tennis.
Djokovic's longevity and the pair's(Djokovic and Alcaraz) recent rivalry, over the course of 2023, was something to admire for Sinner. Sinner is more closer in age to Alcaraz than Djokovic is, and it is fair to say he last longer than Djokovic in the tennis circuit with the Spaniard in the years to come.
Sinner is currently competing in the China Open, where he is set to face Brit Dan Evans in the first round.
What are your opinions on the Jannik Sinner-Carlos Alcaraz rivalry? Will it produce great matches in the years to come? Let us know in the comments section below.