Los Angeles Clippers and New York Knicks have been in talks to trade star player Paul George. The deal, claim sources, was initiated by the Knicks. Despite being an All-Star forward, his future with the Clippers was being doubted by experts for long.
The LA team is not very keen on retaining the player due to his list of injuries as well as the status of his contract. However, the elephant in the room is commitment. The Clippers have been looking for a team that will commit to the 33-year-old, long-term.
Where should Paul George sign?
One of the most talented players in the league at the moment, and probably the best two-way wing, George seems to be having a hard time with contracts. Post some rounds of deliberation, the Knicks have also not been depicting enough enthusiasm to sign the legend.
Portland Trail Blazers had also shown interest in the star baller but backed off soon after.
He is eligible for an extension of a maximum of 4 years and $220 million. If either of these clauses is not satisfied, Paul might decide to decline his player status and choose free agency.
Update on Paul Georgre's exit from Clippers
According to a Bleachers Report tweet, Marc Stein said that the Clippers are "giving real consideration to the idea of disassembling the Kawhi Leonard-Paul George tandem." Clearly, Los Angeles is thinking about splitting up their star forwards duo.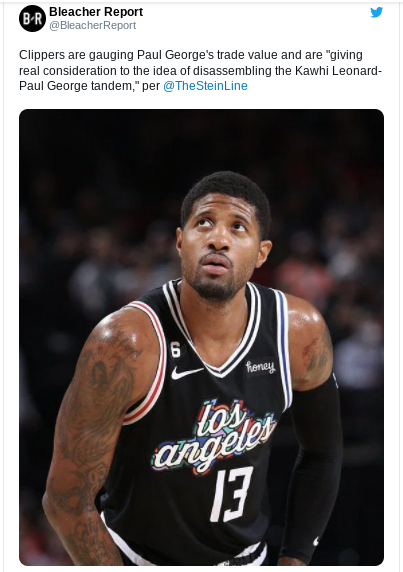 Apart from NY, speculation is also rife about Paul George being the target of the Boston Celtics and Houston Rockets. It is going to be interesting seeing which team ultimately joins hands with the legend. While many teams want Paul, fans also want to know which team Paul wants for himself.
Commitment and justified pay become pivotal factors when signing senior players of the league. While new and rookie talent is easier to acquire, the experience must be paid for. This fact is known by most franchises of the NBA, leading them to be fairly apprehensive about their trading and dealing with him.
Paul George's illustrious career, along with his considerable experience makes high highly wanted in a squad. However, it is important for teams to understand that his need should also be met in the signing.
What are your thoughts regarding the veteran player's trade deal talks? Do you think teams should let go of genuine talent just for fear of commitment? let us know your opinions in the comments.