Recently, Wimbledon runner-up Nick Kyrgios, 27, is an Australian tennis star who achieved a career high ranking of No. 13 in 2016 and has been playing consistently since then, but he is also well-known for different awkward scenarios on and off the court.
Apart from being a court player, the Aussie is an enthusiast for different body arts, and Nick Kyrgios tattoos can be seen as the reflections of his eventful life stories.
How many tattoos does Kyrgios have?
Since the beginning of his career as a professional tennis player, Nick Kyrgios has been getting tattoos that represent crucial moments in his spectacular personal life, and those body art have been embedded on his physique by famous Canberra-based tattoo artist Dave Chavez.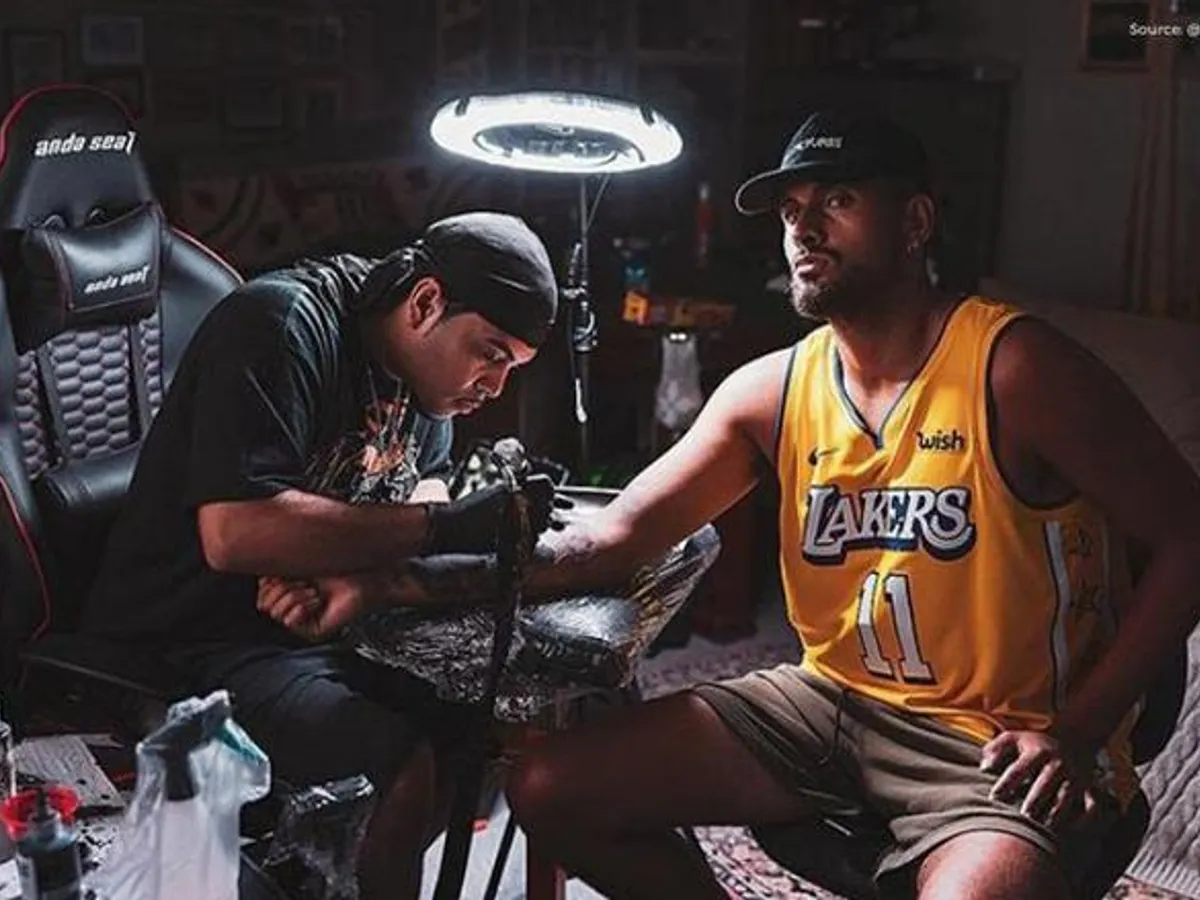 Kyrgios is proud of his body art and presently has five tattoos that have been glowing on his body for the last few years.
Where are Nick's tattoos?
Nick Kyrgios tattoos can be seen mostly on his upper body, and he loves to demonstrate those body arts around his arms, wrists, fingers and sleeves.
Tattoo artist Dave Chavez also played a key role in suggesting Kyrgios on where to implement body arts as a tennis player and it is speculated that the Aussie star carefully followed the instructions of the Canberra based body art guru.
What do all of Nick Kyrgios' Tattoos mean?
Although not all of Nick's tattoos have significant meanings, the majority of them represent various facets of his life with specific dedications, tributes, and indications. Again, a few instances are shown below:
'Inspire Others' Tattoo
Nick Kyrgios has a little tattoo that reads, "Inspire Others" on the edge of his right hand, which can only be spotted when the Aussie player uses his hand upwards.
Feather Tattoo
According to Nick, everyone's goal in life should be to improve themselves as people and therefore he inked a 'Feather Tattoo' on his right hand's forearm to symbolize that belief.
'Time is Running Out' Tattoo
On the right forearm, just under the famous 'Feather tattoo'; Nick Kyrgios has a written inscription that shows 'Time is Running Out' tattoos and he obtained this body art for showing his never ending quest for glory.
Right Arm Tattoos
Nick has a stunning piece of body art etched on his right arm which reads GOAT and features basketball legend Kobe Bryant's photo on the inside of his forearm; followed by a portrait of NBA champion LeBron James on the outside.
Again, a pair of Jordan tattoo can also be seen on his right hand.
Index Finger Tattoo
On the right index finger of Kyrgios, a little tattoo of the number 74 can be seen if observed carefully which meant something special for the Aussie tennis star.
Whom is he dedicated to?
Nick Kyrgios was raised alongside his siblings in Australia by his parents with he is very much connected with since his childhood and they have inspired their son Nick to do special things for influencing other people in the society and therefore Nick embedded 'Inspire Others tattoo' on his body.
The tennis star's 'Feather Tattoo' stands for independence and freedom and is also regarded as a strong honor emblem to God, as he is the true source of wisdom, power, and trust.
The recent Wimbledon finalist has a continuous thirst for success, which he depicted through another forearm tattoo that he called "Time is Running Out Tattoo."
Since his childhood, Nick Kyrgios has been a die-hard fan of the NBA and he was spotted several times at the basketball matches of his favorite team, the LA Lakers.
To give tributes to his favorite NBA legends like Kobe Bryant and LeBron James, Nick inked 'Right Arm Tattoos' with the help of Dave Chavez.
As a family centric person, Nick Kyrgios loves to portray the distinctive nature of his close family members and therefore he inked 'Index Finger tattoo' which he explained as the age of his grandmother when she passed away in 2014 and is represented by the number 74.
This is indeed an unique way of honoring a respected family member and very few people around the sporting world have done this kind of gesture apart from Nick Kyrgios.