In a recent X post, Serena Williams, dressed in a bright red hoodie, sat beside her husband and firstborn daughter. Together, the power couple were celebrating the birth of their second daughter.
A year has gone by since her retirement, and Serena Williams is seamlessly adjusting to life post-tennis as a mother of two young, beautiful daughters. She has many memories of her stellar career to reflect on, including 23 grand slam titles(the most by any tennis player in the Open Era), 33 grand slam singles finals( one behind Chris Evert's Open Era Record), and 47 career hardcourt titles, a women's record. A serial record-breaker by habit, Serena Williams is a legend in the tennis world.
Serena Williams welcomes second Child with Husband Alexis Ohanian
Serena Williams married Reddit co-founder Alexis Ohanian on November 16th, 2017. Alexis Ohanian is an American entrepreneur of Armenian descent. Later that year, she gave birth to her first daughter, Alexis Olympia Ohanian Jr. The birth came with many complications such as an emergency cesarean section due to the baby's heart rate dropping during labor. She suffered a pulmonary embolism after delivery and revealed in 2018 that she was suffering from postpartum depression. These issues heavily affected her playing career back then.
She had previously won the 2017 Australian Open final against Venus Williams whilst pregnant, which sent social media into a frenzy.
In May 2023, in an announcement before the Met Gala, she revealed she was pregnant with her second child. She successfully gave birth to her second daughter in August 2023. Alexis Ohanian captured the celebratory occasion in an X post where he called Serena Williams, 'the GMOAT(Greatest Mother of all time)'. In a series of photos, he displayed Alexis Olympia Ohanian Jr.'s candid reaction to seeing her newborn sister, espoused through her bright eyes and affectionate smile. Serena Williams' second daughter is named Adira River Ohanian.
Welcome, Adira River Ohanian.

I'm grateful to report our house is teaming with love: a happy & healthy newborn girl and happy & healthy mama. Feeling grateful. @serenawilliams you've now given me another incomparable gift — you're the GMOAT. Thanks to all the amazing medical… pic.twitter.com/AUwvt8JprI

— Alexis Ohanian 🧠 (@alexisohanian) August 22, 2023
The 2022 U.S. Open was Serena's final tournament. She reached the third round in New York by beating second-seeded Anett Kontaveit before losing to Ajla Tomljanovic. Talking about her retirement decision, Serena Williams said, "Believe me, I never wanted to have to choose between tennis and a family. I don't think it's fair. If I were a guy I wouldn't be writing this because I'd be out there playing and winning while my wife was doing the physical labor of expanding our family."
Serena Williams' second child with Alexis Ohanian has tennis fans awestruck
Reactions poured in on Twitter as soon as the announcement was made. In addition to Ohanian's 'GMOAT' description, many Twitter celebrities and users showered praise, appreciation, and congratulatory messages on Serena Williams. Many posts summed up the occasion through a simple text saying, 'GOAT' to describe the athlete and mother behind the joyous occasion.
In an Instagram post, Serena posted the photo with the caption, 'Adira River Ohanian 😍❤️'. Celebrities hopped on the platform to congratulate the supermom. People like Naomi Campbell, Donatella Versace, and Alessandra Ambrosio along with the official Instagram handles of Roland Garros and US Open congratulated Serena on her achievement.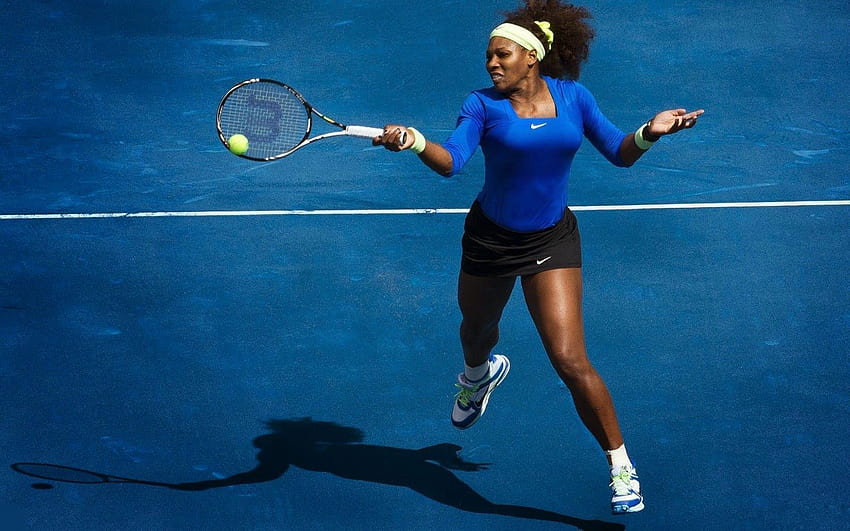 There is a scene from the movie 'King Richard' that sums up Serena Williams and her far-reaching impact on the world. When coach Paul Cohen asks her who she models her game after, young Serena replies, "I'd rather be the model for others.". And that she has become. Her entire life, she has been a model for tennis players and fans but now, in her retirement days, she is a model for mothers, working parents, and children alike who look up to her as a source of inspiration.
Serena Williams understands the one true concept of life that all athletes need to grasp. Legacy is all-encompassing and not restricted to the tennis court alone. Having a family and building a life post-retirement is what will cement your legacy as an athlete and a human being. Serena Williams is carving out her own legacy.
What do you think? Is Serena the G.O.A.T of women's tennis and how much of a role model is she to youngsters by carving her own path in life post-retirement? Let us know in the comments section below.