Stefanos Tsitsipas is playing his part, as a Greek tennis player, to ensure his home country bounces back from a catastrophe. The 2023 Australian Open finalist has been vocal about his love for his homeland, often stressing the need for role models in tennis for young Greeks.
It was thus paramount that the world no. 5 felt that his status at the top of the sport and came with adequate accountability towards the nation where he grew up and learned the intricacies of tennis. Given the current scenario plaguing his native land, he felt the need to add to the aid that is desperately needed for the Greek government to handle the calamity.
Stefanos Tsitsipas donates €100,000 to flood victims in Greece
In a move made out of generosity and compassion, Stefanos Tsitsipas donated 100,000 euros to the flood victims of Thessaly in Greece. Storm Daniel landed on the Balkan peninsula this week, ahead of its expected arrival in Libya. Around 5,000 Greeks have perished, and swathes of land and houses have been submerged underwater.
Stefanos contributed his share to the Hellenic Red Cross, an organization that is spearheading volunteer efforts in Greece, in the wake of the floods.
The donation holds personal interest for Stefanos Tsitsipas as his father hails from the village of Proastio in Karditsa, an area severely impacted by the devastating floods in Greece.
Stefanos urged fans and the public to take immediate notice of the crisis in Greece, and asked for as many helping hands as possible, in order to stem the effects of Storm Daniel.
In an Instagram post, Stefanos wrote, "It's shocking to see what our country has been through lately. We showed the true Greek spirit by staying united as a fist and helping each other.
"Please join me in raising funds to keep everyone safe and help them return to their loving homes as soon as possible," he pleaded to fans and the world at large.
"We must continue to do what we can to help our neighbors, our fellow citizens, and everyone who has been affected by the fires and floods," the tennis player wrote.
The donated money will be funneled through the Hellenic Red Cross, thus ensuring the volunteering efforts do not go in vain.
Stefanos Tsitsipas has engaged in charitable activities throughout his life, and ensured his status as an elite tennis player and media icon helps channel positivity and compassion into the hearts of those in need. In this particular instance, the nature of the catastrophe holds a special place in his heart.
Stefanos Tsitsipas withdraws from Laver Cup due to injury
In a decision that affects Team Europe's chances at the 2023 Laver Cup, Stefanos Tsitsipas withdrew from the competition due to an injury sustained in the Davis Cup.
The world no. 5 took part in the annual country-vs.-country tournament last week and won a singles match before losing his other two matches while playing with an affliction.
Upcoming French tennis player Arthur Fils is set to take his place in the Laver Cup and will pair alongside Andrey Rublev, Casper Ruud, Hubert Hurkacz, Gael Monfils and Alejandro Davidovich Fokina.
Tsitsipas's withdrawal dents Bjorn Bjorg's talented bunch of young tennis stars against Team World, as they are now left with only two top-ten players in the fold. This is a stark contrast to the past, when top-10 players like Rafael Nadal, Roger Federer, and Novak Djokovic consistently took part.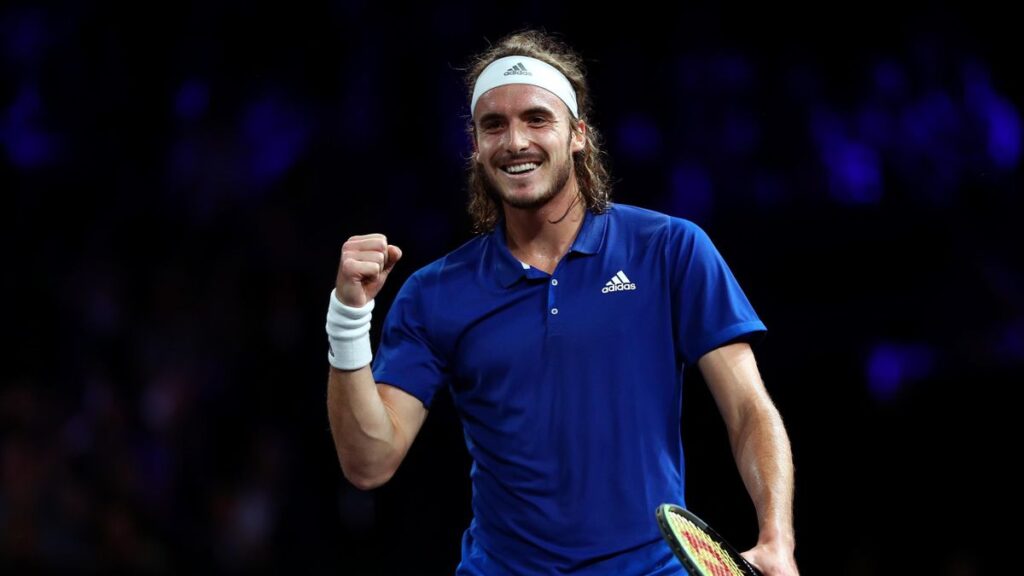 While the star power may have slightly diminished this season, the Laver Cup still offers thrilling encounters between top players from either side of the Atlantic. The tournament is set to get underway on September 22nd and will last for two days, during which fans will throng to the tennis courts in Vancouver, Canada, to catch a glimpse of their favorite players.
Stefanos Tsitsipas has shown the world that with power comes responsibility. Through his actions, he has initiated further involvement from celebrities, fans, and the public in order to sustain efforts in managing the Greek's efforts to thwart the flood. What do you think of his compassionate response to the crisis? Let us know in the comments section below.