After a lot of hype and excitement, the UFC makes its return to the Toyota Center, Houston, Texas. In what will be one of the first cards of the year, fans are in for a treat. As such, let's take a look at UFC 271: Adesanya vs Whittaker 2 Results + Full Fight Video Highlights.
For the main event, we have Middleweightweight champ, Israel Adesanya (21-1-0) making his fourth title defense. Facing him, we have Robert Whittaker, the former champ. Both the fighters are very easy to root for and both have been very loud in the lead up to the fight. This is going to be a banger main event.
Up next, we have another banger fight, this time in the Heavyweight division. The Black Beast, Derrick Lewis returns to his hometown to take on Tai Tuivasa. Whilst Derrick was very dominant in his last outing, we can't help but think that this time will be a lot more balanced. Watch out for this one!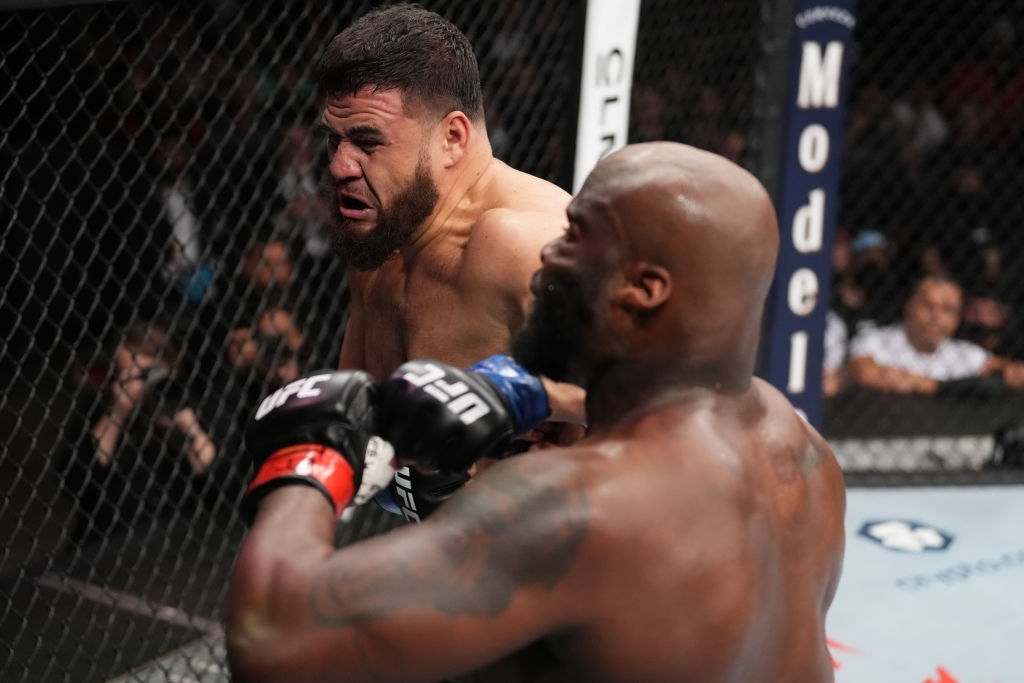 Also on the card are Jared Cannonier vs Derek Brunson, Alexander Hernandez vs Renato Moicano, and Bobby Green vs Nasrat Haqprast. That sums up your main card for the night.
Moreover, we will be providing you and updating you with the fight results as they happen. Check out all results (including the preliminary card) below.
UFC 271: Israel Adesanya vs Robert Whittaker 2 Results
With the event already underway, it will not be long before the big names take the stage. Hence, you can check out UFC 271: Adesanya vs Whittaker 2 live streams so that you don't miss out on the action. Finally, let's summarise all the UFC 271: Adesanya vs Whittaker 2 Results and the Highlights.
Preliminary Card
Andrei Arlovski def. Jared Vanderaa via split decision
Casey O'Neill def. Roxanne Modafferi via split decision
Kyler Phillips def. Marcelo Rojo via sub (triangle armbar) R3
Carlos Ulberg def. Fabio Cherant via unanimous decision
Ronnie Lawrence def. Mana Martinez via unanimous decision
Jacob Malkoun def. AJ Dobson via unanimous decision
Douglas Silva de Andrade def. Sergey Morozov via sub (RNC) R2
Jeremiah Wells def. Blood Diamond via sub (RNC) R1
Maxim Grishin def. William Knight via unanimous decision
Main Card (ESPN+ pay-per-view)
Israel Adesanya def. Robert Whittaker via unanimous decision
Tai Tuivasa def. Derrick Lewis via second-round KO
Jared Cannonier def. Derek Brunson via second-round TKO
Renato Moicano def. Alexander Hernandez via sub (RNC) R2
Bobby Green def. Nasrat Haqparast via unanimous decision
Watch UFC 271: Adesanya vs Whittaker 2 Full Fight Video Highlights
THE @STYLEBENDER REIGNS SUPREME #ANDSTILL! 👑

[ #UFC271 | B2YB @CryptoCom ] pic.twitter.com/8PDVzsDS9p

— UFC (@ufc) February 13, 2022
WHAT A FIGHT 🔥

Who do you think should leave Houston with the belt? 👑

[ #UFC271 | Tune in LIVE on E+ PPV: https://t.co/K6X32sXlXb ] pic.twitter.com/rn8CFKcOLr

— UFC (@ufc) February 13, 2022
Championship round time 🏆

How do you have it scored? 🤔 #UFC271 pic.twitter.com/btskUv43EW

— UFC (@ufc) February 13, 2022
The champ takes round 1 📄>🪨

[ #UFC271 | Tune in LIVE on E+ PPV: https://t.co/K6X32sXlXb ] pic.twitter.com/TtWnWasa7f

— UFC (@ufc) February 13, 2022
Bam Bam with the BIGGEST WIN OF HIS CAREER 👟🍺

[ @BamBamTuivasa | #UFC271 | Tune in LIVE on E+ PPV: https://t.co/K6X32sXlXb ] pic.twitter.com/rqOogLs23P

— UFC (@ufc) February 13, 2022
Go time 💢

[ #UFC271 | Tune in LIVE on E+ PPV: https://t.co/K6X32sXlXb ] pic.twitter.com/3r9RZG3qaq

— UFC (@ufc) February 13, 2022
𝙎𝙏𝘼𝙏𝙀𝙈𝙀𝙉𝙏 𝙈𝘼𝘿𝙀 for @KillaGorillaMMA 😤

[ #UFC271 | Tune in LIVE on E+ PPV: https://t.co/K6X32sXTMJ ] pic.twitter.com/gYXTB8cEbG

— UFC (@ufc) February 13, 2022
MISSION. ACCOMPLISHED. 🤯

[ @KillaGorillaMMA | #UFC271 is LIVE on E+ PPV: https://t.co/K6X32sXlXb ] pic.twitter.com/PrGzzJlvLr

— UFC (@ufc) February 13, 2022
No stopping the signature RNC of @MoicanoUFC 🇧🇷

[ #UFC271 | LIVE on E+ PPV: https://t.co/K6X32sXlXb ] pic.twitter.com/hPS5Ytw1vo

— UFC (@ufc) February 13, 2022
A clean sweep for the K I N G 🧹

Bobby Green with the dominant performance tonight!

[ #UFC271 | We're LIVE on E+ PPV: https://t.co/K6X32sXlXb ] pic.twitter.com/ExEj9i9FoN

— UFC (@ufc) February 13, 2022
For more fight results, predictions, net worth, and other fight-related news keep checking out Sportszion.com