Coming to the end of the month, the UFC will have one final event in its home in Las Vegas. Following the success of the previous UFC Fight Night events, this month and UFC 267 still to come, fight fans will have high expectations from this one. As such, let's check out what's in store for us along with our UFC Vegas 41: Costa vs Vettori predictions.
A battle of two ferocious middleweights, Marvin Vettori and Paulo Costa will headline the event. In addition to that, Ricky Glenn takes on Grant Dawson in what will be (to be confirmed) the co-main event. Moreover, Jessica-Rose Clark will take on Joselyn Edwards, whilst Alex Caceres will take on Seungwoo Choi. In addition, Nicolae Negumereanu vs. Ike Villanueva and Dwight Grant vs Francisco Trinaldo could be happening but have not been confirmed yet.
Turning our focus to the main event, we have two very promising middleweight contenders. Incidentally, Vettori (17-5-1) and Costa (13-1) both owe their last losses to the current champ, Israel Adesanya. With both fighters heavily touted to be potential middleweight champions one day, it will be interesting to see which of the two prospects prevails.
UFC Vegas 41 Fight Card
Much like the previous events, we will be returning to the UFC Apex in Las Vegas, Nevada on October 23, 2021. Moving on, let's take a look at the UFC Vegas 41 Fight Card. However, keep in mind that fights can be added and/or be changed in the lead-up to the event due to COVID 19 and injury complications. The current lineup is as follows:
Main Card ( 4 P.M. ET/ 1 P.M PT)
Paulo Costa vs. Marvin Vettori (Middleweight)
Grant Dawson vs Ricky Glenn (Lightweight)
Jessica-Rose Clark vs. Joselyne Edwards (Women's Bantamweight)
Seungwoo Choi vs. Alex Caceres (Featherweight)
UFC Vegas 41: Costa vs Vettori Odds and Picks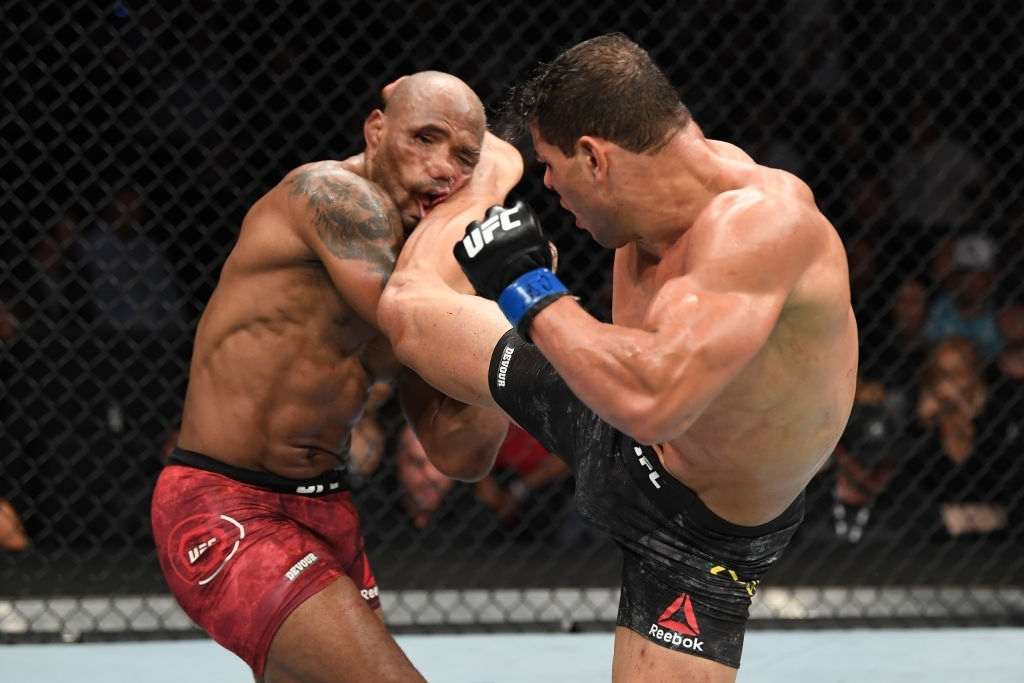 In case it wasn't clear, this is a very serious fight, with serious implications for the title challenger spot. Moreover, both fighters will be hungry to get back into the win column, prove their worth, and once again emerge as big contenders.
Such high stakes also mean that there can be multiple possibilities and outcomes. Hence, you can try your hand at parlay betting which allows you to add two or more bet selections and combine them in the same wager, making it easier to win. Only the best sports betting app for parlays can help to increase your odds and payout with little to no risk.
Now, let's take a look at the betting odds and the bookies' choices along with our UFC Vegas 41: Paulo Costa vs Marvin Vettori predictions.
Paulo Costa (+110) vs. Marvin Vettori (-130)
Coming into the fight, Marvin Vettori is a slight favorite due to a few reasons. Firstly, he is the more experienced and more active of the two fighters. Secondly, "The Italian Dream" has fought the champ, Adesanya twice. Although he lost on both occasions, they were both decisions and not too bad compared to some of the other middleweights.
On the other hand, Paulo Costa has been inactive ever since his loss to Adesanya in 2020. Moreover, we feel that even though Paulo's striking game is top-notch, Vettori may have the tools to deal with it. However, the real question lies in whether Costa will be able to cope against Vettori's grappling and wrestling.
Prediction: Marvin Vettori by Decision.
Grant Dawson (-305) vs Ricky Glenn (+240)
Moving on to what is likely to be the co-main event of the night, Grant Dawson takes on Ricky Glenn. Interestingly, both fighters were previously featherweights and have opted to move up to lightweight for this bout. According to the bookies, Dawson is the favorite, and rightfully so, due to a flawless 5-0 start to his UFC career.
Standing in front of him is Ricky Glenn, a former WSOF champion. Although Glenn's progress in the UFC (4-3) has not been the best, his new contract and move-up to lightweight could be a game-changer. Still, we think that Dawson takes this one, simply due to his form and the ability he has shown us so far.
Prediction: Grant Dawson by KO/TKO or Decision.
Jessica-Rose Clark (-135) vs. Joselyne Edwards (+115)
Next up, we have Jessica-Rose Clark looking to make a foothold in the UFC. Although her start (3-2) fails to flatter, the Australian has looked impressive in her outings. With nearly all her fights going the distance, we trust that Jessica will have the cardio, resilience, and durability to see this one through as well.
Joselyne Edwards, on the other hand, is very much a newcomer to the UFC. Currently (1-1) in the UFC, Edwards is yet to make her mark in the division. Throughout her career in other promotions, Edwards has shown a variety of skillful finishes and will be hoping to announce herself come October 23. Keep a close eye on this one.
Prediction: Jessica-Rose Clark by Decision.
Seungwoo Choi (-280) vs. Alex Caceres (+225)
Straight off a KO/TKO victory, Seungwoo Choi will be hunting his fourth straight win in the UFC. Coming from Korea, Choi has a lot of expectations of him, and slowly but surely, he is developing into a very good fighter. With 6 of 10 wins coming by way of knockout, Choi is becoming an exciting prospect to watch. Let's hope that he will deliver once again.
Against him, we have a featherweight veteran in Alex Caceres. An anomaly, Caceres seems to be suddenly hitting his peak at the age of 33. With almost a decade in the UFC, Caceres has been a mainstay in the featherweight division for a while now. However, up until recently, Caceres' record has been very patchy. Currently, Alex is on a 4 fight win streak and will be looking to keep up his good form as he faces an up-and-coming prospect in Choi.
Prediction: Seungwoo Choi by Decision.