'Wishing you only wonderful things' Tom Brady's ex-wife Gisele Bündchen leaves heartfelt message to Buccaneers' QB after retirement announcement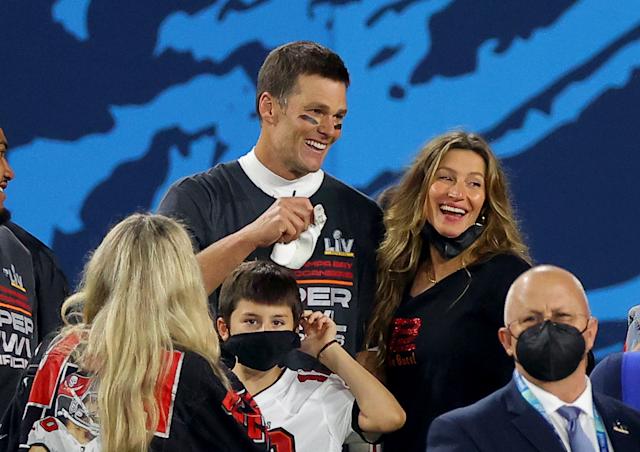 Gisele Bündchen and Tom Brady made headlines when they announced their divorce after thirteen years of marriage in October 2020. The couple had grown apart and decided to end their relationship amicably, with each of them issuing a statement to the public. Brady then announced his retirement from the NFL for a second time on Wednesday, and Bündchen took to Instagram with supportive words for her ex–husband.
"Wishing you only wonderful things in this new chapter of your life," Bündchen commented beneath Brady's Instagram announcement. Brady had made a video in which he said, "I won't be long–winded. You only get one super–emotional retirement essay, and I used mine up last year." Brady referred to his retirement announcement in 2019, which he reversed a few months later.
Bündchen had previously addressed her concerns about Brady's decision to un–retire in an interview with Elle. "I have my concerns — this is a very violent sport, and I have my children and I would like him to be more present," she said.
The couple acknowledged their split with statements on their respective social media accounts. "My priority has always been and will continue to be our children whom I love with all my heart. We will continue to [co–parent] to give them the love, care, and attention they greatly deserve," Bündchen wrote. Brady echoed this sentiment, saying, "We are blessed with beautiful and wonderful children who will continue to be at the center of our world in every way."
The two ended their statements with expressions of love and respect for each other. "We wish only the best for each other as we pursue whatever new chapters in our lives that are yet to be written," Brady said. Bündchen said, "I feel blessed for the time we had together and only wish the best for Tom always."
It is clear that despite their divorce, Gisele Bündchen and Tom Brady still have a great deal of respect and admiration for each other. Despite the difficult decision to end their marriage, they have remained committed to co–parenting their children and have continued to express support and love to each other.