It is the dream of almost every young boy in the world to make it to the top of professional football and while only a handful get to achieve the aim of playing professionally, even fewer make it to the very top.
Life at the top of professional football is very much a tedious one and beyond the glitz, glamour, fame, and fortune associated with them, modern-day footballers also have to deal with the attendant criticisms and scrutiny that comes with their position.
Football transfers are not a new thing and the market has been in existence for over a century, with players being bought and sold in pursuance of the whims ad caprice of the various football clubs.
The increased globalization of the game and investment of more money into football means that the idea of players staying put at one club for the entirety of their career is slowly fading into extinction, as there are always bigger and better offers leading to the notion of players being disloyal in the modern dispensation.
However, there are still several players in the current era who have stayed true to their roots, with players like Lionel Messi, Sergio Busquets, and Thomas Muller looking likely to end their careers as 'one-club' men.
Though it might seem like a strange idea today, in the not-too-distant past, the concept of players spending the entirety of their career at one club was pretty common and such players are the subject of this piece.
For the sake of uniformity, we have stuck to those who represented just one club in their careers and for this reason, men like Rogerio Ceni and Andres Iniesta who wore the jerseys of other clubs despite spending a significant amount of time at a single club are disqualified.
Honorable mentions: Jamie Carragher (Liverpool), Ledley King (Tottenham), Rinus Michels (Ajax), Marcos (Palmeiras), Tony Hibbert (Everton), Gary Neville (Manchester United)
#10 Tony Adams: 1987-2002 (Arsenal)
Tony Adams spent the entirety of his 22-year professional career in the colors of Arsenal and quickly made a name for himself as a fans' favorites, with the Gunners' faithful impressed with his never-say-die attitude and tenacity in the heart of defense.
In his playing career, Adams wore his heart on his sleeve and gave his all to the Arsenal cause and rose through the ranks to become captain, while he was also an established England international, winning 66 caps for the Three Lions.
The Romford native ended his Arsenal career with 670 appearances in all competitions, scoring 48 goals and was an integral member of the 'famous back four' that held sway in North London under George Graham's management.
Adams was named Arsenal captain in 1988 at the tender age of 21, a position he held for the next 14 years until his retirement and he achieved the unique distinction of being the only man in English football history to captain title-winning sides in three different decades.
In recognition of his immense services to Arsenal football club, a statue of Tony Adams was unveiled in front of the Emirates Stadium in December 2011.
#9 Guiseppe Bergomi: 1979-1999 (Inter Milan)
Guiseppe Bergomi began his football development in the youth ranks of Internazionale and made his bow for the first team in 1979.
Despite being just 16 years, he soon became a mainstay in the first-team owing to his maturity and composure that belied his age.
Over the next two decades, he was an ever-present in the Inter Milan squad and was unsurprisingly named captain of the team.
In total, he made 756 appearances for the Nerazzurri (which was a club record until it was broken by Javier Zanetti), although his time at the club was spent mostly in the shadow of the legendary AC Milan sides of the 1980s and 1990s.
Bergomi was also successful on the international scene, making 81 appearances for the Azurri and was a part of the victorious squad at the 1982 World Cup in Spain.
#8 Santiago Bernabeu: 1911-1927 (Real Madrid)
It can be argued that no single man has had as much of an impact on the overall success of a football club as Santiago Bernabeu did at Real Madrid.
The entirety of his over 50-year footballing career was spent with Real Madrid, progressing from player to assistant manager to manager and finally as president.
It was under his presidency that he conceived the lofty ambition of making Real Madrid the premier club in the world and he went out of his way to sign the best players of the time including Ferenk Puskas and Alfredo di Stefano, leading to the early domination of the European Cup by the capital club.
Not much is known about his playing career, but Bernabeu spent 16 years as a player for the club between 1911 and 1927 and for his immense contribution to Real Madrid, the club's iconic stadium is named after him.
#7 Franco Baresi: 1977-1997 (AC Milan)
Franco Baresi was a no-nonsense center-back in his heydey who marshaled the great Milanese side under the management of Arrigo Sacchi and is widely regarded to this day as one of the greatest defenders in history.
He had joined the Milan youth set-up as a boy and made his debut for the senior team in 1977, spending the next 20 years with the club and experienced the highs and lows while defending the colors of the Rossoneri.
Although he experienced relegation twice with the club in the early 1980s (following Milan's participation in match-fixing scandals), Baresi remained steadfast with his boyhood club and rose to become a cornerstone in what was unarguably the most successful period in Milan's illustrious history.
In total, he represented AC Milan a total of 719 times in all competitions, scoring 33 goals and winning 17 major trophies, while he was also part of the victorious Italian team at the 1982 World Cup.
Upon his retirement, AC Milan retired the jersey number 6 worn by Baresi in honor of what he achieved during his time with the club.
#6 Paul Scholes: 1993-2011, 2012-2013 (Manchester United)
Paul Scholes was a member of the famed 'class of 92' academy graduates at Manchester United and he established himself in the first team during the 1994/1995 season.
He was a graceful midfielder in his prime who won praise from everyone including Xavi and Pele, with his orchestrating play in the middle of the park proving crucial to the successes enjoyed by Ferguson on the Manchester United bench.
As proof of his greatness, Paul Scholes was convinced to come out of retirement in 2012 after the club struggled massively in his absence and it came as no surprise that they won the league title with him once again dictating proceedings through the middle.
Scholes ended his Manchester United career with 718 appearances in all competitions, with 155 goals scored and 25 major trophies won. 
#5 Giacinto Facchetti: 1960-1978 (Inter Milan)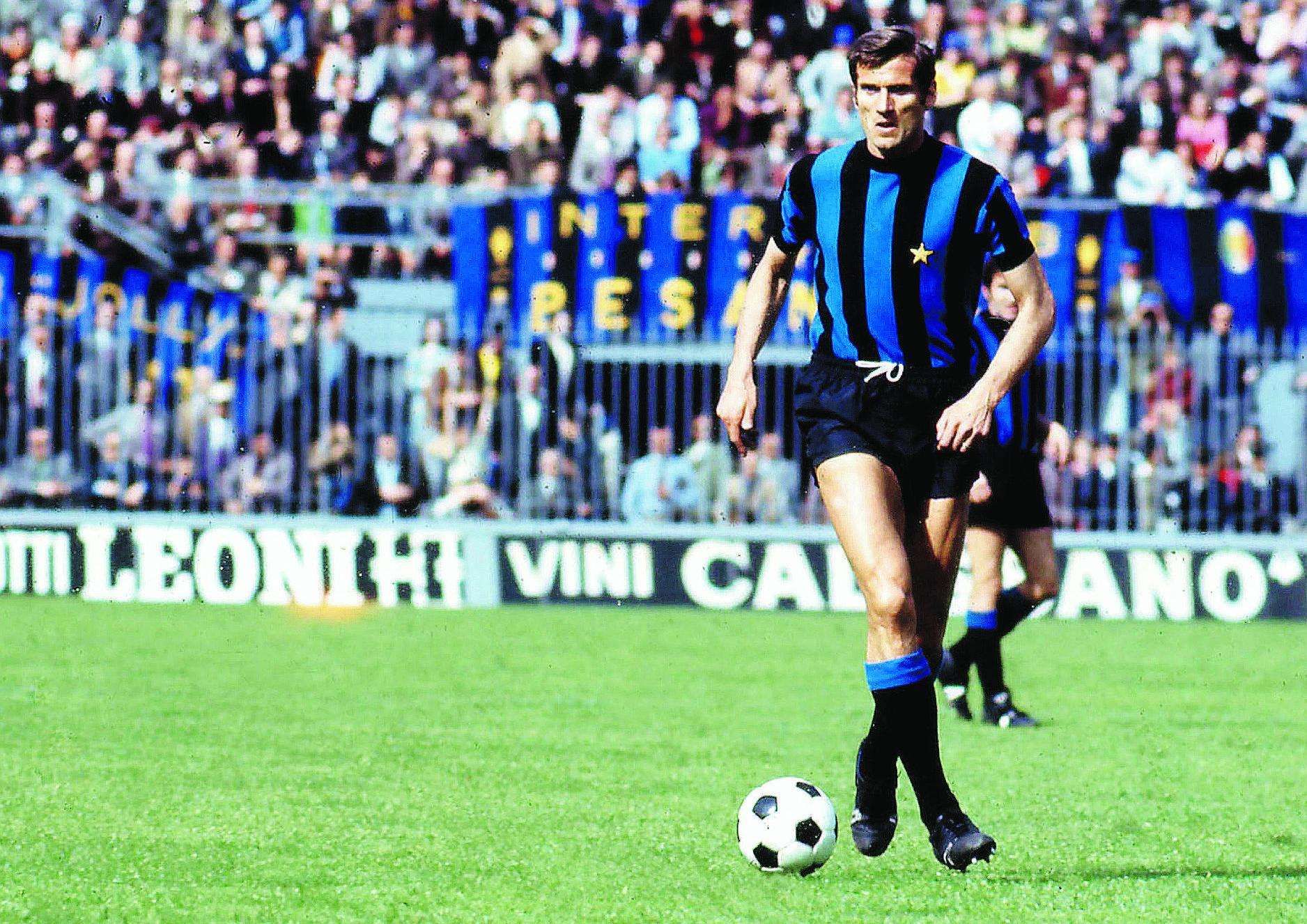 Facchetti is considered by many to be the greatest player in Inter Milan's history and it is hard to argue against those who opine so, as the Treviglio native was nothing short of spectacular in his almost two-decade career.
He starred at left-back and was one of the revolutionaries of the role, regularly contributing to Inter Milan's attacks with his bursting runs forward, while he was also integral to the successful implementation of the catenaccio defensive system employed by the legendary Helenio Herrera.
Facchetti retired as the player with the most appearances in Inter Milan history with 629 games played for the club (since overtaken by Bergomi and Zanetti) and captained his boyhood club to numerous triumphs.
On the international scene, he also starred with 94 caps (then record) and was captain of the side that won the 1964 Euro on home soil.
Upon his retirement, he was placed on a salary by Inter Milan until his death, while the club also retired his jersey number 3.
#4 Francesco Totti: 1992-2017 (AS Roma)
Francesco Totti is affectionately known as 'the eighth King of Rome' which is in recognition of all he gave the city and it cannot be argued that Totti played his way into being considered the greatest player to ever don the jersey of AS Roma.
He began his career at his boyhood club in 1992 and rose to become the symbol of the team, turning down offers from several top clubs to remain loyal to his roots.
This endeared him further to the fans and while he would undoubtedly have gotten more fame and wealth had he gone elsewhere, Totti would be content with the knowledge that he is revered by his people.
He is the club's record appearance maker with 786 appearances and is also Roma's record goalscorer with 306 goals.
#3 Carles Puyol: 1999-2014 (Barcelona)
Puyol joined the famed La Masia academy in 1995 and four years later, he was handed his first-team debut by Louis Van Gaal.
Things might have turned out differently, as a year earlier, Barcelona had accepted an offer to sell Puyol to Malaga, but the defender refused to leave, having seen his best friend and fellow La Masia graduate Xavi make it into the first-team.
He was subsequently appointed club captain in 2004 and skippered the side to what is arguably the most dominant performance by any club in the history of the sport.
The former Spanish international started at right-back but was deployed in the center of defense as he got older, forming an almost impenetrable backline with fellow La Masia graduate Gerard Pique.
Injuries played a major role in his declining performances later in his career, but it cannot be denied that Puyol is a bonafide Blaugrana legend and he ended his Barcelona career with 682 appearances in all competitions, winning everything winnable including the Champions League on three occasions and multiple domestic trophies.
#2 Ryan Giggs: 1991-2014 (Manchester United)
Ryan Giggs was an integral member of the Manchester United success story under Sir Alex Ferguson and was there from when it all started in 1992 till when it ended in the season that the great manager retired.
Having begun his youth development with the Manchester City academy in 1985, Giggs transferred to the red half of the city two years later and four years after his arrival, he debuted for the first team of Manchester United in the last season of the old Division One.
He was named the PFA Young Player of the Year in each of his first two seasons as a professional footballer and this was a sign of things to come, as Ryan Giggs went on to have a very long and legendary career that saw him set numerous records.
He finally hung his boots in 2014, a year after Ferguson departed and to date is the Manchester United player with the most appearances, having starred a whopping 963 times for The Red Devils, while he is also the most decorated player in Premier League history with 13 Premier League trophies won in what was a glittering career.
#1 Paolo Maldini: 1984-2009 (AC Milan)
There must be something about Italians and loyalty and Paolo Maldini is the fifth Italian to make this list. He broke into the Milan first-team at the tender age of 16 but did not seem unfazed despite playing alongside some world-beaters like Franco Baresi, Carlo Ancelotti, Frank Rijkaard, and Marco Van Basten.
With each passing year, Paolo Maldini's displays at left-back garnered attention and in his prime, he was a very attack-minded full-back, while he also combined his excellent runs forward wit astute defending.
He ended his Milan career as one of the most decorated players of all-time and to date, he is the player with the joint-most Champions League final appearances, eight (alongside Francisco Gento) and he ended his Milan career after 25 years with 902 appearances in all competitions.
In recognition of his immense services to the Rossoneri, the club decided to retire his jersey number 3 permanently (although it can be brought out of retirement if any of his sons makes it to the first-team and chooses to wear it).