Beyond the ring, stories evolve in WWE's universe, where truth and fantasy blend. Dustin Rhodes, also known as Goldust, and Ahmed Johnson stand out among these over-the-top personalities and staged rivalry. 
Beating Goldust in 1996 at King of the Ring, Johnson achieved history as the first black WWE Intercontinental Champion, but he quietly departed the business. Ahmed recently related an incident in which Goldust veered off script in front of the cameras.
Dustin Rhodes once left wrestling arena early after drifting off-script
Ahmed Johnson was released from WWE in 1998, Dustin remained on the card. After clashing with The Shield, Stardust, and others in WWE, Goldust was released and signed with AEW in 2019. For a year, he worked with Marshall until the latter betrayed him and Cody Rhodes. After returning to television in 2021, he was defeated by Sammy Guevara for the TNT Championship.
Johnson recently revealed a funny incident that occurred when Dustin Rhodes (Goldust), Johnson's adversary, strayed from the script during a live TV match. This occurred on the RAW broadcast of May 27, 1996. Backstage, Goldust was intended to give Johnson mouth-to-mouth as part of a memorable section. After considering pressing his lips on his own hand, Goldust instead kissed Johnson, creating an unexpected and hilarious scene.
Johnson mentioned his former rival on the Two Man Power Trip of Wrestling Podcast saying, "After we got done, it was funny, he thought I was really mad, so he left the arena. He got in the car and left without even taking his makeup or anything off. [During their next conversation] he was like, 'Hold on, you're not p****d are you?' I'm like, 'No, man, it's part of the gimmick. I understand.' Then we were cool with it."
What is the origin of Dustin Rhodes' Goldust character?
Dustin Rhodes, a member of AEW, talked to Fightful about his early days as Goldust in WWE and how the character was made. Dustin used to be Goldust, one of WWE's most interesting figures, before he worked with Keith Lee and trained in AEW's women's division. 
In an episode of the Something to Wrestle podcast, Bruce Pritchard discussed the character and how Vince McMahon came up with the idea. Vince proposed that Dustin cover himself from head to toe in a gold bodysuit, accessorize with gold gloves, and adopt the moniker Goldust. In WWF, he was supposed to be a quirky film director. Dustin liked the concept since it let him shed the Rhodes name.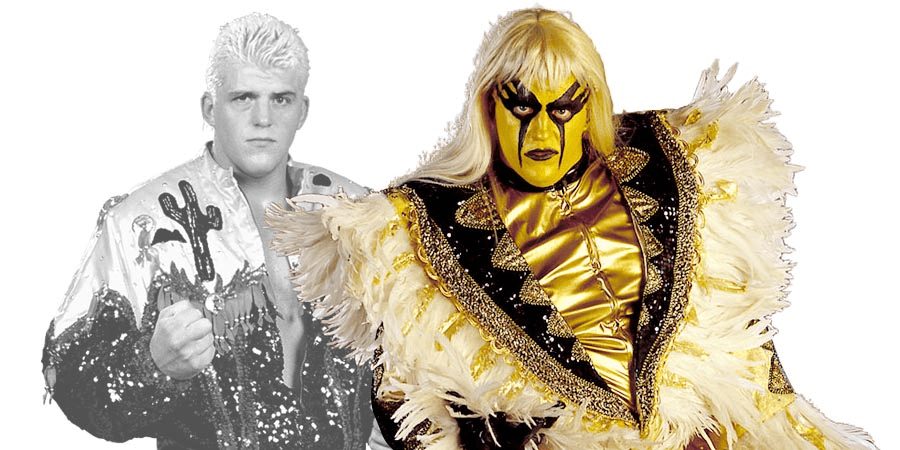 Vince wanted Goldust to be androgynous, meaning he could pass for either male or female. At first, this idea seemed quite exciting to Dustin as it was quite different from his authentic Texan demeanor. Dustin recounted the meeting where Goldust was created in a 2012 Kayfabe Wrestling Radio interview.
Feel free to tell us about any other times you remember Dustin Rhodes and Ahmed Johnson in the comments.