Giannis Antetokounmpo is undoubtedly one of the best players in the NBA right now. The Milwaukee Bucks forward/center has won two league MVP awards and an NBA championship, cementing his status as one of the league's elite. However, even he recognizes the greatness of LeBron James and Kevin Durant, and he wants fans to appreciate them while they're still playing.
Today (March 31st) in #NBA and #NBATopShot history,

In 2022, Milwaukee Bucks PF Giannis Antetokounmpo had 44 PTS, 14 REB, 6 AST, 1 STL, including this 3 Pointer in an away 120-119 win against the Brooklyn Nets.

🧵 1/5 https://t.co/BMHlutg8Ex pic.twitter.com/bo5nVJhW12

— Today In Moments History (@TodayInMoments) March 31, 2023
In an interview with Vincent Goodwill of Yahoo Sports, Antetokounmpo urged fans not to take James and Durant for granted. "Appreciate him, appreciate KD while he's here," he said. "I don't take this job for granted so nobody should take me for granted."
Antetokounmpo understands that James and Durant are in the latter stages of their careers. James is 37 years old and has been playing in the NBA for 19 seasons, while Durant is 33 and has been in the league for 14 seasons. They've both accomplished incredible feats during their careers, and Antetokounmpo recognizes that.
The Bucks star knows that the work ethic and dedication of players like James and Durant are what separate them from the rest of the pack. "There's a lot of talent in the NBA, but the all-timers are known to be maniacal when it comes to mastering their craft," he said.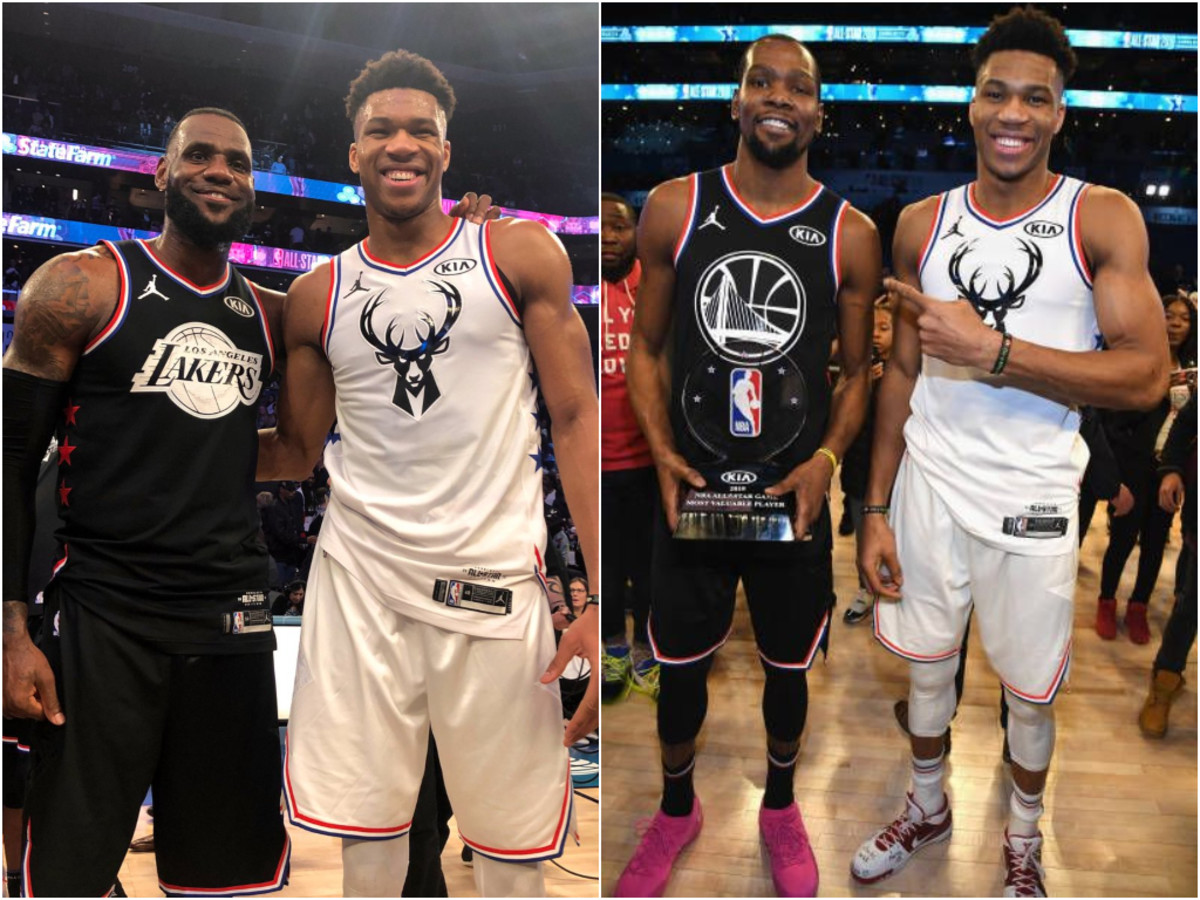 It's easy for fans to take the incredible performances of James and Durant for granted. They've both been at the top of the league for so long that it's become the norm. But Antetokounmpo wants fans to remember that they won't be playing forever. "He'll be out of the league and people will say, [in a crying voice] 'LeBron is gone,'" he said.
As Antetokounmpo continues to build his own legacy in the NBA, he wants to continue setting the same high standard that James and Durant have set. He knows that being known as the best player in the league is a great place to start, but he also knows that winning another championship is crucial to solidifying his place in NBA history.
In the end, Antetokounmpo's message is simple: appreciate the greatness of James and Durant while they're still playing, and don't take their incredible legacies for granted. They've set the bar high, and it's up to the next generation of players to reach it.
The Legacies of LeBron James and Kevin Durant: How the NBA Icons Redefined Greatness and Set the Bar for Generations to Come
LeBron James and Kevin Durant are undoubtedly two of the most dominant players in the NBA in recent years, with both having established legacies that will be remembered for years to come.
James, a four-time NBA champion and four-time MVP, has been a force in the league since his rookie season in 2003. He's consistently been one of the league's top scorers and has been known for his exceptional passing skills and defensive prowess. James is also one of the league's most durable players, having played in over 1,300 regular-season games in his career.
Durant, a two-time NBA champion and two-time Finals MVP, is widely regarded as one of the greatest pure scorers in NBA history. He's a seven-time All-NBA selection and has won four scoring titles. Durant's range and ability to score from virtually anywhere on the court have made him nearly unstoppable at times.
Both James and Durant have also had a significant impact on the league off the court. James has been an advocate for social justice issues and has used his platform to bring attention to important causes. Durant has been heavily involved in philanthropy, with a focus on helping underprivileged youth.
Their legacies extend far beyond their individual accomplishments on the court, as they have both left an indelible mark on the game of basketball and beyond. As Giannis Antetokounmpo said, it's important to appreciate their greatness while they're still playing, as their impact will be felt long after they retire.