Ranking the top 10 best NFL defense of 2020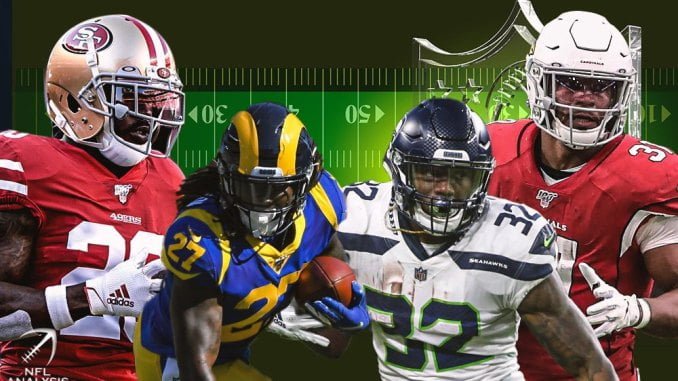 The 2020 NFL draft has just kicked off a few days ago and the whole nation is drooling over the newly-made stats, best running backs, wide receivers, and many more topics. Over the years we have seen some amazing defense efforts coming from the teams and if someone asks to make a list for the best NFL defense, it would not take much time.
Already we are getting enough topic to have debates on the best NFL offense as many of us think that tactful offense makes the way for a game. Now let's explore to the other side of the game where we believe, "Defense wins championships". Needless to mention that a team can't go to a great extent only with the help of the offense side as most teams reconstruct their defensive units with the conclusion of the NFL draft. That's why we are here today to make it easy for you to decide on picking the best defense. Here's the list of the best of the bests!
#10.

The Los Angeles Chargers
The chargers had a toilsome time during the 2019 season that too on the defense side. But taking a lesson from the previous one, they built up quite a strong defense line with names like Harris, Casey Hayward and Desmond King. So, what do you think they will be afraid of? Nothing, simply nothing. Harris has been on the decline in recent years, but he should benefit from playing with this trio. 
The Charger's also worked on their rookies who can close the distance in the running game and plug the gaps, and Harris can chase the ball to make plays all over the field like Gus Bradley, Murray,  Linval Joseph, Justin Jones, etc. 
So, as you can see, the chargers have already built up a strong defense to overcast the other teams. But all they need to work on is their health and safe play to participate in each game and win!
#9.

Denver Broncos
The Denver Broncos did not have a consistent defense but it took only a few days for them to rise to be on the list of the best. A part of their hard luck was to lose Chris Harris Jr. and Derek Wolfe. But perfectly they made a good deal of replacement on those positions with Jurrell Casey upfront and AJ Bouye on the back end. 
The team has the right mix of veterans and hopes for the future with Von Miller and Bradley Chubb with whom it ranked 16th against the run and 14th against the pass. Von Miller and Bradley Chubb forming the basis of one of the league's better pressure units whereas Bryce Callahan is expected to make an impact after missing all of 2019.
#8.

Pittsburgh Steelers
The team does not have to think much about the defense as it generally runs in the franchise's nature. It's only the first week of the league but they have almost reached a peak position. However, since the last season, we must say they have degraded a bit and reached to a mediocre level. The basic expectation for the 2020 Steelers is to come back historically with a proper replacement of Javon Hargrave. 
Even the linebacker Jack Ham is confident about their stand, "I'm not sure it was the best Pittsburgh team but it was by far the best Pittsburgh defense." Why not? After all, they have Joe Haden, Terell Edmunds, Steven Nelson, and Mike Hilton by their side.
#7.

New Orleans Saints
Despite having a good defense, the team has always remained underrated, but we expect they will soon show up at a good level. However, they did make one big upgrade by signing veteran Malcolm Jenkins to replace Vonn Bell at the strong safety spot.
Marcus Davenport and David Onyemata created an immense pressure, and the Saints drafted Wisconsin linebacker Zack Baun in the third round to provide depth alongside Davis and Kiko Alonso. After all these shuffles and fits, we can really hope to have a great defense from them.
The national focus is on Drew Brees' decline and its impact on the Saints' Super Bowl hopes though. That deserves discussion, but this defense might be just as concerning.
#6.

New England Patriots
The analysts say that the Patriots are also going to experience some regression like the steelers, still, we are hopeful that they will manage to be in the favorite defense list. Kyle Van Noy, Jamie Collins, Danny Shelton, Duron Harmon, and Elandon Roberts already left the troop and they are depending largely on Stephon Gilmore and the McCourty twins, and J.C. Jackson and Jonathan Jones.
Stephon Gilmore is an elite shutdown corner, and having both Jason and Devin McCourty back there is also going to make things tough on opposing quarterbacks. This time they will not make any mistake and rely on the secondary defense with veteran safety Devin McCourty, Kyle Dugger.
#5.

Los Angeles Rams
The Rams have Aaron Donald and Jalen Ramsey by their side which eventually limit the opposition's success rate of attack. But to make the best defense in NFL they should be able to account for the loss of players like Cory Littleton. 
The Rams were fortunate enough to bring back defensive tackle Michael Brockers after his deal with the Baltimore Ravens was terminated. Their secondary defense is comprised of corner Nickell Robey-Coleman, and Ramsey should grow more comfortable playing a full season in L.A. They are going to replace fowler with Leonard Floyd and also drafted Alabama edge-rusher Terrell Lewis in the third round.
#4.

Chicago Bears
The team showed much disappointment in the last season but somehow managed to be 8th in the defense list. They drafted Utah cornerback Jaylon Johnson in the second round to play opposite of Pro Bowler Kyle Fuller who was suffering from some shoulder injury issue. Still, he had seven interceptions and 21 pass breakups over three years with the Utes.
On the other hand, the front seven is really what we like about Chicago as they have Robert Quinn, Akiem Hicks, and Khalil Mack. They also went from producing extreme turnover numbers in 2018 to extreme lows in 2019. But there are stars at all three levels with Akiem Hicks, Khalil Mack, Roquan Smith, and Eddie Jackson. So, we can say, a middle ground team that would still be within the top ten- is the Bears. 
#3.

San Francisco 49ers
Glad to mention the team where multiple defensive starters are missing, and some of whom won't return this year. But they managed to put on a glamorous show and ranked for the best NFL defense. They traded away one of its best defenders in DeForest Buckner and replaced him with a like-for-like player Javon Kinlaw in the first round of the draft. 
No one expected Kinlaw to be this much professional but certainly, he showed some experience at that spot.
San Francisco re-signed safety Jimmie Ward, and its secondary is defined by strength in numbers. Richard Sherman made the Pro Bowl, but he is the only true starter. The team ranked last year, and this unit will only get better, with guys like Bosa and Warner primed to make big strides. The linebackers are a solid addition to the defense with Kwon Alexander and Fred Warner this year, just Alexander will need to stay healthy.
#2.

Baltimore Ravens
You won't believe all the incidents the Ravens had to go since the last year. They snagged Calais Campbell and Derek Wolfe upfront, retained Matt Judon with the franchise added, picked up the best coverage linebacker in the draft with Patrick Queen. 
Their strength is in the secondary. Marcus Peters had a huge year, racking up 14 pass breakups and five interceptions. Plus, Chuck Clark made massive strikes at free safety last season, and Earl Thomas made his first two career sacks returned to the Pro Bowl. Can they get anymore better secondary than this? I guess a big no! Afterall they made the right additions to ensure some growth in 2020.
#1.

Buffalo Bills
Coming to this season, it is unnecessary to mention that Buffalo boasted a top-three defense in the NFL even though they let go Shaq Lawson away. The team also drafted Iowa's A.J. Epenesa in the second round. They inked veteran cornerback Josh Norman to a one-year deal and signed former Saints linebacker A.J. Klein. Add in some development from Ed Oliver, who looked like a monster as a rookie, and stabilization of the secondary by adding Josh Norman is something the team needed for a long time for the best NFL defense.
We have already said that it is not an easy task to prepare a list for the best defense in NFL since there are some other teams that might not be on the list but got some amazing players and tactics. So, we can perhaps make a list with an honorable mention for the best NFL defense. They are-
Indianapolis Colts
Philadelphia Eagles
Tampa Bay Buccaneers
Arizona Cardinals
Minnesota Vikings
Even this is not the end. We will be preparing another list as soon as the 2020 draft ends. That's the beauty and uncertainty of this game!