When it comes to MMA, UFC is the best of the bunch. Since its foundation in 1993, UFC has experienced 568 UFC events held in 161 cities in 28 countries as of June 26, 2021. However, a particular UFC event might be monotonous, and you may experience a dozen of tedious bouts in a row. But all it takes is that one epic clash to change the momentum.
Therefore, we researched those epic battles that created history and came up with the best 10 UFC moments of all time. Before a show, you may not know which battle would make its place in history, but you may guess them. Thus, most of the UFC fans try to make themselves a part of some saga through bets or analysis on odds.
As a diehard UFC fan, you may earn money or help others earn money through your extensive analytical skills and make your bet. There are many betting websites that offer a lucrative environment as well as bonuses such as 12bet, free bet, welcome bonus, etc, among them 12bet provides such bonus to make your UFC entertainment more fun.
So, you can pick odds for different epic fights in the future and take a chance to be a part of those. That being said, would it not have been great if you could bet on the following top UFC moments? Let's check the list one by one and feel the moments.
#10.

Dominick Cruz's Comeback Bout Against T.J. Dillashaw [UFC Fight Night 81, January 17, 2016]
Dominick Cruz, two-time UFC bantamweight champion, has never suffered more injuries than anyone. Over the course of nearly three years, he sustained four major injuries. In order to make way for new blood, the UFC stripped Cruz of his title.
After Cruz regained his health, he faced T.J. The less experienced opponent, Dillashaw, was the underdog in January 2016. Cruz had made substantial improvements to his already dominant game during his years on the shelf. The fight was close, but Cruz won. This was a comeback story like no other, not just for MMA, as he won the belt back again. 
#09. UFC 30 marks the Start of Zuffa Era [UFC 30, February 23, 2001]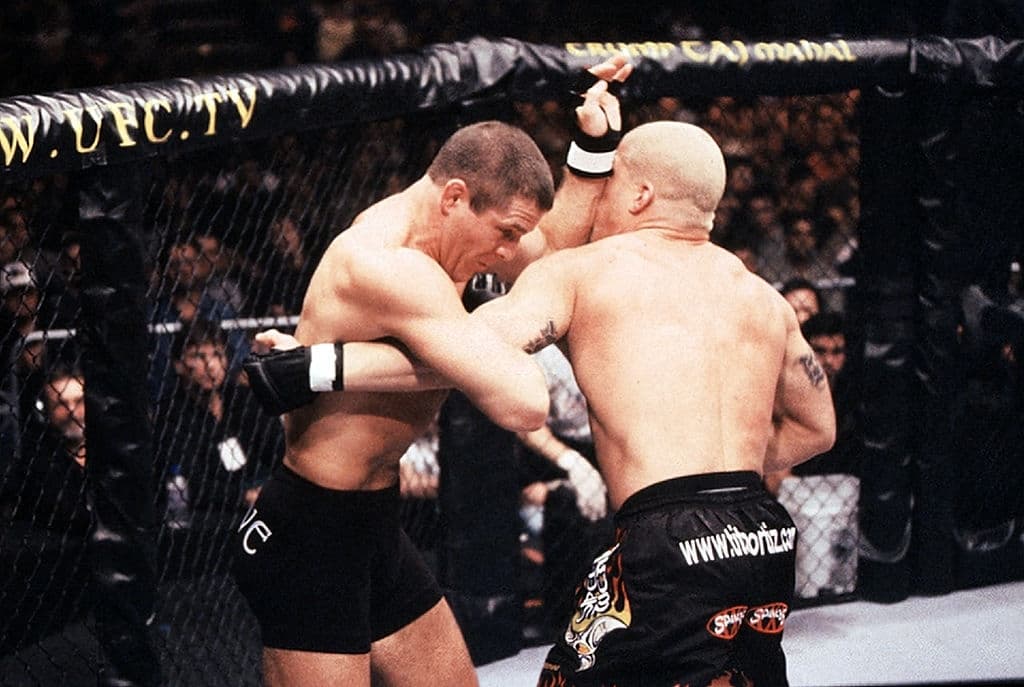 Fighting at UFC 30 was not particularly memorable until the slam KO by Tito Ortiz, and Evan Tanner saw him defend his light heavyweight title; those who made their Octagon debuts were Phil Baroni and Elvis Sinosic. This event was notable since it was the first under the Zuffa, LLC banner and the ownership of brothers Lorenzo and Frank Fertitta and their good friend Dana White.
The company could be estimated to be worth over $4 billion at present if Zuffa paid Semaphore Entertainment $2 million to acquire the UFC. After this sale in 2001, UFC's popularity and legitimacy soared. Zuffa contributed to the growth of the UFC but not exclusively; the company has shaped both- the UFC and MMA as a whole.
#08.

BJ Penn shocks Matt Hughes, Win UFC Welterweight Title [UFC 123, November 21, 2010]
Hughes had been a welterweight champion for a long time. Having won the UFC championship, defended it five times, and faced all the best competition, he had little trouble. At the time, it seemed impossible that his next opponent would be Penn, a career-long lightweight who had failed at the 155-pound mark twice.
Using an early Hughes slip, Penn kept Hughes on the mat for most of the first until he took him back with a final takedown. Penn's feet became tangled as Hughes attempted to untangle them. Suddenly, the sky was the limit for Penn, and any class seemed possible.
#07.

Randy Couture Slammed Tim Sylvia to Regain the Heavyweight Title [UFC 68, March 3, 2007]
In the spring of 2007, Sylvia was knee-deep in his second reign as UFC heavyweight champion when the recently retired Couture returned to active duty with the intention of reclaiming the title. Due to his age, Couture was considered an underdog to Sylvia, who was 6'8″.
Within a few seconds of the opening bell ringing, Couture crossed over Sylvia with an overhand right, dropping her. With his trademark solid game-planning, Couture defeated the bigger fighter over the course of 25 minutes, cementing his legacy as an all-time great.
#06.

Junior Dos Santos KOs Cain Velasquez in 64 seconds in the UFC's Fox deal debuts [UFC on Fox 1, November 12, 2011]
When the UFC signed a seven-year broadcast At UFC 47 in 2004, Liddell won in 37 seconds. In front of a partisan crowd, Velasquez set out to establish himself as the next big thing which didn't happen. A devastating overhand by Dos Santos only one minute into the fight stopped Velasquez from being a star and cut short the UFC's first Fox ad for its product. That day's loss of momentum by UFC-Fox was long in coming.
#05.

Liddell vs Ortiz 2 is 1st UFC PPV to surplus 1 Million Buys [UFC 66, December 30, 2006]
For the UFC, the rivalry between Liddell and Ortiz was special. In addition to Liddell's trilogy against Randy Couture, his feud with Ortiz belongs to UFC history's greatest feuds. All three men developed the 205-pound weight class into the sport's marquee division and launched the UFC into the modern age.
In their first hotly anticipated matchup at UFC 47 in 2004, Liddell scored a knockout victory just 37 seconds into the second round. It would be more than two years before the two competitors locked horns again. And the second time around, the biggest winner was the UFC. A record number of people tuned in on pay-per-view to watch Liddell once again reign supreme via knockout. UFC 66 was the first UFC event to top 1 million PPV buys, according to the Wrestling Observer Newsletter.
#04.

Matt Serra Wins Title Beating GSP [UFC 69, April 7, 2007]
A year after winning the "comeback" season of The Ultimate Fighter, which featured UFC veterans vying for a title shot, Serra was given the opportunity to fight the indomitable St-Pierre. His odds were not in his favor, to put it mildly. 
A flurry of punches during Serra's first-round left the fight world in awe after he stunned St-Pierre with an overhand right. After Serra dropped GSP again with a right hand to the chin and continued pounding until the referee stopped the fight, it was like everything had turned upside down. A bit more than a year went by before St-Pierre beat Serra in a rematch at UFC 83. It is still thought to be one of the biggest upsets in UFC history, and Serra's reign as champion is one of the most improbable.
#03.

Anderson Silva Saves His Belt as Chael Sonnen Chokes [UFC 117, August 7, 2010]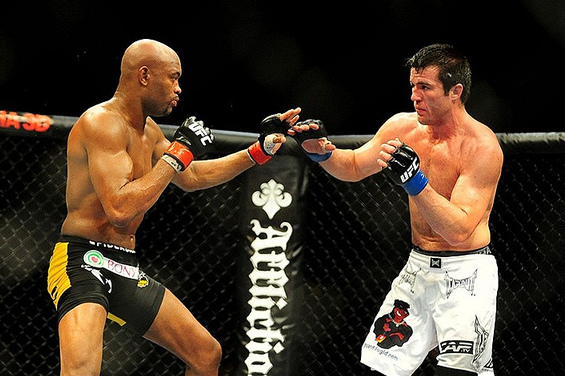 Before entering the octagon in UFC 117, Anderson Silva's MMA career was at a crossroads. In the history of UFC promotion, he had the longest winning streak of a middleweight champion. Silva's lethargic performances against Thales Leites and Demian Maia had angered fans and company executives.
His next fight against Chael Sonnen seemed doomed to be another flop. With his nonstop, ruthless smack talk, Sonnen threw the combat sports world for a loop. While backing up every word, he kept everyone on their toes. Sonnen had Silva completely out of his element for more than 20 minutes, taking him down on demand and flustering him with strikes on the ground.
Sonnen's limbs were tied up by Silva's triangle choke on his back. At 3:10 of the fifth round, the soon-to-be American Gangster submitted, which drastically changed his status in MMA. He became the best fighter in the UFC.
#02.

UFC's 1st Female Champ Ronda Rousey [UFC 157, February 23, 2013]
The UFC was a male-only organization for its first 19 years. This changed after Ronda Rousey won the women's bantamweight title at Strikeforce. Rousey was a promotional goldmine. Even in her earliest days, she was evident. Of her first six opponents, only one lasted longer than 54 seconds.
A fight between Rousey and Liz Carmouche, a relative unknown who had once fought for the Strikeforce women's bantamweight belt, was set to headline UFC 157. The lead-up was appropriately historic, and the fight didn't disappoint. The fight was the exciting coronation of a new star the UFC had been hoping for. Rousey took off from there, turning into the biggest draw in the UFC and a crossover star with mainstream appeal in the next two years.
More importantly, her win over Carmouche inaugurated a new era in the UFC. The UFC had become the premier venue for the best fighters in the world regardless of gender, and it would never be the same.
#01.

Royce Gracie Wins Inaugural UFC, Changes Combat Sports Forever [UFC 1, November 12, 1993]
The most famous UFC moment is Gracie's win in UFC 1's open-weight tournament. Gracie defeated three men in the first one-night tournament of the UFC. The initial MMA events in the UFC were nothing more than infomercials for Rorion Gracie's Brazilian jiu-jitsu classes at the time. Prior to UFC 1, martial arts had been primarily a striker's game. The minute Art Jimmerson, Ken Shamrock, and Gerard Gordeau were submitted on this night, Gracie smashed them to bits.
During one night, all of our concepts about martial arts changed. Throughout the development of this sport, which has grown to full-blown status over the past 23 years, one thing has always remained constant: Adapting and surviving to go hand in hand.