At first glance, 20-year-old Spanish prodigy Carlos Alcaraz may not seem to have much in common with Swiss maestro Roger Federer. They belong to different tennis generations: Alcaraz won his first grand slam in 2022, while Federer retired the same year after securing 20 major titles. However, their similarities extend beyond the surface. Both players turned professional as teenagers, with Federer earning his first ATP title at 19, while Alcaraz achieved this feat at 18.
Federer was a key figure in the 'Big 3' era of tennis, while Alcaraz is leading the new elite from the front. Currently competing in the US Open, Carlos Alcaraz is pursuing a goal that has remained unattained for the past 15 years.
Alcaraz seeks to emulate Roger Federer's legacy
Carlos Alcaraz could become the first player to defend the US Open title since Roger Federer, who won the tournament every year from 2004 to 2008.
Achieving this feat could propel him to his second US Open title and potentially allow him to reclaim the world no.1 ranking from Novak Djokovic. Alcaraz had previously equaled Rafael Nadal's record by becoming the youngest-ever top-ranked player at 19, following his triumph over Casper Ruud last year.
During an on-court interview after his third-round victory at Flushing Meadows, Alcaraz expressed his aspiration to create history at the New York major by emulating the Swiss sensation.
"Well, of course, I watch the draw and I see the opponents that I can play against. But, obviously, I am focussed day by day," Carlos Alcaraz stated.
"Defending the title here is a goal for me. I am looking for that. I know that no one has defended the title here since Roger Federer so I would love love to be part of the tournament history," he added.
Carlos Alcaraz wants to follow in Roger Federer's footsteps and defend the title for the first time since Federer. pic.twitter.com/ctEdNunr5O

— US Open Tennis (@usopen) September 2, 2023
Roger Federer has previously commented on Alcaraz's abilities in an interview with CNN.
"I think Carlos at his young age, the age that he is right now, he's doing incredible things," Federer said.
"I always don't like to put too much pressure on younger players, especially like, 'He's going to do this.' But he's the type of player who says, 'Well, I'm coming to Wimbledon, I'm coming to win. I'm coming to Paris, I'm coming to win.' So he's putting that pressure on his own which is great,"
"And that's why I can then also say, I think he will achieve incredible things in the future. Which means multiple Slams, many years as hopefully as the World No. 1," he added.
Carlos Alcaraz sets sights on US Open after Wimbledon triumph
Carlos Alcaraz clinched the Wimbledon championship in an epic showdown against Novak Djokovic, with Federer in attendance. This win ignited an enthralling rivalry between the two, with Djokovic securing revenge over the Spaniard in the Cincinnati finals.
Setting aside the disappointment, Carlos has made an impressive start to his US Open title defense. He has swiftly defeated opponents in his first three matches, frequently delivering awe-inspiring shots that have left the late-night New York crowd in a frenzy.
Following straightforward victories in the first two rounds, the Spaniard encountered his first significant challenge in the form of the 26th seed, Dan Evans. Alcaraz emerged victorious with a score of 6-2, 6-3, 4-6, 6-3, securing his spot in the fourth round at Flushing Meadows for the third consecutive year.
Alcaraz needed to deliver a top-notch performance to outmaneuver Evans, and his consistency and raw power proved crucial as he maintained composure throughout the three-hour, 10-minute battle.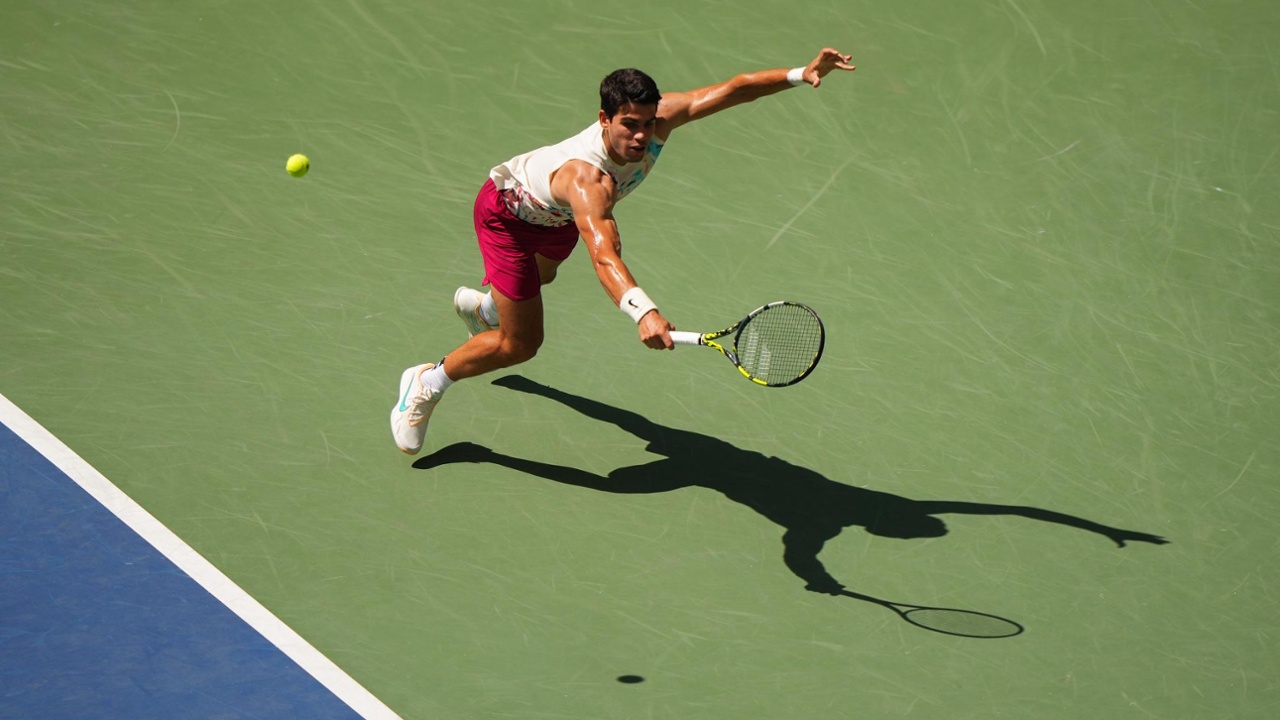 "We played great points that made us smile," said Alcaraz. "Daniel as well. It's great to see that on a tennis court. Obviously, we play to make the people happy as well, to entertain them and try to make the match fun. It's great to have that kind of point as well and feel the energy that [the crowd] are enjoying it as well."
The 20-year-old Spanish prodigy will be facing Matteo Arnaldi from Italy in the fourth round. It will be the first meeting between the two. The 22-year-old Italian Arnaldi had upset 16th seed Cameron Norrie 6-3, 6-4, 6-3 to book his fourth-round spot on his main-draw debut in New York.
Carlos Alcaraz is highly motivated to win the US Open and establish a new legacy in men's tennis. Will he successfully defend his title? Are you eagerly anticipating a showdown between the Spaniard and Novak Djokovic? Share your thoughts in the comments section below.