Emma Raducanu has had quite an accomplished career for a youngster. From breaking into the top-30 of the WTA rankings post her momentous US Open title run, the Briton has stepped into the spotlight with elan.
That isn't to say the 20-year-old is without her detractors. Many have downplayed her talent with claims of 'one-hit wonder' and 'injury-prone' circulating the tennis world. Emma Raducanu, herself, has had to hit back at her haters often through her interviews. However, her focus on her strengths and fans have provided her with much needed support in these tough times where she has struggled with injuries.
Emma Raducanu eyes strong comeback next year
The 2021 US Open champion has been sidelined for a major portion of the year with a wrist and ankle injury. After sustaining the affliction in Auckland, Emma Raducanu had to drop out of the rest of the season's major tournaments in order to rehabilitate.
In August, she underwent a surgery to correct her wrists and ankles and eventually stepped back on the tennis court in over 5 months, as part of her recovery process.
"August 2nd, THE FUN PART. 1st time back on court," she had written on Instagram.
Amid strong support from her fans and ex-professional players, Emma Raducanu is keen to stage a comeback next year in the Australian Open.
"Next season I'll be back.", she wrote on twitter.
After the high of 2021 and 2022, Emma has slowly faced the harsh realities of a professional tennis player's life. Throughout her budding career, the world no.214 has been overcome with body ailments ranging from breathing problems to blisters on her hand. Her current ranking is a result of missing out on important ATP tournaments and grand slams throughout the current season.
Nevertheless, Emma Raducanu is focused on hastening her recovery process in order to effectively fight for major titles in 2024.
Emma Raducanu claps back at critiques
In a strong statement, Emma Raducanu has lambasted her critiques with comments on her comeback.
"The fact they are still talking about me even though I'm not at these events is just a compliment. Someone told me 'worry when they are not talking about you.'" she wrote on Twitter.
In an interview in 2021, Emma had fought back against her detractors with a statement saying, "I am a grand slam champion. No one can take that back".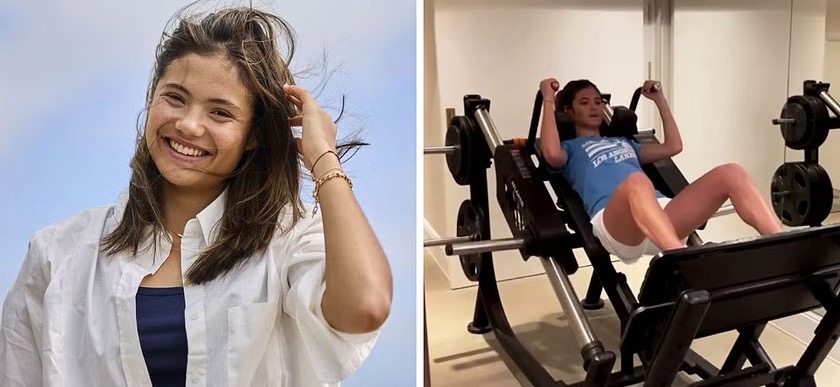 It is saddening to see a youngster face such harsh criticism, despite having had a career that many players would envy.
Only a fourth of the existing crop of professional players have won a grand slam title. Emma can proudly etch her name in that list. Her perseverance is commendable amidst vitriolic comments and diatribes aimed at her.
Her supporters have longed for the former British no.1 female player to return and prove her naysayers wrong and Emma will look to appease her fanbase by getting back to the form that catapulted her to stardom and success in the first place.
How much are you looking forward to see Emma Raducanu return in 2024? And does the youngster deserve the criticism she gets? Let us know in the comments section below.