Roger Federer is an icon of sport. For Tennis, he has inspired the younger generation of players and many believe he had a style-defining effect like Micheal Jordan on Basketball and Wayne Gretzky in Ice Hockey. He is not only an inspiration to Tennis players but also to stars like Philipp Lahm, Tiger Woods, and Cristiano Ronaldo have at one time admitted that he was an inspiration to them.
Recently, Novak Djokovic, newly crowned No. 1 also admitted that he inherited Roger Federer's trait of organizing his schedule and balancing between "speed, anticipation, and timing" so that he could be able to hit his peak every year. This comes after Djokovic earlier stated that he was not going to compete in the Shanghai Masters and Laver Cup.
Novak Djokovic shares one thing he learned from Federer
Novak Djokovic has faced his great rival Federer, who retired from tennis following the 2022 Laver Cup, 50 times over a fourteen-year period – holding a 27 – 23 edge, including 13 – 6 finals. The last time the duo met was in the semifinals of the2020 Australian Open, Djokovic defeated Roger Federer in straight set.
In an interview with John Monroe (seven-time major single champion) for ESPN, Novak Djokovic mentioned the role Rafael Nadal and Federer played in his career while detailing what he took from the Swiss legend specifically.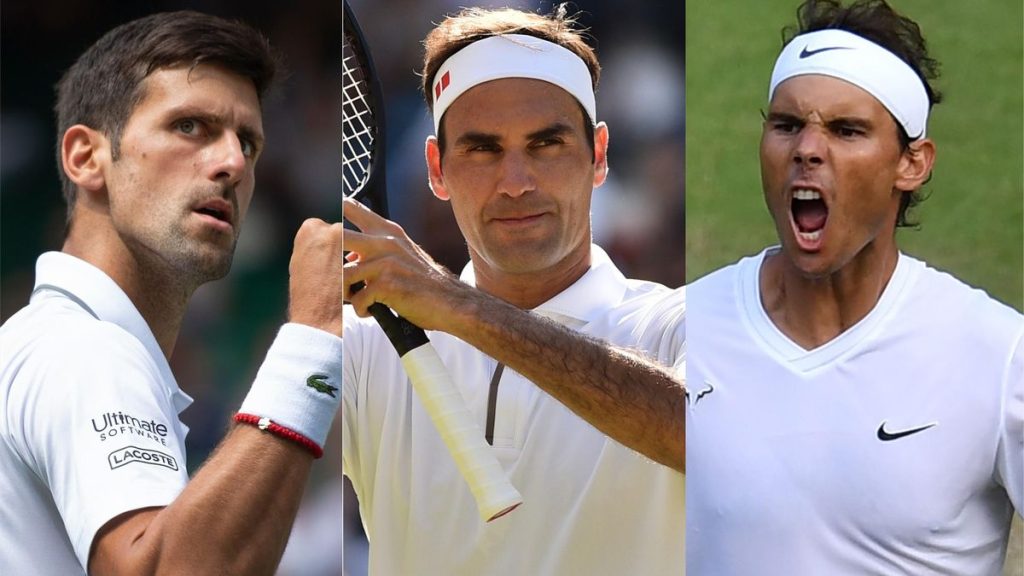 "Nadal and Federer, those two guys have really shaped my career, me as a player, in a great deal. one thing i learned from Federer – how to organize my schedule to be able to peak at the Grand Slams," said Novak Djokovic..
"He was one of the first players to really take the scheduling, preparation to a different level. I was inspired by that and I was making notes with my team and I was taking a lot from that scheduling. And observing him and his team and how he has gone about it. So thanks Roger."
The 36-year-old was also asked by what he thinks "separates him from everyone else" on his return of serve. "I wouldn't say there's one thing, one secret. Obviously, dependent on the surface you're playing, I like to change my position. But I would say if I have to highlight a few things that I'm constantly thinking about when it comes to [the] return – is the split step," said Djokovic.
"I think the split step really determines the right timing of anticipating the opponents serve. And of course I try to do my homework before going onto the court, knowing who am I playing against, what are his patterns.
"But I think more than that, really it's about timing because sometimes – speed goes against you in returns, if you are too quick. That's what happens with me sometimes, right? That I want to anticipate too early, then the ball hits me and I'm not hitting it in front. So the right balance between the speed, anticipation, and the timing – makes the formula.
"When I'm facing one of the big servers, I like to back up a bit. But I think it was – as weird as this sounds – a lack of confidence in my return. Yeah, I know, I know. But I did have lack of confidence in my return in some periods, so then I was backing up to give myself a bit more time," Novak Djokovic concluded.
Djokovic vs Federer head-to-head record
As aforementioned, both former world no.1s Roger Federer and Novak Djokovic have met each other 50 times with Djokovic currently leading the head-to-head of 27–23. Initially, in the rivalry, Federer was leading 13–6 by the end of 2010. Later in 2018, Djokovic took the line leading Federer, including 13-6 finals.
As a result, Novak Djokovic and Federer have competed in a number of well-regarded matches throughout the years, with the 2019 Wimbledon final—the longest final in Wimbledon history—being the most notable. Djokovic won that match. Along with the 2010 US Open, 2011 US Open, and 2011 French Open, they have also competed in the 2014 Wimbledon and 2015 Wimbledon finals.
The Serbian and the Swiss have met 17 times at the Grand Slams since 2007. Djokovic is the only man to have beaten Federer at all four majors and likewise, Federer is the only player to defeat Djokovic at all four of them.
Federer has won 1242 matches in his career, while Djokovic with 911 wins. Here are the surface-wise stats. On hard courts, Federer won 83.3% of his matches, Djokovic 84.5%. On clay courts, Federer won 76.1% of his matches, Djokovic 79.6%. On grass, Federer won 87.4% of his matches, Djokovic 84.1%.
Without a doubt, Federer stands first with 103 wins while Djokovic has 96 wins to his name. Yet, Djokovic has a record 24 Grand Slams, while Federer has 20. Both are great legends of the game and Greatest of all time (GOAT) players with huge respect from fans and tennis world.