Former Lakers player Trevor Ariza's estranged wife, Bree Anderson Ariza, has reportedly filed an application for a restraining order against the basketball star. She claimed that she fears for her safety and wants Ariza to be ordered to stay away from her home and barred from any contact with her. According to reports, Bree filed for divorce from Trevor last year, citing irreconcilable differences after four years of marriage.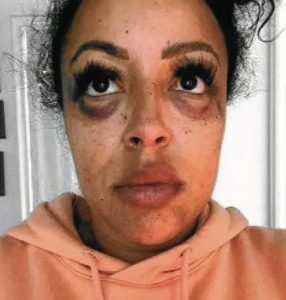 Bree also claims that Trevor was verbally and emotionally abusive towards her and was physically abusive towards her in front of their children. She is now seeking sole custody of their children. She has also expressed her discomfort with Trevor living half a mile away from her and alleged that he has entered her home without her permission.
Trevor Ariza is accused of threatening to change the locks to Bree's residence, leaving her homeless if she didn't listen to him, and refusing to pay child support. Moreover, he has also threatened to take the kids away from Bree. She recalled an alleged incident from 2021 in which Trevor came to her house and demanded that she gave him her phone, which she refused. Bree claims that he threw her into a bed, punched her several times, and choked her until she nearly passed out.
Bree also detailed another incident from February 2020 in which she says the player choked her until she lost consciousness. She has revealed a text message that Trevor sent her in September 2020, where he expressed his regret for putting his hands on her, which made him feel like he was nothing.
Bree's application for a protective order against Trevor has been filed in court. The documents reportedly state that she fears for her safety, and the court is yet to decide on the matter. Trevor Ariza is a free agent at the moment, having played for several teams, including the Houston Rockets, Washington Wizards, Phoenix Suns, Miami Heat, and the Lakers.