When it comes to rank the important position in NFL Games, the quarterback should pop up in our minds. However, it certainly is an important position, but another position boosts the quarterback's performance, which we often tend to forget. Offensive linemen are that position, which works as a catalyst for the quarterbacks.
Offensive linemen are usually working on protecting the quarterback in the NFL. The lineman's primary job is to block the opponent from attacking the. Therefore, NFL teams make a significant portion of their investment to buy offensive linemen.
Here we will discuss the 10 highest paid offensive lineman in NFL history. Currently, Trent Williams is the highest paid offensive lineman in NFL. The 49ers re-signed Williams for another six-year for $138 million with $55.1 million guaranteed and a $30.1 million signing bonus.
#10.

Trent Brown
After successfully helping the Patriots to reach the Superbowl in 2018, Trent Brown agreed to a $66 million deal with Oakland Raiders in 2019. The signing included guaranteed $5 million in the first while the guaranteed increased to $21.25 million in the second year.
The four-year contract is supposed to end in 2023, but the Patriots are bringing him back to the team again. Brown's previous contract had two years left at $19.25 million. The new contract with Patriots will now be worth up to $11 million.
The Patriots and Raiders have agreed to a trade that will send OT Trent Brown to New England, per sources.

Brown has also agreed to a reworked contract for one year that is expected to be worth up to $11M as part of the deal.

— Field Yates (@FieldYates) March 9, 2021
#09.

Garett Bolles
Garett Bolles has been playing with Denver Broncos since the beginning of his career. Initially, Bolles signed a four-year contract in 2017 for $11.01. However, the Broncos offered him a 4-year extension in 2020, and they agreed to $68 million. 
According to the new contract details, it includes $40 million guarantees and a $20 million signing bonus. Additionally, Bolles will get $2 million of 2023's base salary in case of injury. 
Besides, Bolles will have a cap hit of $18 million in 2023 and $20 million in 2024.
#8.

Jake Matthews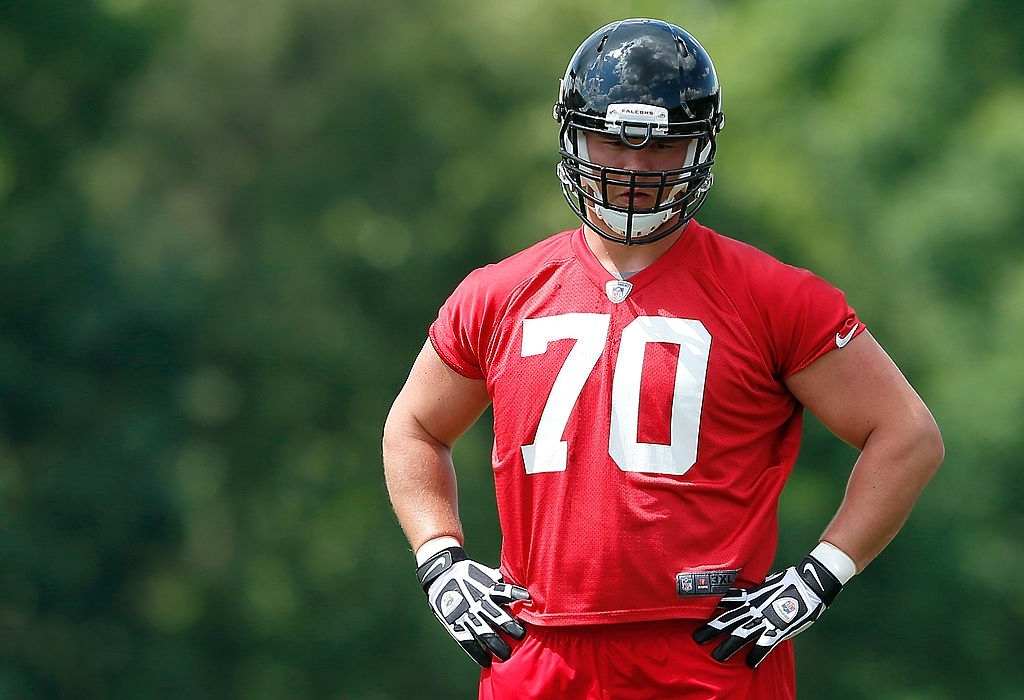 Atlanta Falcons offensive tackle entered the team in 2014 with a four-year contract. However, the Falcons extended the contract for five more years in 2018.
The new deal was worth 72.5 million with $14.35 million in guarantees. However, Matthews received $25.94 million guaranteed during the signing and $13.94 million as a signing bonus.
As per the new contract details, Matthews' contract is valid through the 2023 season. He will be available as an unrestricted free agent in 2024 at the age of 32.
#7.

Lane Johnson
Lane Johnson started his career with Philadelphia Eagles in 2013 for $19.85 million. However, he got an extension offer in the middle of his contract in 2016 for $56 million.
Later in 2019, the Eagles offered him another extension for five more years, which Johnson accepted happily. The new contract was worth $72 million and $55.845 guaranteed for injury.
Besides, Johnson received a $3 million signing bonus along with multiple option bonuses. The 30-year-old offensive tackles' contract will end in 2025. 
Read More: Ranking top 10 best Asian NFL players
#6.

Joe Thuney
Joe Thuney signed a five year signed a five-year contract with Kansas City Chiefs on March 15, 2021. The contract's total value was $80 million, which included $31.89 million guaranteed at signing. Besides, $46.89 million was guaranteed for the injury. Thuney's 2021 and 2022 salaries are fully guaranteed, along with the $17 million signing bonus.
New #Chiefs guard Joe Thuney's five-year, $80 million contract includes $32.5M fully guaranteed at signing over the first two years, plus an injury guarantee that converts to full in 2022, per source. That brings the practical guarantee at signing to a whipping $48 million. 💰💰

— Tom Pelissero (@TomPelissero) March 15, 2021
If the Chiefs' new guard remains on the roster on the 3rd day of the 2024 and 2025 season, the team will guarantee $2 million of his salary.
The 28-year-old started his NFL career with the New England Patriots in 2016. Upon arriving at patriot, Thuney proved his impact from day one.
#5.

Taylor Lewan
Taylor Lewan began his rookie year with Tennessee Titans as the eleventh pick of the 2014 NFL draft's first round. Initially, the 29-year-old joined for four years for $11.48 million. However, the Titans offered him an extension after ending the first contract.
Lewan signed for another five years. This time the contract is worth $80 million with $50 million guarantees. However, the contract also includes an $11 million signing bonus.
The $80 million deal marked him the highest paid offensive lineman in NFL history back in 2018. Lewan had a steady performance at Titans, and he got his reward as a contract extension.
#4.

David Bakhtiari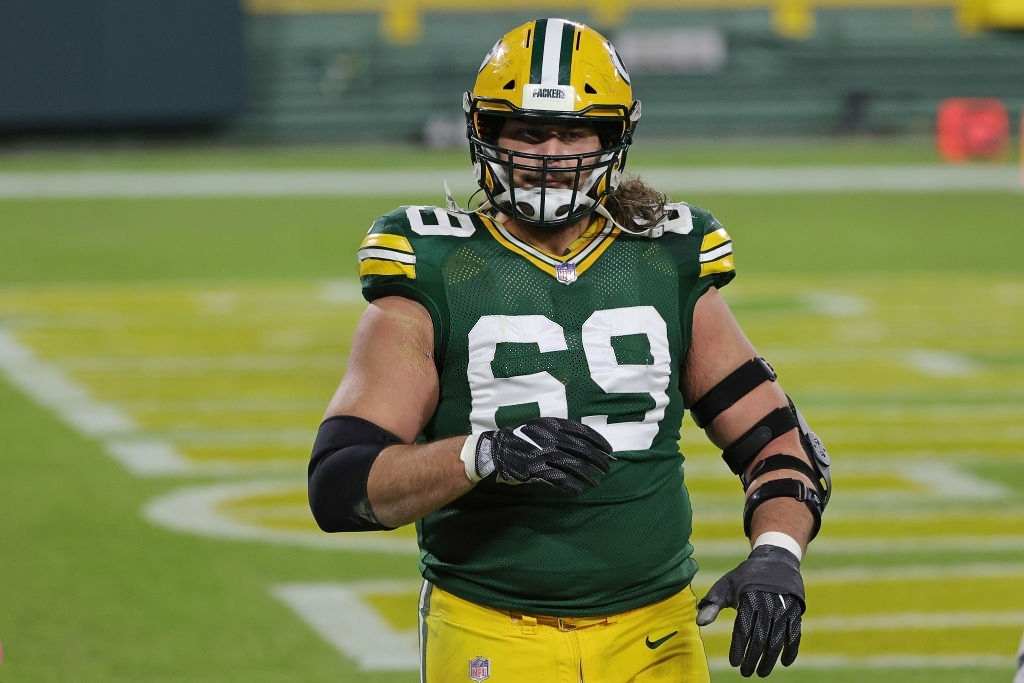 His four-year extension for $92 million in November 2020 made him one of the highest paid offensive linemen in NFL history. During the extension signup, Bakhtiari received a $30 million signing bonus as a guarantee.
Additionally, the agreement detail showed that the 29-year old would get $600,000 roster bonuses per game annually. Another $2 million in incentives are also available in the deal, which may increase the overall contract value to $94 million.
Recently, the Packers have converted Bakhtiari's 2021 roster bonus into a signing bonus. The new conversion will create an $8.3 million salary cap. 
Read More: Ranking top 5 best running backs of 2020
#3.

Tyron Smith
Dallas Cowboys drafted Tyron Smith in 2011 through a renegotiated contract. The Cowboys signed a five-year deal for $22.54 million. However, Smith got an extension offer in the middle of the five-year agreement. 
Later, the 30-year-old left tackle signed an eight-year deal for $97.6 million in July 2014. The new contract got him a $10 million signing bonus. In addition to that, Smith's 2014 and 2015 salaries were fully guaranteed. 
Nevertheless, the contract was lucrative for Tyron Smith and converted $10 million of his base salary to a signing bonus in 2015. 
He will be available as an unrestricted free agent in 2022. However, he might get another extension offer. 
#2.

Ronnie Stanley
The Baltimore Ravens blocked their star left tackle Ronnie Stanley's transfer until 2025 by signing a 5-year deal. It was his first contract extension after being drafted in 2016 for $20.5 million.
However, the new deal secured him almost five times the previous contract. Stanley signed the extension deal for $98.75 million, which can get a max up to $100 million. 
The new guarantee raises to $58 million, which may get a surge up to $65.569 total guarantees. On top of that, Ronnie Stanley will receive a whopping $47.116 million by March 31, 2021
#1.

Trent Williams
San Francisco 49ers made a historic deal with Trent Williams on March 17, 2021. the 49ers did not want to lose the veteran left tackle. They locked up a new six-year deal for $138 million, which made him the highest-paid offensive lineman in NFL history. 
Additionally, the contract includes $55.1 million guaranteed money and a $30.1 million signing bonus. The average annual value of $23 million levels the Packers left tackle David Bakhtiari contract value. 
However, in terms of the total value, Williams' contract is the largest in the league history. 
Usually, offensive contract deals don't get hype every year as quarterbacks dominate the free agency market. But this year, Trent Williams' deal deserves to get enough attention in the football world.