MVP Predictions: Who is ahead in the race for the coveted award?
As the spectators find themselves smack dab in the middle of the regular season, the race for the MVP title has also started heating up. Some players have started separating themselves from the pack by putting in increasingly unbelievable performances with each passing game. Cagers like LeBron James, Joel Embiid and Stephen Curry are playing in a league of their own and this is helping their teams to qualify for the playoffs.
LeBron James recently achieved the 35000 point mark in the NBA and became the fastest player to ever do so. But as we all know the MVP award isn't judged on career performances. The award is given on the basis of performances in the current season and how their performances have been impacting the team they play for. Giannis Antetokounmpo won the sought-after award last season while King James was a close second. Here we will take a closer look at the top five players in the list and provide spot-on ​NBA predictions and betting tips​ via (sportytrader).
1. LeBron James
For the past two seasons, LeBron James has been in scintillating form. The 36-year-old has been defying his age with each game. In his first season at the Lakers, James brought the championship back to LA after ten years. Though many pundits speculated that he should've had the MVP award last season, LeBron has held the top spot this season.
After the 109-98 loss against the Brooklyn Nets, coach Frank Vogel revealed that the injury to Anthony Davis is rather serious. The tentative time for which he will be out is going to be four weeks. AD and LeBron had started a good partnership together and without him James will have to shoulder more responsibility.
Coach Vogel said, ​"He's got to play his game, and we've got to find ways where he can impact the game sort of with less energy. Putting him at the elbow, putting him at the low post, where he's not running a million pick-and-rolls; just try to manage it that way. He's got a great feel for that. If he needs a blow, he's gonna get himself out or ask for a sub. We're looking at those types of ways to, within his minutes, make sure he's not carrying too much of a load."
LeBron James has averaged 25.9 points and 7.9 assists per game this season. We expect that number to increase as the absence of AD will result in more game time for him. In February, he maintained a decent record of connecting 54.3% of his shots from the open field.
2. Joel Embiid
Joel Embiid is as good a player you'll ever see in the NBA. The tall and athletic center has put up a defensive masterclass against many teams in the league. His partnership with Ben Simmons on the court is something to behold. The Philadelphia 76ers must be really glad to have a defensive pair as solid as that. Despite being defensively sound, Embiid has racked up points like no other. He averages 29.7 points and 10.8 rebounds per game this season.
However, the recurring back problems kept the Cameroonian out for six games. Recently, those back problems were on display once again against the Houston Rockets. Embiid was squirming in pain but he still managed to score 31 points and 9 assists for his team. That victory is a testament to the character and tenacity of Joel Embiid. These traits not only earned him a reputation of being really good at what he does, but also resulted in him getting an All-Star call-up for the Eastern Conference side. Once his back issues clear up, we will probably see a more lethal version of Joel Embiid in action.
3. Damian Lillard
There is no denying what Damian Lillard is capable of on the court. He has proved that season after season, game after game. His arching three-pointers are a sight to behold for anyone who understands the ballers art. Despite receiving so many offers from rival franchises, Lillard has stayed true to his game and true to his team. The Portland Trail Blazers have been in great form this season and sit fifth in the Western Conference standings. Judging by their recent performances, the Blazers look all set to book their place in the playoffs. Much of the credit for being in this position goes to Damian Lillard.
"Dame Time" has averaged 29.8 points and 7.7 assists per game this season. For a point guard, he is defensively sound too. The 30-year-old pours his heart and soul in each game he plays in and that shows. His partnership with CJ McCollum has also grown over seasons and now, when they both manage to find their rhythm, any team finds it really difficult to stop them. Throw a veteran like Carmelo Anthony in the mix and you have a championship contending team on your hands. The All-Star snub might come as a shock to many, but even Russell Westbrook wasn't a starter the year he won MVP.
4. Stephen Curry
The name Stephen Curry strikes fear into the minds of the rival team. The unbelievable ball-handling, the offensive prowess, the skillful passing, everything just feels so easy for the 32-year old. The truest testament to any player's talents is that he makes the game look easy. And the game has never felt simpler than when the "baby-faced assassin" has the ball in his hands. Coach Steve Kerr has always been all-praises for his PG, but this season he went so far to say that Curry has never played better. He said, "​He's never played better…He looks so strong to me. He looks stronger to me, getting by people, fending them off on drives, finishing. Then the shot-making is almost unfathomable,"
Curry scored a whopping 57 points in the game against the Dallas Mavericks. His one-man rampage took everyone by surprise as he kept on scoring right till the very end. Many critics have said that his performances of this season have been better than when he won the unanimous MVP in 2016. That year, he had the likes of Klay Thompson, Kevin Durant and Draymond Green with him. But now, only Draymond Green remains and Curry has been carrying his side over the finish lines in many games.
Steph Curry is averaging an unbelievable 30 points and six assists per game this season. HE has taken the NBA world by storm yet again and has shown no signs of stopping. After playing only 5 games last season, he has come back fresher and stronger. His three-pointers were always a treat to watch, but this year they come with a sense of ominousness and surety. He has sunk 51% of shots from beyond the 3-point arc and has averaged 5.3 rebounds per game. In terms of impact on his team, there is no better player than Steph at the moment.
5. Nikola Jokic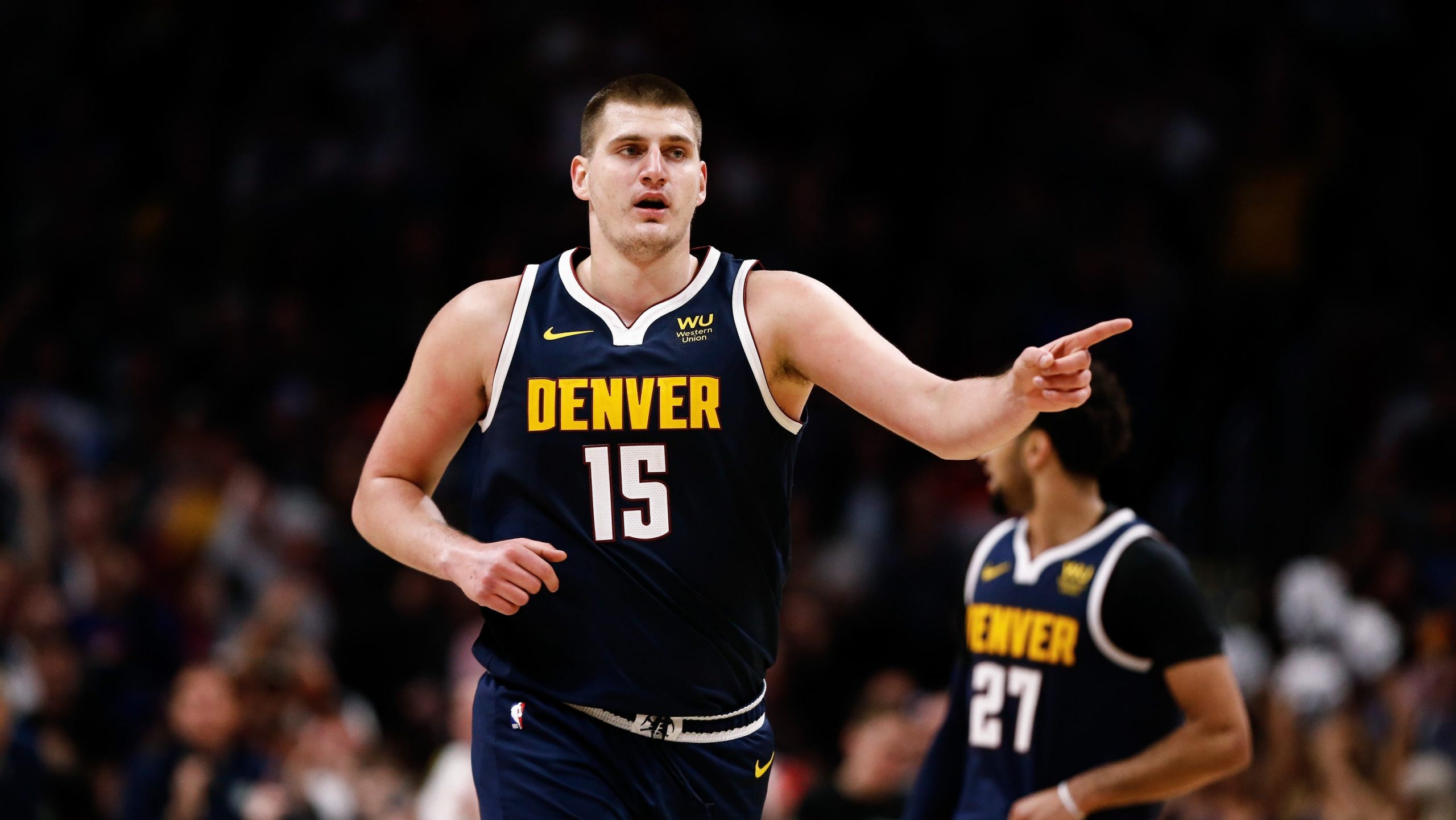 "The Joker" has been in dazzling form this season, scoring at will for the Nuggets. He achieved the tremendous feat of scoring 50 points and 10 assists in a game against the Sacramento Kings. No other center in the league other than the great Kareem-Abdul Jabbar has managed to achieve that feat. Unfortunately, this stellar effort came in a losing cause as the Nuggets lost 119-114 in a close game.
Over the course of this season, Nikola Jokic has been putting in shining performances for his side in every game. He averages nearly a triple-double in each game and by the end of the season he is sure to achieve that stat. Jamal Murray and Gary Harris have been injured for quite a while now so the defensive duties have also fallen on Jokic's shoulders. He has fulfilled the requirement very nicely as when Jokic is on the floor, the Nuggets allow 3.8 percent fewer shots at the rim than average. No other center other than the great Wilt Chamberlain has managed to average eight assists per game over the course of an entire season. However, with 8.6 assists per game already, Nikola Jokic is on his way to achieve this stat and make his MVP case even stronger.
Other than the top five, there are many other players who are in contention for winning the title. Some of them are notable names like Kevin Durant, Giannis Antetokounmpo, and James Harden. Harden and Durant play for the Brooklyn Nets franchise which has been making quite a lot of waves this season. However, the MVP award depends more on individual performances than it does on team efforts. So the top five will have to keep up the good work and put in more shifts as the league progresses towards its business end.