Top 10 Youngest NBA Player to Win MVP
The B-balling scene is replenished with fresh talent every year. With the NBA's new program of drafting players straight out of High School, the competition is always heavy. With hot-blooded beasts crowding the court, it is not about sheer talent anymore. It is about how soon you can unlock the sheer maximum of your skills and put them to use. The prestigious MVP award has been won by several young rookies as well.  It is so prominent that there is literally a list of youngest NBA player to win MVP. You don't believe me? You will be shocked. Check it out yourselves.
Who is the youngest NBA player to win MVP?
The most pertinent question? Nah-not so early. However, I can tell you this beforehand that he won it at the tender age of 22. To beat other experienced players and grab such an award so early up his career, this player was destined for greatness. However, destiny had other plans for him. Without wasting any more time, let's jump into it.
#10.

LeBron James
The best high school basketball player of all time, @KingJames. pic.twitter.com/vpn1svYKiI

— Hoopmixtape.com (@Hoopmixtape) July 3, 2020
Talking about MVPs and King James wouldn't be on the list? Well, that is just impossible. Joining the NBA straight out of High School, LB James became the one-man show for Cavaliers. He was their leading scorer, leading assists and had the highest number of rebounds. James' undeniable aura on-court seals his position in this list of youngest NBA player to win MVP. He has usually played in the position of Small Forward and Power forward but has never failed to take up other responsibilities whenever required.
James had been awarded the NBA Rookie of the Year in 2004 and had also featured in the NBA All Rookie Team in that same year. His performance at St Vincent St Mary got him in the limelight and since then, he hasn't left the spot. Lebron James is destined to earn many more MVPs during the rest of his career, his youngest MVP being at the age of 24 in the year 2009. This achievement makes him eligible for having a place on this list.
#9.

Moses Malone
The game has seen several powerful Centers like Shaquille O'Neal, Bill Russel and Abdul Jabbar. However, Moses Malone showed sheer brilliance at a very tender age. He was extremely aware of his position in the team and was at the right place in the right time, stealing those crucial points for the team.
Malone played a major part of his career at the NBA for the Houston Rockets. However, Malone has also dominated the ABA before it was merged with the NBA. Malone was terrific on the court with a brilliant defense game. He has three MVPs to his name and has featured in the NBA All Stars Game a dozen times.
His first MVP at the age of 24 in the year 1979 has placed him on this list. He is no doubt worthy of being among the youngest MVPs of the NBA given his splendid performance. It took him two seasons more after his first MVP to lead the Houston Rockets to their Championship title. Nevertheless, his fantastic season with 25.8 points and 17.6 rebounds per match placed him on the leader board.
#8.

Dave Cowens
Another Centre named Dave Cowens adds to the list who was a sensation to the game during his younger days. However, age and a scurry of injuries had repeatedly hit him hard. Nonetheless, we cannot ignore the brilliant decade he had played for the Boston Celtics.
Cowens had won the NBA Rookie of the Year in his first season for the Celtics naturally placing him in the NBA All Rookies Team in 1971. To add to his achievements, he has bagged 8 NBA All Stars to his name and also has been All Stars MVP one time. Speaking of the youngest NBA player to win MVP, Cowens grabbed his first Season MVP at his third NBA season at the tender age of 24 which makes him eligible for our list of top 10.
Though Cowens suffered severe injuries during his career he couldn't be stopped during his time with the Celts. He was later replaced by the McHale, one of the greats of the game who led them to their 1981 title. However, Cowens has two seasons for the Milwaukee Bucks in his later years with 40 games for them.
#7.

Lew Alcindor aka Kareem Abdul Jabbar
More commonly known as Kareem Abdul Jabbar, he was one of the greatest NBA players to have graced the B-balling scene. However, greatness isn't achieved overnight, it is a process. A whopping 38,387 points under his name has made him all- time leading NBA scorer.
His career with the Bucks as a center was so power-packed that he snatched the title for his club in his second NBA season. In that same season, he won his youngest NBA player MVP award in the year 1971 and further went onto win a total of 6 season MVPs, an all-time record to date. As an icing to his fantastic season, he was the leading scorer with an average of 31.7 points and 17 rebounds per night.
His explosiveness and his agility on the court makes him such a dominant Center in basketball. Not to forget his affection towards scoring lands him in the list of 50 greatest NBA players to have slammed the basketball. Kareem Abdul Jabbar's contribution to the game is unfathomable. His dedication and style land his name in the same sentence as Magic Johnson or Michael Jordan. His cabinet holds two NBA finals MVP as well as NBA Rookie of the Year in 1970.
#6.

Bob Petit
Being the first recipient of the NBA MVP award, Petit played 11 seasons for the Milwaukee Bucks/Hawks. With shifting roles between a power forward and a center, Petit led the Bucks to their first-ever NBA title in 1958. he is one of the best white players in the NBA.
Already breaking records, he bagged the NBA Rookie of the year during his first season. He also donned the All Stars Kit 11 times having a record of 4 NBA All Stars MVP. This has been untouched before legend Kobe Bryant achieved the similar feat. His cabinet boasts of 2 NBA Season MVPs with the first one at the age of 24. This enabled him to be among the youngest NBA player to win MVP before Wes Unseld or Derrick Rose stepped in. His early achievement in his career makes him capable of earning his place in our list.
Featuring in the NBAs 25th 35th and 50th Anniversary Teams, Petit retired with extremely impressive numbers. He has been an inspiration during his time with brilliant reflexes and a 2-time NBA Scoring Champion.
#5.

Bill Russell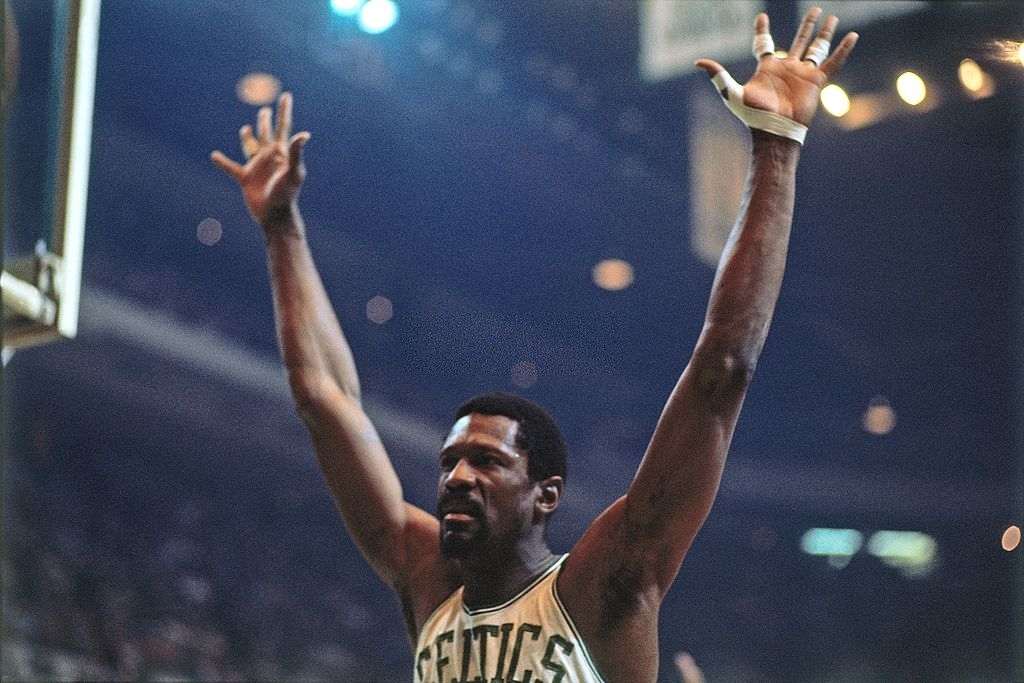 This list seems to be getting overcrowded with Centres. We can't help it. Another all-time great to have ever passed the ball. Frequently mentioned in the same sentence as the famous Wilt Chamberlin, Russell was one of the tallest players in the NBA.
Bill Russell started his NBA career for the Boston Celts in 1956 and retired under the same club in 1969. In his 13 seasons, Russell has led the Celts to an unbelievable 11 Championship titles with 8 years straight spree from 1959 to 1966. This solidifies his spot as one of the youngest NBA players to win MVP. Moreover, during his college days, he had won 2 NCAA Championships and was UPI College Player of the year 1956.
Out of the 5 MVPs in Russell's cabinet, he won his first MVP for his second NBA Season in 1958 at the age of 24 years. Russell was a competitive player and extremely skilled in his position. To honor Bill Russell's contribution to the game, he has been incorporated in NBAs 25th and 50th Anniversary Teams. To establish Russell's worth, NBA renamed the NBA Finals MVP award to Bill Russell NBA finals MVP Award in 2009.
#4.

Wilt Chamberlain
Wilton Norman Chamberlain. One of the greatest centers to have ever dribbled the ball around the court. Wilt Chamberlain was a one-man show and his technique could make you fall in love with the game. The Chamberlain and Russell rivalry was one of the greatest rivalries in the NBA. A significant amount of popularity of professional balling has been attributed to these two men.
After adding the first MVP award to his cabinet in 1960 at the age of 23, Chamberlain had to wait another 6 years before his second MVP. It is believed that Chamberlain could have achieved a few more NBA titles if Russell had not been about his 8 straight winning spree. However, that couldn't stop Chamberlin from grabbing other achievements. He donned the NBA All Stars Kit 13 times and has a total of 4 NBA MVPs. The all-time record of 100 points in a single game is still untouched by any baller other than Chamberlain himself.
Though Chamberlin had been held back by Russell, he did beat him in the Rookie standards. Chamberlain was deemed NBA Rookie of the year in 1959 and received the rest of his MVPs during the latter 60s'. Nicknamed the Goliath and The Big Dipper, Chamberlain features in the NBA 50th Anniversary Team.
#3.

Bob McAdoo
McAdoo has played for different teams and has had a wonderful career in the NBA. However, he can very well be deemed to be among the most underrated players in the NBA too for ignoring his undeniable impact on the arena. With a career in the Buffalo Braves and LA Lakers during their heydays, McAdoo was a dominant power forward in his days.
Winning his first MVP at the tender age of 23, McAdoo rightfully deserves a place on this list. However, his greatness could be spotted from his very first season in the NBA. He won the NBA Rookie of the Year and indefinitely featured in the NBA All Rookies team of the season. Furthermore, he also has 2 NBA Championship Rings to his name and has been featured in the NBA All Stars 5 times.
As mentioned earlier, McAdoo's career was overshadowed by the other greats playing during that time and he has slid between the hype. However, his success has no end. Being named 3 times NBA Leading Scorer and FIBA Intercontinental Cup Winner, he has bestowed his worth well to us and we shall not forget his contributions to the game.
#2.

Wes Unseld, the 2nd Youngest NBA Player to Win MVP
Standing at a comparatively standard height of 6'7", Unseld made up for his stature with sheer determination on the court. His bone-jarring picks with accurate outlet passing and excellent rebounds made his play enjoyable and feisty.
Another Center to crowd the list, Unseld was drafted by the Baltimore Bullets in 1969. Wes soon started making an impact on the game with his brilliant playing style. He bagged the NBA Rookie of the Year in 1969 and also won his first and only MVP in that same year. At the age of 23, he achieved the MVP reward under his name making him the second youngest NBA player to win this. He also led the Bullets to the Finals four times and eventually winning it for them in 1978.
Honestly, Wes doesn't have many numbers to prove his worth. Nonetheless, players and critiques did realize his true potential and thus he features on this list.
#1.

Derrick Rose, the youngest NBA player to win MVP
Rose was an Explosive beast. He could tear apart opposite defences with his quick layups and surreal athletic ability. Without any doubt, he is one of the greatest players this decade had produced. He won the youngest NBA player to win MVP reward at the tender age of 22. Rose beat Wes Unseld to this thereby he ranks top in the list.
In the year 2008, Rose was drafted by the Chicago Bulls, the club that produced the Great MJ Jordan and Scottie Pippen. Rose was en-route to becoming the most dominating Point Guards of all time. He had won the NBA Rookie of The Year Award in his first season. He also featured in the NBA All Rookie Team. Unquestionably Rose was destined for great things that had not  fate interfered with his career as he had to go through a scurry of injuries. While playing for the Bulls, he hurt his knee twice. During one of these injuries when he hurt the ACL in his left knee that forced him to undergo surgery.
Though after all these, Rose came back to the court for a brief period of time, he couldn't perform as before. The question of What would Derrick Rose do if he had no injury is still one of the most pertinent topics for discussion in the NBA.
Special Mentions-NBA MVP Award
Other Special mentions to this list would be Michael Jordan and Kobe Bryant(RIP) because of their unique plays and explosive forms. Kobe's unforgettable 81 points game is often compared to Chamberlain's 100 pointer. Though they might not be the youngest to have received the MVP award, the sheer number makes their names stand out.
So, who do you think can beat Rose's record to be the new youngest NBA player to win MVP? Leave me your thoughts on this.
Also See