Rivalry is an indispensable part of any type of sport. You can simply feel the heat in terms of fighting, fearless attitude, match intensity, breathtaking performances of the players. In some cases, those go beyond more extreme situations going out of hand.
But when it comes to NBA rivalries, you have to sit back & hold your nerve. It's because NBA has produced so many iconic rivalries in its history over the years. So if you have to choose only a few of them, you require proper observation to filter the best ones.
Many legendary players have been a major part of the NBA best rivalries. They presented us memorable moments through their extraordinary performance on the court. Their mentality not to hold back in any situation created those historic rivalries in the NBA. In this article, we will notify some of them for you.
What are the greatest NBA rivalries?
NBA rivalry has always generated nervous moments on the court by giving the fans thrilling experience. In case of creating unforgettable moments, there are some special rivalries in NBA which are remarkable indeed. Bulls-Knicks, Lakers-Spurs, Knicks-Heats, Celtics-Lakers are surely on the top of all greatest NBA rivalries.
Why are NBA rivalries so weak when compared to the NFL?
If you watch both NBA & NFL, you can easily assume that nowadays NFL brings much more excitement than NBA. One of the main reasons behind this is the changed adamant rules of NBA. Also, this initiative made NBA less physical than NFL resulting in a tame display of sport. That's why you will see most of the NBA rivalries in this article are gathered in from the past.
Top 10 NBA Rivalries:
In the 74 years glorious history of NBA, fans have witnessed plenty of team rivalries. Here are the top 10 rivalries among all of them:
#10. Boston Celtics vs Philadelphia 76ers
Let's start with two fascinating NBA rivals, the teams who faced each other highest number of times during playoffs. 76ers is ahead of Celtics by winning 13 times out of 20 battles between these two teams. But what made such a great rivalry? Well, it's none other than some magnificent players who created such intense moments during their battles.
In the early '60s, Wilt Chamberlain's 76ers pulled down Celtics from the throne of NBA to win the NBA final after eight long years. Later, they met again next year in the final where Bill Russell's Celtics came out on top to beat the 76ers.
This rivalry again appeared in the decade of 1980 when Larry Bird & Julius Erving battled hard to win glory for their respective teams. Though 76ers won two of the three playoffs, Celtics clinched the victory in 1981 in an epic playoff match. According to many, that is the greatest playoff series of all time.
#9. Chicago Bulls vs Detroit Pistons
The next rivalry in our list took place in the late '80s between Chicago Bulls & Detroit Pistons. From 1988 to 1991, they met each of the time in the playoffs. Known as the "Bad boys," Isiah Thomas & Bill Laimbeer made the Pistons a powerful fort with their gang. On the other side, Bulls agreed to accept their domination by no means.
Persuading Michael Jordan, the finest among the best NBA scorers, Bulls also made a strong resurgence in the NBA. However, Pistons overpowered the Bulls first three times while meeting in the playoffs. By dint of their physical nature of play, Pistons executed their aggression perfectly to suppress Jordan & co.
Finally, in 1991, Bulls demolished the dominance of the Pistons by a clean sweep of four games. Pistons felt so insulted that they left the court without even shaking hands & congratulating the Bulls.
#8. Golden State Warriors vs Cleveland Cavaliers
This one is arguably the most familiar one among the current NBA viewers for being the most recent rivalry in the NBA. When two modern day NBA superstars LeBron James & Stephen Curry join in a rivalry, that inevitably turns into one of the NBA greatest rivalries.
Golden State Warriors got Curry to bring revolution in the NBA, whereas Cleveland Cavaliers had LeBron in their team. At first, they battled for the championship in 2015 when Warriors took advantage of injury afflicted Cavaliers. Being the alone fighter, LeBron couldn't save his team from the loss.
In the next year, Cavaliers returned proudly to the final with full force against Curry's Warriors. This time LeBron & co earned a hard-fought win from a 3-1 deficit to win the trophy. Making multiple NBA final appearances, LeBron ensured his team's victory by dint of his invaluable experience.
#7. Indiana Pacers vs New York Knicks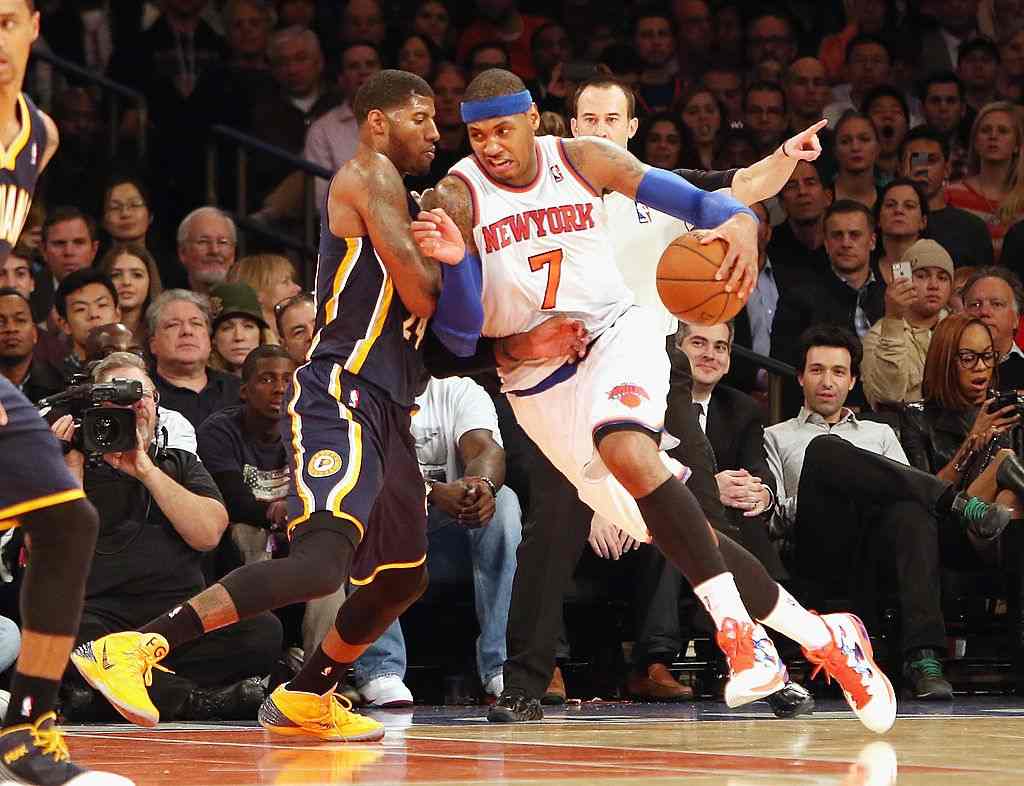 Meeting six times in 7 years duration is not word of mouth. Eventually, Indiana Pacers & New York Knocks made it happen from 1993 to 2000. Reggie Miller was the talk of the town then for his impressive performance against the Knicks. Nicknamed as "The Knick Killer," he was one of the unfortunate NBA players without a ring.
But who cares it when Pacers fought hard to beat the Knicks after two consecutive losses? The trash talking of Knick's Spike Lee turned it into one of the best NBA rivalries. Being added fuel to the rivalry, Reggie showed an amazing display of basketball to take revenge.
Scoring 39 points including 25 from the four quarter line in 1994, Reggie amazed everyone by his capacity to score from so far. Next year, he returned with more supremacy in a 7 game semi to beat the Knicks. By knocking out the Knicks in 2013 semi, Pacers are now ahead of them by 4-3.
#6. Los Angeles Lakers vs San Antonio Spurs
In the early 2000s, the NBA greatest rivalry, according to many emerged through some NBA legends. Both Los Angeles Lakers & Sun Antonio Spurs had some fantastic players in their dens to fight for the title. But who came out on top among the two teams? Let's dip into this discussion.
Undoubtedly, this rivalry was a great one for the debate of who is the best among Tim Duncan & Kobe Bryant. Both of them continued playing for the same franchises for nearly two decades. Along with the longest NBA careers, they also produced lots of intense moments during these games.
Among the seven meetings spanning from 1999 to 2013, Lakers advanced to the next stage four times, while Spurs made it three times. Such a competitive battle helped to bring out the best of NBA legends like Shaquille, Bryant, Duncan, Parker & some others.
#5. Los Angeles Lakers vs Sacramento Kings
The rivalry between Los Angeles Lakers & Sacramento Kings is probably the most controversial among all. Both teams had talented squads to compete for the championship. Eventually, Lakers succeeded each of the three times from 2000 to 2002 playoffs. Where is the rivalry then despite Lakers' ultimate dominance? Let me tell you the story.
Chris Webber & Jason Williams made the Kings unbeatable in the regular season of NBA. On the other hand, Lakers were also racing nicely in the league. Thanks to one of the greatest NBA duos formed by Shaquille-Kobe. Lakers won with flying colors on both occasions when they met Kings in the finals first two times.
Meanwhile, in the 2002 playoff, the Lakers were on the rope trailing 2-3 against Kings. What happened later was just unacceptable to the Kings. With 27 free throws giving away to the Lakers, many official calls went against the Kings. That resulted in an undeserving loss to the Kings making them hate the Lakers forever.
#4. Chicago Bulls vs New York Knicks
Players like Patrick Ewing and John Starks might feel unlucky for being in the Michael Jordan era. Still, their franchise New York Knicks competed hard with Jordan's Chicago Bulls. In the early '90s, these two teams met seven times in the playoffs making it one of the top NBA team rivalries.
However, Bulls hardly gave away chances to the Knicks while winning six out of them. Obviously, one man contributed mostly to this massive achievement of Bulls, none other than MJ. He, along with his comrades ruled Knicks in the first six meetings. In the absence of Jordan, Knicks were able to topple over them during 1994 in a historic 7 game battle.
Unfortunately, that happiness of Chicago Bulls rivals didn't last long since Jordan returned from retirement next year. Scoring 55 points in Madison Square Garden with an emphatic style, Jordan proved why he is considered the best in this sport.
#3. Boston Celtics vs Detroit Pistons
A nicely balanced rivalry that occurred way back in the 1980s among these heavyweight teams full of multiple Hall of Famers. During that time, Detroit Pistons & Boston Celtics produced four thrilling contests, where both sides won equally two times.
By no means, Celtics managed their first two wins conveniently. The 1985 one took six games for Celtics to hunt the glory, while 1987 one was more breathtaking. Leading 107-106 in game five with 5 seconds in hand, Pistons were heading towards victory. Larry Bird, the greatest white player in NBA had another idea though.
After stealing an inbound pass from Isiah Thomas, Bird passed it to Dennis Johnson who didn't make a mistake to put it into the net. Anyway, Celtics rivals took the revenge by beating them on consecutive encounters in 1988 & 1989.
#2. New York Knicks vs Miami Heats
When two teams meet in four consecutive playoffs, all with full seven games, you have to confess this one can be one of the biggest NBA rivalries. A physical battle involving fights made them more intense to the viewers.
Both team players involved in a heavy clash in the 1997 playoff from an attempt to secure the ball. Eventually, that led to extreme chaos handing four players of Knicks suspensions.
The hatred went beyond imagination next season in 1998 when Alonzo Mourning brawled with Larry Johnson. Knicks head coach Jeff Van Gundy tried to conclude the fight by grabbing Mourning's leg resulting in a peculiar scenario.
Regarding the match results, Knicks earned the pleasure of winning three times after being beaten in 1997 semifinal.
#1. Boston Celtics vs Los Angeles Lakers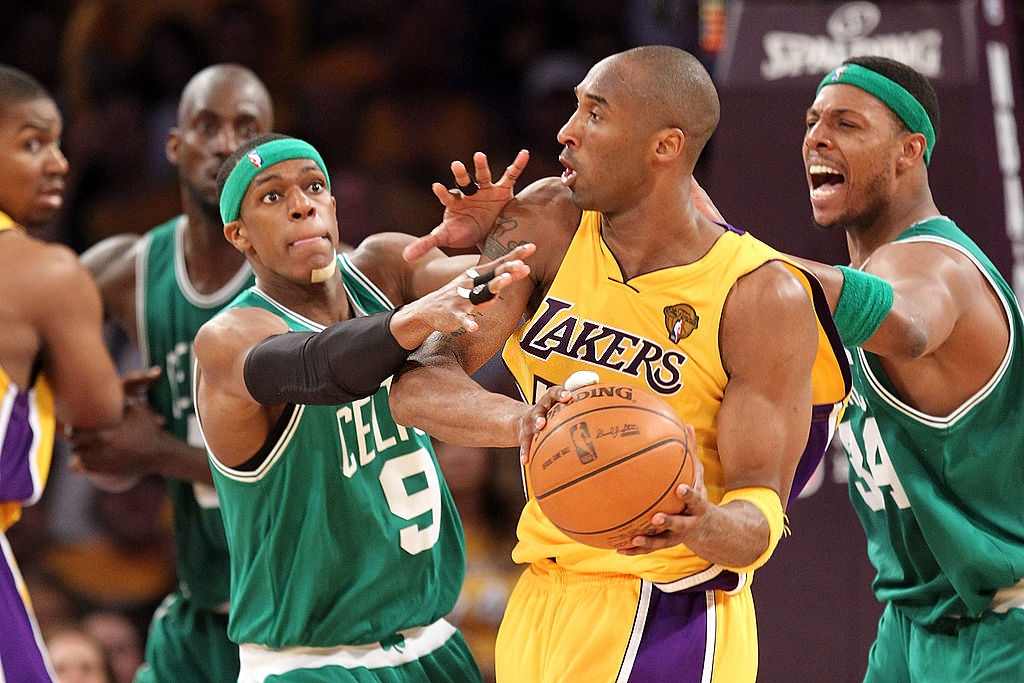 A never ending rivalry which continued from 1959 to till 2010 totaling 12 NBA final meetings. The number of meetings is the ultimate proof of the NBA greatest rivalry. In those classics, Celtics took home nine titles while Lakers got the job done three times.
But what's even more special about this rivalry is the presence of so many iconic NBA players on the court. Players like Bill Russell, Larry Bird, Kevin McHale, Robert Parish all were representing Celtics. In contrast, Lakers had Jerry West, Wilt Chamberlain, Kareem Abdul-Jabbar in their lair .
Gradually, Kobe Bryant, Shaquille O'Neal, Kevin Garnett, Paul Pierce and many more followed the footsteps of those legends in this rivalry. In the first eight encounters, Celtics gave way nothing by winning all of them. But later, Lakers bounced back by bagging three out of the next four matches.
The rivalry got alive in late 2000, where Celtics were victorious in 2008. Two years later, Lakers made amends to that loss by winning the title after beating Celtics.
So these are the top 10 NBA rivalries according to us ever taken place in the history of NBA. Some of them are no more in vogue, while a few are still alive making the fans still crazy. You can also express your opinion about which one is your favorite among the biggest NBA team rivalries. Till then, goodbye.